In case you missed the first TV Week in Review, click here. Also, note that I will not be reviewing every single show that I watch this TV season, but I will try my best to review most of them or at the very least, the series/season premiere/finale. For a taste of what I'll be talking about this season, keep reading. Also, stay tuned for a list of upcoming premieres at the end of the post! And don't forget to tell me what you're watching and enjoying!
Spoilers ahead.
Once Upon A Time (ABC) – Sundays at 8/7c
Episode 6.01 "The Savior"
A lot happened in the season six premiere but there are three things specifically that I want to mention. First, I'm not familiar with the Jekyll and Hyde world and mythology but I can tell you that even as much as I love Sam Witwer, I can't see him as a villain. He is a villain, yeah? I don't buy it. Maybe because I'm so used to seeing him as the good guy or troubled good guy. (By the way, if you haven't seen Sam in Syfy's Being Human, get yo life together).
Next, there's Rumple. Rumple is determined to have Belle fall in love with her again but with their future son giving her a warning about him, Belle isn't in the mood to reconcile. With good reason. Go, Belle! I love that the core character of Belle doesn't change. She is a strong, capable woman who can and will make her own choices, and no one, not even the man she loves will make a choice for her. Now can we talk about seeing their son as an adult? I'm not really a fan of this so I'm hoping he's not a permanent fixture on the show. Unless they can do it better than other magical shows. What do you think?
Finally, I loved that Zelena's perspective of Regina wiping out her evil side was Regina ripping out the parts that were most like Zelena. Which, if I took it that way, I'd take personally too. So I feel for Zelena. But as we know now, Regina's evil side isn't gone. I don't think this comes as a surprise to anyone? It was the big question in the season five premiere but  there really was no doubt that we'd indeed see Regina's evil side again. Obviously. That's like a core part of her being. I don't think it can ever be destroyed. So I'm bored with this reveal and am hoping that Good Regina vs Evil Regina as two separate people will be much more interesting than I anticipate. Also, I'm excited about more Aladdin this season! And apparently we're getting Cinderella this season? Bring. It. On!
The Last Man On Earth (Fox) – Sundays at 9:30/8:30c
Episode 3.01 "General Breast Theme With Cobras"
I had very high expectations for the season three premiere of The Last Man on Earth. Also, can we take a moment to acknowledge and celebrate this being season three? That went by so fast! Congrats on season three, I am so excited for what's ahead!
So in the premiere, Jon Hamm finally makes a (quick) cameo appearance, giving everyone the Mad Men reunion we all wanted! And lots more happens in this episode that I absolutely loved!
The Last Man On Earth season 3 premiere is one to be savored. It's not only just as thrilling and entertaining as it promised it would be but a true standout episode. One I won't forget for a long time. – Full review here.
Quantico (ABC) – Sundays at 10/9c
Episode 2.01 "Kudove"
From the FBI to the CIA, season two gives us the familiar groundwork from season one and a whole new set of conflicts and even higher stakes than ever before. This time, instead of running from the government, Alex must run towards and save the President of the United States and all of the world leaders who have gathered at the G20 Summit in the Financial District (on a Saturday, to discuss putting an end to global surveillance). Because if there are important people in Manhattan, and Alex happens to be in the vicinity, that's not really good news. Or is it?
The season 2 premiere of Quantico delivered intriguing new roommates, exciting new allies, and terrifying new enemies. Along with absolutely superb storytelling, wonderful pacing and transitions and music, Quantico season two is all around proving to be as far away from a sophomore slump as a show can get. I hope you're watching! – Full review here.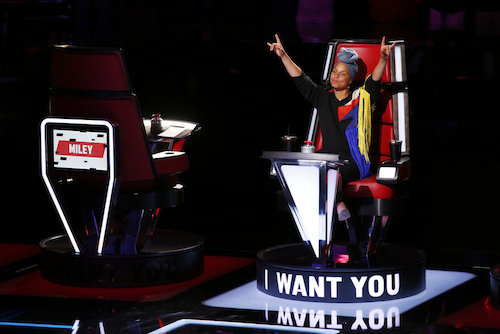 The Voice (NBC) – Mondays & Tuesdays at 8/7c
Blind Auditions
My favorite team first. Team Miley! Karlee was absolutely fantastic. I would buy her album in a heartbeat. Darby was lovely and, c'mon, who else would she have chosen but Miley? Perfect match, I think. Another perfect match? Khaliya. She's like a Miley mini me, so adorable vocally! I can't wait to see Miley work with her.
Who's next? Team Alicia! Josh had three chairs turn around for him, including Miley and Blake, both of which would have been the more predicted choices given Josh's country background but he went with Alicia so I'm really intrigued and excited to see what comes next. Michael was solid. My favorite guy on Alicia's Team? Hands down, Gabe. Gabriel Violett, who was in Spring Awakening on Broadway has such a beautiful tone and such a lovely range and I love him. Halle was fantastic. So unique and definitely one of my favorites on Team Alicia.
Then there's Team Adam! I love the tone of Bindi's voice. She has so much room to grow so I'm excited about what's to come from her. Elia sang Selena and had three chairs turn around, leading to her picking Adam. I am really looking forward to seeing what he challenges her with if she makes it past the battle round.
Finally, there's Team Blake! We didn't hear all of Christian's performance but from what I did hear, I loved. He was the only noteworthy artist for from Team Blake featured so far this week. Who were your favorite artists this week?
Brooklyn Nine-Nine (Fox) – Tuesdays at 8/7c
Episode 4.02 "Coral Palms: Pt.2"
Jake and Holt's plan to lure  Jimmy "The Butcher" Figgis to them worked…a little too well. Figgis has U.S. Marshall Karen Haas (Maya Rudolph)  and worse, Jake and Holt have managed to get pulled over and tossed in jail just as Figgis has zeroed in on them. They face the music on the other side of the interrogation table and must figure out a way to break out of jail in order to stay alive.
And what was supposed to be the icing on the cake for them turned out to be maybe, not as exciting for viewers… Was anybody else disappointed when Part Two incorporated happenings at the precinct? It's not at all surprising that Jake and Holt enlisted their help but after following Jake and Holt's hijinks so intimately in Florida, branching out almost felt wrong.
In addition, back at the 99, there's a new Captain in charge who likes to go by CJ (Ken Marino, Children's Hospital). Since Marino is a guest star, we obviously won't have him as captain for long. And thank goodness, he's great until he's not. Buying everyone's affection and then throwing down the hammer hard out of nowhere. At least it's out of nowhere for us. But when someone shows you who they really are the first time, that's who they really are, so. Looking forward to the day we won't have to endure him. What do you think?
New Girl (Fox) – Tuesdays at 8:30/7:30c
Episode 6.02 "Hubbedy Bubby"
"Is she gone? I stood frozen like you're supposed to when you see a bear in the woods." – Jess
Jess and Cece volunteer to campaign for Hillary as the Presidential election nears. Kate Flannery (The Office) guest stars as the supervisor for the local campaign which was exciting to see, even though she's only in like two scenes. More like a cameo. Anyway, when the ladies stumble upon a sorority house, Cece sees it as a great opportunity but Jess is not comfortable and reverts to her introverted self. But once the drinks come out, Jess and Cece not only have a good time but are able to do it while securing the numbers they needed. And of course, because everyone's drunk, all of the names they sign up are fake. Not to mention, the sorority sisters are all about rich white girl with style mentality, so they're more excited about the Trump ladies than actual women's rights and other things that truly matter. So.
Yawn with this story line as it was predictable and not very funny. Though I may be biased as if I'm not watching The Daily Show or something in that regard, I don't find anything about this election funny so this whole episode was just one big fail to me.
Add on Schmidt. Schmidt is a proud Republican but not voting for Trump and probably not at all this election (which is so problematic oh my God). Instead, he's focused on Paul Ryan 2020. Way to run away from the problems of today but racing towards the problems of the next President from the one we're electing now. Ugh. I'm so frustrated with this episode.
Back home, Winston teaches Nick about phone sex. Of all the people, Winston isn't the one you want to teach you about phone sex. His advice goes so far beyond, it's practically a whole production. This was funny but was overshadowed by the dark cloud of the election story line. So. Complete fail this week, New Girl. I'm going to forget this episode every happened if this season as a whole is good. So far though, it's not looking good.
Aftermath (Syfy) – Tuesdays at 10/9c
Series Premiere
Wow. I did not know to expect with Aftermath and I am so glad that I went into this show essentially blind because it made watching the series premiere that much more exciting. This show is absolutely bananas. Weird things increasingly begin to happen, both supernaturally and on the end of natural disasters. Watching the Copeland family deal with the end of the world in very different ways was so exhilarating, from the mom who is a BAMF to one of the daughters who is freaking the *!@% out and rightfully so. The other daughter gets separated from the family after one of the locals who is possessed sweeps her away. I loved, loved, loved watching her make her way back to her family, who was heading to a safety zone set up by the government. There were so many fun surprises for the viewers who know most of what's happening, us knowing that the characters don't have all of the facts. And the way it all came together, leading to meteor striking close to where the daughter was as she was heading toward reuniting with her family….oh my goodness. I cannot wait until next week! It felt like a movie and I loved every minute of it. The next new episode can't come soon enough!
This is Us (NBC) – Tuesdays at 10/9c
Episode 1.02 "The Big Three"
Another absolutely stellar episode of This Is Us! We begin this week's episode with Rebecca and Jack, having fast forwarded a number of years when their babies are now 8 years old and in elementary school. Jack has this adorable chant with the kids, "The Big Three." Kate is noticeably chunky but a healthy chunky though not skinny (like the other girls in school). So when Rebecca looks at her plate and says, "Kate. All the fruit please," it's an indicator that weight has been an issue for Kate since essentially forever. Rebecca wants her to be healthy and happy and is having the conversation with Kate and I'm so glad that we see this because A) Many parents are having this conversation and B) Many are having it with as much grace as Rebecca showed. People need to see that.
Jack goes out for drinks with his best friend Miguel (Jon Huertas, Castle) who reminds Jack that he married up and not to give Rebecca a reason to notice. So, Jack and Rebecca are having problems. As we see when Jack finally gets home. Rebecca tells Jack that the drinking has to stop. She puts the gauntlet down. And my God, if Mandy Moore isn't one of my favorite actresses ever. She is absolutely phenomenal. Also, kudos to the writers for their nonlinear storytelling. I love it and am very excited that we'll get to see Rebecca and Jack as new parents as well as many years into parenthood and see the progression, the signs that most people don't get to see of what's to come.
Now in present day, Beth questions William's stay at their house as well as William's motives, William who has stomach cancer. As the day begins, William asks Randall for a few dollars for the bus and Beth gives him the eye as William heads out the door. Beth confronts William and he says he goes to feed a cat. So. There's that. William stays. The issue is dropped (for now?). And then. And then!
Surprise, surprise, Grandma and Grandpa stop by unannounced and William races to hide in his room. But that's not even the biggest surprise! The big reveal is that Grandma and Grandpa are Rebecca and Miguel! Yes, Miguel, Jack's best friend! So what happened? Did Jack's alcoholism kill him, leaving Rebecca to fall in love with Miguel? Or was Miguel working Rebecca all that time because he knew that Jack would lose her eventually because of his drinking? Or is it something else? I am SO intrigued. I cannot wait for next week's episode and more answers!
"But I saw something there so I took you on. And I got you the commercials. I got you the soaps. Eventually got you a job paying you almost $3 million a year, making you so famous that you could wear a ski cap when it is 80 degrees outside and no one would say a damn thing!" – Lanie
Meanwhile, Toby is working out with Kate and Kate is frustrated that Toby is losing weight and she isn't. And when Kate tells the support group what she really thinks, Toby says, "I think now's a good time for a break." Talk about a laugh out loud moment. The comedic moments on this shows are aces!
As for Kevin? Kevin finds out from his agent, Lanie (Katey Sagal, Sons of Anarchy) that he's contractually bound to the show (he unofficially left during his meltdown) for the next two years. They could sue, bankrupt him, and he'd still be legally unable to work for another studio for the next two years. So when he goes to Kate for advice, she encourages him to stick to his guns, go to that industry party that Lanie is forcing him to go to, and tell the execs to their faces that he's out. the industry party becomes an affair as
Kevin invites Kate and Toby invites himself. Toby loosens Kate up at the party with a few drinks but it's really Kevin who could use a few, as the meeting at the party only reinforces how stuck he is for the next two years. At his lowest moment, he calls Randall. A touching moment since he knows he wasn't the best brother to him. But Randall is there to provide encouraging words and tell him that it's not too late to be a good brother. And in the end, Kevin makes the decision to move to NY and find his way in theatre. We'll have to wait until next week to see if this actually happens but it would make for more moments with all three of the siblings, so I'm all for it. Plus, it would interesting to see the repercussions of leaving Hollywood while under contract. That would be refreshing.
Another stellar episode of This Is Us. This is truly my absolute favorite new NBC drama and I think it's safe to say my favorite drama of the new TV season (it was tied with Designated Survivor but I think that's getting knocked to number two). Tuesday nights are the best. Can't wait until next week!
Modern Family (ABC) – Wednesdays at 9/8c
Episode 8.02 "A Stereotypical Day"
Hands down the best storyline of this episode was Jay being super paranoid about being seen as a racist when he happens to install a new security system on his property on the same day that a black family moves in across the street. His desperate need to not be seen as that white guy who stereotypes black people was so sincere and adorable, I laughed out loud the entire time.
"I'm not proud of stealing. But I'm not un-proud of how I'm stealing." – Luke
Then there's the Dunphys. Alex is sick with mono. Haley got fired and Alex being home from college to get better is preventing her from being home while she figures out her next move. Phil and Luke have their issues too but what's great is that all of their issues come to a head and they all end up using Alex to either stay home or go back to school. She ends up having to take the semester off though so I hope it's worth it, only because Ariel Winter actually had to defer college in real life because her schedule for this show was too much. So. Better make Alex's story line worth it this season, writers!
Finally, there's Mitch and Cam who are ecstatic when they discover that Lily's new friend who is a boy used to identify as a girl. Tolerance and acceptance for the win! Then they misinterpret Lily calling her friend weird, only to find out that boy Lily and her friend think the painting in her room of them as angels is weird and Lily was just trying to defend the hideous artwork. Ha! Great episode. I don't remember the last time I laughed this much on an episode of the show. Very strong episode. Can't wait for next week.
Blackish (ABC) – Wednesdays at 9:30/8:30c
Episode 3.02 "God"
"To hell with Whole Foods! From hereon out, we are a Food 4 Less family!" – Dre
Bow's little brother, Johan (guest star, Daveed Diggs, Hamilton the Musical) has been teaching in France for two years and right away, the nonstop laughs came. Nonstop! As a Francophile, I loved this on every level. But that's not what the focus is. The focus is God. And it starts when Dre asks Zoey to say grace before dinner but with freethinking Uncle Johan there, she takes the opportunity to tell the family that maybe she doesn't believe in God. Cue the fallout!
I loved how the show touched on how black people see God because this is a thing. The Christian walk is the Christian walk but you can't deny that being a Black Christian is a very different experience than the white Christian's experience. They touched on that in a previous episode last season, so this time around they touched on Black Christians and atheists which was also quite true and comical. I enjoyed every minute of this episode. Definitely a standout this season. Finally, yay for hearing the baby's heartbeat! What a sweet moment that came after baited breath. Thank God is right!
Designated Survivor (ABC) – Wednesdays at 10/9c
Episode 1.02 "The First Day"
Can we talk about Seth (Kal Penn) being stopped by two white cops – one day after the disaster? If you think it's bad on a regular day for minorities, you have no idea just how bad it gets the day after something bad happens so it was so wonderful to see the show tackle this subject, muslims and anyone brown being targeted after a terrorist attack. Seth works in the White House and his occupation doesn't excuse the color of his skin and the racists with badges looking for people who look like him.
Not only that but the Governor ordered cops to discriminate against these very people without the President's orders! I guess it's easy to steamroll the President when he's a designated survivor and has no idea how to effectively put his foot down. But then he does and if that moment wasn't a mic drop, I don't know what is.
In this episode we also meet Kimble (Virginia Madsen), the Republican party's designated survivor who has some advice for Tom and lends her hand. It's easy to figure out her motive but I'm interested in seeing what becomes of her.
Finally, how terrifying was that scene for Tom and his wife at the attack site when they were whisked away? A new scary reality for them. And who is the survivor that those clearing up the rubble found? Can't wait until next week! This show is absolutely fantastic!!
Grey's Anatomy (ABC) – Thursdays at 8/7c
Episode 13.02 "Catastrophe and the Cure"
April and Jackson got more screen time this week! Yay! Jackson takes baby Harriet home while April stays in the hospital for more health issues. April, while separated from baby, is trying to keep the communication between her and Jackson as strictly parents and nothing more in this really emotional time. Understandable. I want the two to get back together. But I also want it to be right. So. They need to take their time.
Then there's Maggie who wants to ask Riggs out but as his boss, she is understandably nervous about doing so. And since Maggie confided in Meredith without knowing that Meredith slept with Riggs, well, Riggs already knows what's coming for him and is prepared to give the let down. Eek. I can't wait until Meredith and Riggs are a thing so Maggie can yell at Meredith. This is the season of Meredith being a terrible friend, apparently. Just be honest when you need to be and stand by but get out of the way when it's not your fight. Geez.
When Meredith finds herself in alone in an elevator with DeLuca, she butts into the DeLuca-Karev situation when she has no, I repeat, NO business doing so. DeLuca, rightfully so, takes her words as a threat. Then there's Meredith inviting Karev to Amelia and Owen's housewarming party, without asking permission to do so. Especially since Amelia already invited Jo and told her that Alex wouldn't be there. Ugh. I really hope I don't want to slap Meredith in every episode this season because I'm already super tired of her. Are they making her so unlikable that we cheer if it turns out this is Ellen Pompeo's last season? I sure hope not, that would be a terrible way for the main character to go. Thoughts?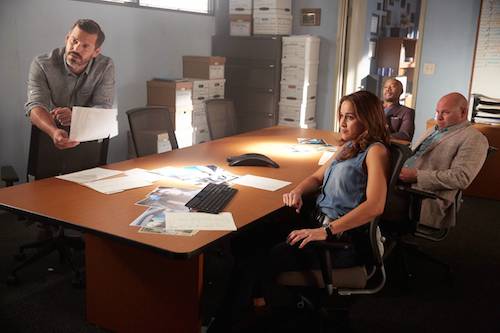 Rosewood (FOX) – Thursdays at 8/7c
Episode 2.02 "Secrets & Silent Killers"
Rosie (Morris Chestnut)  and Annalise (Jaina Lee Ortiz)  discover that their murder victim has a death certificate from three years ago. The case doesn't get interesting until about halfway into the episode when Tate Ellington (Quantico) makes an appearance and Rosie and Annalise really start making progress in the case. Plus, the two really beginning to solve Annalise's husband's murder kind of makes the case of the week a non-issue right now. Not as exciting as last week's premiere but solid nonetheless. – Full review here.
Superstore (NBC) – Thursdays at 8/7c
Episode 2.03 "Back to Work"
The strike is over and the district manager is ready to see how a typical day at this Cloud 9 runs. Needless to say, everyone is on edge. When Mateo tries to butter up to the district manager, Jeff (Michael Bunin), it turns out to be bad timing and the DM has even forgotten meeting him the day before. Jeff even calls Mateo, Mateto and Matato. Ha!
Meanwhile, Glenn tries to portray himself as a strict boss. We really know Dina is the one who keeps the place together, so it's hysterical watching Glenn try to assert himself. Speaking of Dina, Jonah tries to help her get the co-workers to like her after she demeaned them during the strike and while that doesn't go anywhere, as expected, Dina does make a major chess move with the DM. Thankfully, considering one of the employees cut his finger off using the slicer (I've totally cut myself on the slicer so this was hysterical to see) while the DM was present. Oh man, never underestimate Dina's power plays.
Finally, Cheyenne comes to visit the store to show everyone a picture of her baby. Amy has gathered everyone to try to find the missing finger so Cheyenne really isn't a priority. So Cheyenne takes it upon herself to pick up a few things and check herself out. She's not even in uniform but a customer walks up to the register that she is at to have her check her things out. Entitled customers who just walk up to a register and put their things on the counter without taking cues and looking to see if the register is open or simply asking if the register is open, as well as customers who yell at employees who aren't even on the clock – these customers are EVERYWHERE. Thanks, Superstore for shedding the spotlight on these monsters! They exist. Every single day. They exist. I've worked at multiple retail and food places to know. Superstore, you're my hero! Another great episode in the books!
The Good Place (NBC) – Thursdays at 8:30/7:30c
Episode 1.04 "Jason Mendoza"
Well, this episode starts off right where the last episode left off, so we don't have to wait long for answers. Jianyu's real name is Jason. He's not Taiwanese, he is Filipino and a drug dealing DJ from Florida. We get to see much from his POV, including when he first arrives in The Good Place, how he found out that Eleanor was not from The Good Place, and flashbacks. This gives us plenty to look forward to for other dead characters on the show.
Meanwhile, Michael asks Tahani to help with the grand opening of The Good Plates restaurant…which goes well until Tahani makes a stop at home and runs into Eleanor, Chidi, and a talking Jianyu. I love that because this is The Good Place, everyone automatically assumes the best in people, so she assumes that Chidi and Eleanor have been helping Jianyu speak and were going to surprise her. Luckily, that gives them cover but that's only the first test. Jianyu doesn't make it easy for Eleanor to keep their out of place status under wraps. He wants to be who he really is, Jason. But forever reason, he doesn't grasp the seriousness of the situation and consequences.
So even though Chidi continues his ethics lessons with Eleanor, at the grand opening, Eleanor takes one step back in order to keep her and Jason's covers from being blown…bringing a sinkhole in the middle of the restaurant. And the sinkhole that's supposed to repair itself, is actually getting bigger. Did anyone pick up on why it was a sinkhole because there seems to be a lot of foreshadowing and symbolism but I missed it this time around. Anyway, great episode! This show is becoming even more thrilling in each episode. Very excited for more.
Pitch (FOX) – Thursdays at 9/8c
Episode 1.02 "The Interim"
Another solid episode of Pitch! Starting out, Mike takes the team out to welcome Ginny onto the team and it's a light turnout but it's good to see who isn't sexist and was raised right.
Later, there's a PR disaster when a sexist comment from the team manager from two years prior resurfaces. He sincerely apologizes for his offensive comments which was great since it was genuine. Based on his sincerity, I think that's the last of the sexist problems we'll get from him. Now let's see if he sticks his neck out to stand by Ginny's side. Because in the position that he's in, as a leader, he needs to set an example and it doesn't start and end with an apology. Actions speak louder. Speaking of PR, we get backstory on how Amelia and Eliot made their way to Ginny which was a much more compelling story than I expected it to be.
Back to the team. Mike has bad knees and tries to keep up with Ginny while working out. Something tells me that eventually, Mike's knees will become so bad that he won't be able to play and then maybe he'll become the coach of the team or Ginny's manager or play a role very close to Ginny. Of course all of this would be too predictable but it would still be compelling so I wouldn't mind it. Anyway, he knows his time is up and he wants Rachel (JoAnna Garcia Swisher) back. He understands that because he put her second, she didn't wait for him and moved on but she's really moved on, as in engaged. Oh and Rachel is a reporter who isn't backing down from her feminist approach to Ginny's story. Thankfully, she doesn't. Thankfully, Ginny listens to her heart which leans towards Rachel's approach rather than her agent's and does the right thing rather than the politically correct thing. And she sets Amelia straight, finally. It's great to see Ginny putting her foot down, using her platform for what matters, and not letting others stray her focus. Ginny is pretty amazing. And I'm very much looking forward to seeing her character arc this season. Great episode. Next week can't come soon enough.
Z Nation (Syfy) – Fridays at 9/8c
Episode 3.03 "Murphy's Miracle"
Decent episode of Z Nation this week. I was way more interested in following Warren and the gang as they ran into a peculiar postal worker that not only attracted zombies but didn't kill them since he claimed to know them all and couldn't part with them. Of course he turned out to be a psycho who killed the real postal workers. Yawn. But at least it kept me interested throughout the episode.
There was also the Murphy story line, him trying to find a town to create his new empire in. Eh. Boring. It sucks that 10K is under Murphy's control but other than that, I'm not very moved by what's happening here. Is it just me or is season 3 shaping up to be my least favorite season yet?
Noteworthy Premieres Next Week (October 2 – October 8, 2016)
Sunday
9pm Shameless (Showtime, October 2), WESTWORLD (HBO, Oct 2)
Monday
9pm Scorpion (CBS, Oct 3)
10pm TIMELESS (NBC, Oct 3)
Tuesday
The Mindy Project (Hulu, October 4)
8pm The Flash (The CW, Oct 4)
9pm NO TOMORROW (The CW, Oct 4)
Wednesday
8pm Arrow (The CW, Oct 5)
9pm FREQUENCY (The CW, Oct 5)
What are your thoughts on this week's TV?