Fall TV is here! I am so excited that September is here and TV is back and one the best times of the year for TV fans is in full swing! Today, I'm here to talk about this week's premieres as well as earlier premieres of the Fall season along with mentions of the shows that I watch and am behind on, so I hope you enjoy! And don't forget to tell me what you're watching and enjoying!
Season Premieres
Z Nation (Syfy) – Fridays at 9/8c
Episode 3.01 "No Mercy" + Episode 3.02 "A New Mission"
The season three premiere was easily the most disappointing premiere of the series so far. Talk about underwhelming in every way. Nothing about this premiere satisfied me (okay, definitely the women in red and the symbolism here totally worked) but I still have high hopes for the rest of the season.
The second episode, which aired this week, was much more classic Z Nation and I loved every minute of it. Tense. Funny. Teamwork scoring. Teamwork failing. New allies. Improved weapons. Murphy being Murphy. Citizen Z surviving… and now not doing it alone. I love that he's got not one but three new companions to get through the zombie apocalypse while he waits for Murphy and the gang!
Anyway, what did you think of the premiere?
Brooklyn Nine-Nine (Fox) – Tuesdays at 8/7c
Episode 4.01 "Coral Palms: Pt.1"
"I guessed the combination on the first try. 69-69." – Holt
"June 9, 1969, the day my parents got married." – Jake
"No, it isn't." – Holt
"My mom's birthday." – Jake
"No." – Holt
"The moon landing." – Jake
"Nope." – Holt
"Fine! You're right. It's a completely random number." – Jake
In the season premiere, Jake and Holt adjust to life in the Witness Protection Program, in Florida, while Jimmy "The Butcher" Figgis is still on the loose. The only person from their normal life that they communicate with is U.S. Marshall Karen Haas (guest star Maya Rudolph) which, of course is just as hysterical as you assume it is.
Holt is fitting in just fine, better than Jake actually. In fact, Holt is looking forward to a promotion at work when he ends up giving Jake a pep talk that backfires when Jake, formerly "unemployed," gets the position Holt was gunning after. Ha! These two never fail to make me laugh.
Things go from bad to worse when the two get into an incident that ends up getting recorded in the attempts of it going viral. Not really awesome if you're in Witness Protection. So Jake & Holt use their cop skills to stop the video from being uploaded. But not before a few words are exchanged, in which Holt basically tells Jake that he's lived up to his disappointing expectations all throughout this nearly five month WPP ordeal. But of course, they kiss and make up but those vulnerable and really raw moments on the show are totally gut wrenching and I love it. It's so real. These characters are bananas but moments like these really humanize them and really bring it all back to reality. And once they are on the same page, they decide to take action and use the video for their benefit. We'll have to wait until the next episode to see how that turns out…
Overall, a really great premiere. Rhea Perlman (The Mindy Project) makes an appearance as well as Jorma Taccone of Andy Samberg's The Lonely Island which was fun to see. The entire episode is set in Florida and only follows Jake and Holt and that was super refreshing and really exciting. The writers did a wonderful job here, setting up for what is sure to be another fantastic season.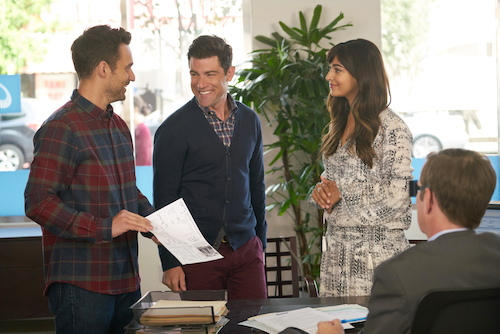 New Girl (Fox) – Tuesdays at 8:30/7:30c
Episode 6.01 "House Hunt"
"Easy. She's my sister… and I know she's an idiot." – Aly
If anyone else is patiently awaiting Megan Fox's return as Reagan, you're not alone. Reagan was the best thing to happen to New Girl in a long time and her absence in the season six premiere was unfortunate to say the least.
So Nick is back from spending time with Reagan in New Orleans, his long distance relationship with her doing fine but Reagan's job moving her to Seattle for the time being. Jess isn't prepared for his earlier than scheduled return and as much as I used to enjoy watching Jess squirm around Nick, it's tiring now. Even after she admitted to Cece and Schmidt that she has feelings for Nick. So…
Cece and Schmidt house hunting were truly the best part of this episode, which, as a whole would have been a lot more underwhelming without it. Cece and Schmidt transitioning into this new stage in life as husband and life opens the door for so much comedic material and I am so pumped for what we'll see this season from these two.
Finally, there's Winston who is settling into his own long distance relationship with Aly (Nasim Pedrad) but that story line is so minor here, it's not even a point right now. So. Cece and Schmidt made this premiere for me. Otherwise, it was completely lackluster. So hopefully this isn't a sign of what's to come this season because I've been holding onto this show by a thread for awhile now.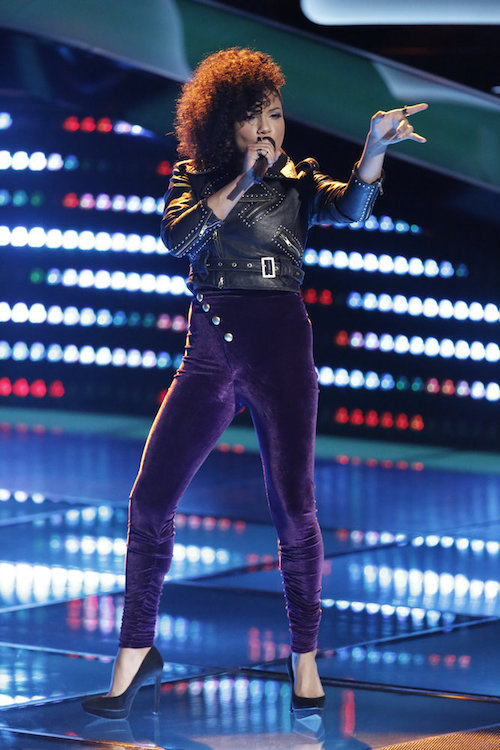 The Voice (NBC) – Mondays & Tuesdays at 8/7c
Season 11 Two Night Premiere – Blind Auditions
Team Miley reigns. Team Miley is my absolute favorite. I want Team Miley to take the win this season. I can't say that I'm a fan of Miley the personality but Miley the singer-songwriter-musician is a whole 'nother thing. Much respect. Girl knows what she's doing. And her picks on The Voice show that. Team Miley is continuously knocking it out of the park. Courtnie could very well be one of my favorites this season if she makes it past the battle round. Sa'rayah is great and I think she could easily pass the battle round. But my absolute favorite artist of the show so far, by far, is Sophia. I've never bought a song on iTunes by a contestant on The Voice at this stage in the competition but Sophia might just change that.
As for Team Adam…Riley is great, though I wonder if he will make it past the battle round. Andrew's voice reminds me of Keaton Simons which I love so I'm definitely hoping to hear more from him.
Then there's Team Alicia. Wé was wonderful and her choosing Alicia is a perfect match indeed. These two were made for each other's team. The same can be said for Lauren, who was bold enough to sing one of Alicia's songs in her audition. It turned out well for her. Go, girl! Jason reminds a little bit of Jacob Lusk from American Idol Season 10. Entertaining and soulful but in the end, not for me. Dave has got so much soul as well and boy, do I love it. Though if there's one person I'm rooting for on Team Alicia so far, it's Wé.
Finally, Team Blake. Dana is the India Arie of this generation if we're going for comparisons here. I really hope she's a shining star on Team Blake. So far, she's all I'm rooting for on this team.
Lastly, I don't remember his name or team, but if that kid who sounds like Frank Sinatra released a Christmas album, I would totally buy it without hesitation. If you watched the premiere, who are you rooting for?
Modern Family (ABC) – Wednesdays at 9/8c
Episode 8.01 "A Tale of Three Cities"
In the season eight premiere, we follow Jay, Gloria, and Manny in Mexico for a family wedding and we're lucky enough to see Stephanie Beatriz (Brooklyn Nine-Nine) back as Gloria's sister. While charming, the hilarity really takes place when they're back home and Gloria's sister kidnaps Manny. Gloria's reaction is the absolute best.
Then there are the Dunphys, who are ending their New York City vacation, at least that's what they tell each other, as Claire and Phil extended their stay, unbeknownst to the kids while the kids extend their stay unbeknownst to their parents. Once again, the writers and directors nail the structure of this story, the parents just barely passing the kids and vice versa as they make their way around the city and the same hotel! This storyline was easily my favorite because of this aspect alone.
Finally, there's Mitch, Cam, and Lily who are in Missouri during Cam's grandma's last days, leading up to her funeral. If you're wondering how there's comic relief in here, there's no need. It's Mitch and Cam. C'mon. That said, I'd be lying if I said I was disappointed with the direction of the story. Even though it's realistic, we've seen it enough before on the show. So. If they're going to recycle, it's got to be not just moderately entertaining but truly laugh out loud hysterical.
Solid premiere, not the best of the eight premieres by any means but it was good enough to kick off what's to come!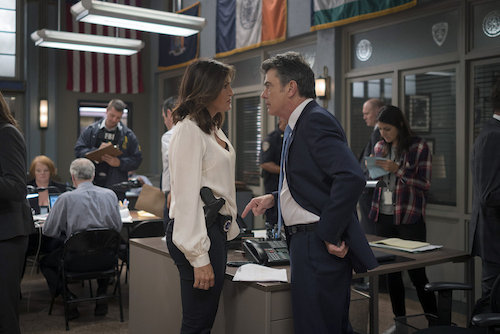 Law & Order: SVU (NBC) – Wednesdays at 9/8c
Episode 18.01 "Terrorized"
The season eighteen premiere had easily the most intense opening scene in all of the most recent scenes combined. Talk about intense. Olivia (Mariska Hargitay) was at the park with her son, enjoying a moment off when she's called to another park and finds herself with a child directing a gun at her and her son. This boy leads Olivia and the team to a terrorist organization, but not before they kill a number of innocent people. In the mix of that organization is a young girl who was raped and threatened with death if she did not help carry out the attack. This is the woman that Olivia fights for. It's just as compelling and emotionally gut-wrenching as you'd expect. The season eighteen premiere is a must watch.
Blackish (ABC) – Wednesdays at 9:30/8:30c
Episode 3.01 "VIP"
The season three premiere managed to welcome viewers into an exciting, fresh new season, while giving us soft reminders of season two story lines that the show has to address. The premiere was magical and amusing as Dre took the family to Walt Disney World. It was a great premiere that you shouldn't miss. Full review here.
Grey's Anatomy (ABC) – Thursdays at 8/7c
Episode 13.01 "Undo"
The season thirteen premiere kicked off right where last season ended, with DeLuca beat up so much by Alex… that Alex ends up bringing DeLuca to the hospital. The same hospital that they all work at. Expecting his secret not to get out. Thinking that by simply bringing DeLuca to the hospital so that he doesn't die is enough to clear his conscious, is enough to make him a good person. Even though he beat up an innocent man. Even though he has no idea what he walked in on when DeLuca was helping Jo. Even though he acted like the complete animal he thought he was fighting against.
This season premiere made me angry. For so many reasons. DeLuca almost died and Jo still wants her little, "I'm still married" secret to stay between them. Are you kidding me? If you are in love with but don't trust Alex enough with your "I'm still married" drama, when he is ready to marry you, he is ready and willing to take all of you, why are you even with him?
Then there's Meredith who knows what Alex did fairly early on but keeps this secret for basically the entire episode. I get it, she has to work it out in her head and hope for the best that Alex had a legit reason for beating someone up but even if he did, the extent of the injuries is absolutely ridiculous so what Meredith did was absolutely asinine as Maggie did not hesitate to point out the moment she found out Mer was keeping the secret. It's not just about you, Meredith, working it out in your head. Other people are affected too and they have the right to work it out in their heads as well. Everyone is a professional here, no one would go off fighting like Alex did, tempers would rise but there wouldn't be another DeLuca sitting on a hospital bed if she had told people from the jump. The right people. So, right off the bat, I'm not feeling Meredith or Jo or Alex this season.
I guess this was a good premiere? I'm just angry at everything that happened in it. What did you think? Oh yeah, I almost forgot, April had her baby in this episode. It was so completely overshadowed by the whole Alex-DeLuca-Jo drama, it almost slipped my mind. Baby Harriet has arrive.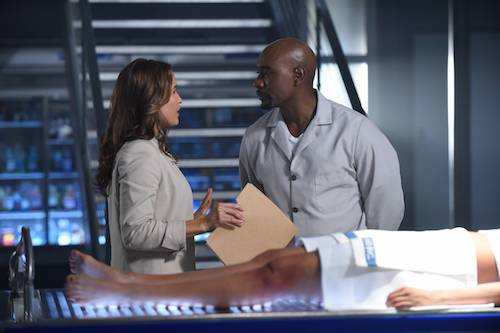 Rosewood (FOX) – Thursdays at 8/7c
Episode 2.01 "Forward Motion and Frat Life"
Rosewood returned with a new Captain, a steady secret, and a murder connected to the mayor. And of course, all of the adorable and fun chemistry between Rosewood (Morris Chestnut) and Annalise (Jaina Lee Ortiz) that we could hope for in the premiere. Teamwork makes the dream work!
And there's the only case that really matters. Rosie and Annalise solving the case of Annalise's husband, Eddie's murder. Rosie says he's all in. We already knew that. Now, Annalise has accepted it. Game on. Great premiere! – Full review here.
Superstore (NBC) – Thursdays at 8/7c
Episode 2.02 "Strike"
In the season two premiere (since we're not counting the special Superbowl episode), the show begins right where it left off after Glenn was let go from his job. The store is on strike, Amy is leading the charge, Jonah is right by her side, Dina doesn't hesitate to put the hose on the strikers, Mateo is playing both sides, Sandra is caught in the middle, and hilarity ensues all around. Best of all, after their very unorganized, free for all yet somehow controlled strike, Glenn gets his job back!
This show nails physical comedy, one liners, and plays on human behavior in the most clever ways (in both big moments and small moments you'll miss if you blink), that I cannot stop recommending this show to everyone. Always. I am so glad that this show is back. It's a gem for all of the reasons mentioned above plus, they get me. They get this retail life. Unfortunately its storytelling is all too relatable. But that truly makes it one of my favorite comedies ever. And season two is clearly just as strong as season one. So if you still haven't seen the premiere, get on it!
How to Get Away With Murder (ABC) – Thursdays at 10/9c
Episode 3.01 "We're Good People Now"
"Don't worry, you can't mess this up. Because there's no way to win." – Annalise
The season premiere of How to Get Away With Murder was all over the place. And not in a fun way. Time jumps are great but for some reason it just felt really disorienting this time around. Because nothing really added up to anything worth the hour. It was all mundane happenings and then it glossed over what I really wanted to see. Longterm, I'm sure it will be worth it, but there really wasn't anything short term to love here.
It jumped from 1:30am, the night Wes's biological father was shot dead in front of him, backs up to around 8pm when it actually happened, jumps to 4 months later when school is in session again, jumps back to May as summer break has just begun and it works its way to school being in session, so we do get to see much of what they've been up to during the summer. And we hear more about what they were up to during their first big study session. So… yeah, there were time stamps but there was no sense of urgency until literally the final two minutes of the episode. I loved the final two minutes of this episode. I almost want to watch the episode again but ain't nobody got time for that. So. On first watch, as it stands, that entire episode was supremely boring and pointless until the last two minutes. A bland set up to the next big murder of the season.
The premiere was, I don't want to use the word lighthearted but it's the least stressful episode of this show that I've ever seen.  The most troubling conflict was the posters of Annalise with "Killer" inked in red posted on her classroom blackboard and all over campus. Somebody knows. But what exactly do they know? How much? Annalise is tied to and responsible for more than just one person's death. So. Does Annalise already know who it is? Is she in on it? There have been more bizarre things. No matter, this will definitely blow up but I'm most curious to know how big the blast will be.
Still, there's not much to be revealed here because it's way too early for that. And yet that was the most exciting story line for me here given not much at all happened with Wes's father being shot. Annalise told him Frank was responsible, he was upset, but he kind of just accepted it. Blah. More captivating than his story line in this episode was Connor's boyfriend getting hired by Annalise and then the two promptly breaking up. Yikes. And there's not much else to say here after that. This premiere was so boring. The case of the week took too much time away from what really matters. Deliberate or not, I am not a fan of the pacing of season three premiere. Not a fan. But with those last two minutes of the episode, with (was that Annalise's office on fire?) possibly one of the main students dead, this is where season three takes off. And now I'm actually anticipating next week.
Series Premieres
Atlanta (FX) – Tuesdays at 10/9c
Season Premiere – "The Big Bang" and Episode 1.02 "Streets On Lock"
Atlanta debuted strong with a one hour premiere, the first two episodes back to back. In the debut, we get to know Earn (Donald Glover), who's struggling to make a decent living for himself, which isn't good since he not only needs to make rent but also help care for his baby with his girlfriend, Vanessa (Zazie Beetz). They love each other but Vanessa isn't going to wait forever for him to get it together as financially, Earn is just not ready to be the man that he needs to be for himself or his family.
So when Earn realizes he's not getting anywhere in his part time job selling credit cards at the airport, he decides to head to Atlanta where his cousin, known as Paper Boi (Brian Tyree Henry), is quickly making a name for himself as a rapper. If Earn can find a way to make himself useful as a manager to his almost famous cousin, maybe everything will be alright. I loved following Earn as his cousin did not beat around the bush about Earn using him… and after Earn shows him that he's serious about this, Paper Boi lets him into the fold. After all, Paper Boi can't do it all on his own. So far, loving the dynamics between Earn and Vanessa as well as Earn and Paper Boi. They're so distinct but both acknowledge Earn's shortcomings and both won't put up with his crap for long.
There are conflicts along the way to success of course, the biggest being an unnecessary altercation that escalates to a shoot out which leaves Paper Boi and Earn in jail. Paper Boi can afford the bail. Earn cannot. So Earn stays in jail for little awhile longer and is scared out of his mind, for good reason. He experiences the broken justice system firsthand. And this show doesn't shy away from violence, including police brutality. So we see, as Earn sees, what happens by people with authority to people in his position even before they get to an even worse position in the system. It's not good.
This show is raw in every sense of the word. The violence, the language (if you're not used to hearing "Nigga," you will be now), everything about this, it's as real as it gets. It will get under your skin. Whether it be the violence, the social commentary on celebrity culture, the hustle, etc… the conversation is happening and it's a great one. Best of all, Atlanta is as thrilling and tense as it is hopeful and funny. The writers have found a way to strike just the right balance in tone and I hope nothing changes here because it's perfect. The same can be said with the casual pacing of the show. It's Atlanta casual and it totally works on screen.
Atlanta is a love letter to Atlanta and the hip hop culture, the hustle within it. Atlanta is so incredibly nuanced and is easily one of the most honest, well written shows on television right now. That includes both new and returning shows. Donald Glover has created a show people will love for a very long time. FX has got a winner on its hands with this show so I'm hoping it gets an early renewal because it deserves one.
Queen Sugar (OWN) – Wednesdays at 10/9c
Episode 1.01 "First Things First" + Episode 1.02 "Evergreen"
What a wonderful two night season premiere for Queen Sugar! Queen Sugar, which takes place in a fictional town in Louisiana, follows the Bordelon family after the death of their father. The show follows three distant siblings as they come together and care for their father's struggling sugarcane farm in the South.
There's Charlie (Dawn-Lyen Gardner), who manages her husband's career, Davis (Timon Kyle Durrett), a professional basketball player and their fairly spoiled 15 year old son, Micah (Nicholas L. Ashe) in Hollywood. All is well in their Hollywood high life until a rape scandal breaks, the entire team except for Davis being accused. But when video surfaces and shows Davis on the tape leading the innocent woman in the hotel room, Charlie is, understandably so, devastated. I love that we got to see her reaction when she thought that it wasn't him and then we get to see it quickly progress to something different when she finds out it is, but before she's not smug about it in public. Just relieved and professional. "Our private lives should remain private" turned her walking onto the court to confront him where he is playing, during a game, in front of millions. Great contrast here. So when she receives the call that her father has died, she brings her son with her to Louisiana, with no rush on returning home.
Then there's her sister, Nova (Rutina Wesley), an activist and journalist who is having an affair with a married man. It isn't revealed that her relationship with this man, which was assumed to just be casual beforehand, was an affair until the end of the first episode. So, what a revelation this was. Girl, bye. She needs to stop. I can't with this affair. Moving on…
Ralph Angel (Kofi Siriboe) is six months out of prison and still struggling with money, so much so that he robs a corner store all by himself while leaving his little son, Blue (Ethan Hutchison) at the park. So sad. This broke my heart. What was uplifting to see though came a bit later. Thank God for amazing teachers because's Blue's is there for her kids. She's there at Blue's birthday party. She's there to take him to school when his grandfather has a stroke and the whole family, including Angel is at the hospital. She's the best. On the other hand, there's Ralph Angel's ex, who is a recovering addict, trying to turn her life around so she can see Blue. But Angel isn't having any of that. A difficult position to be in and we don't know everything that's gone on between them so it's hard to say what's right. But I love the complexities between these two. It's so real.
Another thing that I love? Seeing more of the sibling dynamic when they're altogether. In particular, I love the scene in which Nova and Ralph Angel basically tell Charlie that she's got enough on her plate so they're handling the funeral planning. She'll be in on the big things like picking out the casket but they don't need her involved in the rest. It's a sweet gesture, albeit a passive aggressive way of saying "We don't need your money right now, how we normally do things is fine" – and it's annoying as the one left out when you're in the thick of it, so I loved seeing all of these emotions so perfectly displayed here.
What an enthralling two night premiere! I love the characters, the storytelling, the directing, the tone of the show. Everything about this show is wonderful. Queen Sugar has emotionally gripped me and I am so excited to tune in each week for more.
Lastly, I love the music on the show! Love, love, love. It's so distinct for each sibling and setting and it all works so well. Ava DuVernay directed the first two episodes and all episodes afterwards this season are directed by women! Woo! Go, 'head ladies!!! Finally, Queen Sugar is based on the book of the same name, by Natalie Baszile, which I have not read. Two more episodes have aired since the show premiered which I haven't yet watched but am excited to watch shortly!
The Good Place (NBC) – Thursdays at 8:30/7:30c
Episodes 1.01 "Pilot" + 1.02 "Flying"
The Good Place was one of my most highly anticipated new comedies this TV season and it did not disappoint. The series premiered with double episodes and then gave us another episode on its scheduled night. Three episodes in one week. Pretty awesome.
I talk all about the first two episodes in my earlier review and the third episode below. The Good Place is peculiar, lovely, and captivating from the very first moment its on screen. The Good Place is striking and charming and altogether, divine. I gush about it all in my breakdown of the episode – Full review here.
Episode 1.03 "Tahani Al-Jamil"
So who sent Eleanor the "You Don't Belong Here" note? Eleanor is convinced that it's Tahani. It would be too easy for it to be her, so I'm glad that it wasn't. When Eleanor consults Chidi, he suggest that Eleanor sent herself the note which manifested just like the dancing shrimp and giraffe and all of that jazz. It was an educated guess but that would be too easy too.
Still, his conclusion leads to a great heart to heart between the two in which Eleanor states that good people are her kryptonite so she tries to drag people like Tahini down to her level to feel better. I didn't expect this vulnerability to come so soon but I'm glad that it did. If they're opening up this much this early on, that means the writers won't be shy about really digging deep and deeper at any point moving forward. Sometimes you can tell when shows try to stretch things out to leave room so they won't have to figure out how to top themselves. The Good Place is challenging itself and I really appreciate that.
But back to the note. It wasn't manifested by Eleanor. In fact, she receives another one that reads, We have to talk. Meet me tonight in the square. When she gets to the square, she finds none other than Tahani's soulmate, Jianyu! I didn't expect that! And he's not a mute! Perhaps he doesn't want to say the wrong thing, so he chose to be a mute until he can figure out why he too is not supposed to be in The Good Place. If both Eleanor and Jianyu don't belong in The Good Place, there's got to be plenty of others. I love this. Maybe The Good Place IS the Cincinnati of The Best Place. I just made up The Best Place to fit my theory. Going with this theory, I could understand why Tahani is here, she's very condescending and all of that jazz…but why would Chidi be there? I think he'd genuinely make it to The Best Place. So then that leaves this theory scrapped. So what if The Good Place really is just composed of the people who belong there and the "Cincinnati" people who for whatever reason that has yet to be explained (maybe it has to do with the points system?) found their way here instead of The Bad Place. I don't know. My theories and predictions are usually always wrong but I couldn't help myself here. I can't wait to see what the actual explanation for all of this is! Way to keep us on our toes!
Meanwhile, Chidi gets help of his own as Michael and Janet help him find a hobby after Michael realizes that all Chidi did when he was alive was study and teach morals and ethics. Finding a hobby doesn't go the way that Michael planned but he does agree to be Chidi's advisor as he embarks on a new writing journey. Chidi's not the only one partnering up with Michael. Eleanor has just agreed to be his assistant as he digs deeper into the mystery of why The Good Place has gone awry. And based on what we learned, that Eleanor isn't the only one who doesn't belong, it's not necessarily Eleanor's fault that The Good Place needs a security update among other features.
Finally, I'm loving what the writers are doing with Janet. She was hilarious in this episode as it appears Michael is trying to figure her out just as much as we are. He may have been an apprentice for over 200 years, but he's never had an assistant to go with his own neighborhood before. Great episode. another really satisfying half hour of comedy. I can't wait for next week.
This is Us (NBC) – Tuesdays at 10/9c
I'm a sucker for ensemble dramas and this did not disappoint. Plus, an ensemble family drama that transcends time! Wow. This Is Us is pretty brilliant. Funny, charming, so wonderfully honest and compelling in each and every story which each has such a beautiful, distinct tone. This Is Us delivers poignant, masterful storytelling and this is easily one new drama that I will and you should make a point to tune into each and every single week. – Full review here.
Designated Survivor (ABC) – Wednesdays at 10/9c
Kiefer Sutherland is back on the small screen…and all of America cheered!!! At least I imagined a mighty roar across the nation as the clock ticked to 10/9c and we finally got Kiefer back. This time, he's Tom and he's protecting the nation in an entirely different way…as the President of the United States when his Designated Survivor status must be enacted after the U.S. Capitol is bombed. Talk about high stakes! I'm pretty sure this is going to be my favorite new drama this TV season. – Full review here.
Notorious (ABC) – Thursdays at 9/8c
Notorious had a really solid series debut. I love the leads, Piper Perabo and Daniel Sunjata who have really great chemistry right off the bat. Their characters, their stories are intriguing enough to keep watching and when it comes down to it, that's why I will keep tuning in.
Because the stories on set can go on and on, it's set in the world of news after all. Journalism will never die, investigative or celebrity driven. So there's plenty of story on that front to play around with endlessly.
We're not tuning in for the new stories. Aside from the fact that fresh news is great, news is still news and will get tired very quickly. So we're tuning in to see the behind the scenes, to see how Julia, the top TV producer and her partner in crime, Jake, a defense attorney handle the news that's brought to them while balancing all that's happening in their personal lives. So far, so good. I was engaged in their stories all the way through. So the premiere was good but it wasn't must see TV. Hopefully this was simply a soft introduction to what we can expect. Only time will tell.
Pitch (FOX) – Thursdays at 9/8c
Pitch is optimistic and confident in what it's delivering and for good reason. It's the perfect commentary for today and the writers are taking their time exploring all aspects. What a wonderful opening to what is bound to be one of the most talked about shows this season. Pitch is undeniably gripping. I'm not even a huge baseball fan, but I am totally, completely on board for this show. – Full review here.
Better Things (FX) – Thursdays at 10/9c
Series Premiere "Sam/Pilot"
Better Things follows Sam (Pamela Adlon), a struggling actress and single mother of three girls and two dogs as she navigates raising three kids who don't listen and abuse the freedom she gives them and the world of acting where tries everything from physical auditions to voice over acting. It's not easy making a living as an actress, so it certainly isn't easy making a living as a single mom with multiple kids. Needless to say, Sam's life is quite stressful.
Following Sam's daily struggle, which is portrayed so genuinely, was so much fun to see because so many working parents, working moms, working single moms/guardians will get Sam and love Sam. The ins and outs of single parenting, of motherhood, of never giving up on your dream career, all of the elements are here and the writers are crystal clear about not romanticizing any of it. This is real life. Sam's struggle is a struggle that so many people can relate to, so this show should have no problem finding a great audience who wants to tune in each week to root Sam on. Because we all want somebody to root for. Preferably, somebody like us. Sam is us. So be sure to tune in.
The series premiere also includes brief appearances by Julie Bowen (Modern Family) and Constance Zimmer (UnREAL) starring as themselves. Fun fun! I believe three more episodes have aired since the show premiered though I've only seen the first two and am excited about catching up! If you've seen the show, what did you think?
Van Helsing (Syfy) – Fridays at 10/9c
Episode 1.01 "Help Me" + Episode 1.02 "Seen You"
Vampires! With The Vampire Diaries ending this season, it's the perfect time for another vampire show, a much more adult, grittier vampire drama to come along. Enter, Van Helsing. The two hour premiere begins in 2019, three years since "The Rising" and civilization has long since fallen. Three vampires have found our heroine, Vanessa alone on a slab in a lab and one bites her. Moments later, she's up from her coma and giving those vamps the beating of a lifetime before killing them.
Turns out, Vanessa was part of a mission. Also part of the mission, Doc (Rukiya Bernard) who has been turned into a vampire but is being caged and fed by Axel (Jonathan Scarfe) who was protecting their base alone while the rest of the group was outside. So when they come back with other survivors, he puts his foot down that she stays put just as she is. He also intends to keep the doors closed once again, no one in or out. Makes sense to me. The other survivors aren't feeling the vamp in a cage though, for good reason too.
Through his discussion with another survivor, we find out more about how Vanessa landed in a coma. Things are calm, the survivors go to sleep but they're awakened by a swarm of ferals and feeders – three of which are who attacked Vanessa in what we saw earlier. Apparently, the vamp blood doesn't negatively affect Vanessa. Apparently she can't be killed by it. Great crafting of the storytelling here. Loved it.
Episode one ends with one of the three vampires that Vanessa defended herself against coming back into the fold….human. So Vanessa can turn vampires back into humans. No wonder why Axel and his team were there to protect her and Doc.
Other tidbits worth mentioning from episode one…Vanessa has a daughter, Dylan and that's all she can remember when she wakes from her coma. I'm excited to find out later on in the season what has become of her daughter. Also, there's a deaf character on the show, one of the survivors, which was great to see. Representation matter so this was much appreciated.
Episode 2 begins in 2016 when the world is fine. So we get to see Vanessa with her daughter. Vanessa bit. Vanessa in Doc's care. We get to see the outbreak take place. Doc before she is turned. Doc as she turns. We essentially see it all. And by all, I mean all that we think we want and need to see. There's plenty more coming this season but by giving us what we think we want to see in the first two episodes, that leaves so much more room to tell more story and keep us on our toes in a totally refreshing way. I'm excited. More than I was before I tuned in. I cannot wait to see what's coming next! Especially since I'm not supremely familiar with the Van Helsing mythology. Such a fantastic series debut! I'm totally in for the entire season!
Pilot Watch, Cut From Watch List
Kevin Can Wait (CBS)
I tried but I can't. There's just too much good TV to keep up with, mediocre entertainment won't make the cut, no matter how much I like Kevin James.
Lethal Weapon (Fox)
As exciting as it was to see Damon Wayans back on the small screen, this show is not strong enough to commit to watching every week. Just stick with the movies.
Notable Mentions
Gotham (Fox) – Mondays at 8/7c
I'm half a season behind on Gotham so the plan is to catch up on this during the winter hiatus.
The Big Bang Theory (CBS) – Mondays at 8/7c
I haven't watched this show in a number of seasons but I think it's still worth mentioning?
Marvel's Agents of S.H.I.E.L.D. (ABC) – Tuesdays at 10/9c
I'm a season, maybe a season and a half behind on this show and don't have any plans on catching up anytime soon. I'll catch up eventually.
The Blacklist (NBC) – Thursdays at 10/9c
I'm not caught up on last season! I am catching up though!
Noteworthy Premieres Next Week (September 25 – October 1, 2016)
Sunday
7:30pm Bob's Burgers (Fox, Sept 25)
8pm Once Upon a Time (ABC, Sept 25)
8:30pm SON OF ZORN (Fox, Sept 25)
9pm Family Guy (Fox, Sept 25), Secrets and Lies (ABC, Sept 25)
9:30pm The Last Man On Earth (Fox, Sept 25)
10pm Quantico (ABC, Sept 25)
Tuesday
10pm AFTERMATH (Syfy, Sept 27)
Wednesday
9pm Criminal Minds (CBS, Sept 28)
Friday
Marvel's Luke Cage (Netflix, September 30)
What are your thoughts on the first premieres of the fall season?