So much to talk about! Ahhh!!! I definitely feel like I'm missing stuff but I don't want to sit on this post any longer so, oh well! First, I've relocated to the Hollywood area, so yay for personal life changes!
Second, Betty Bites Back has been fully funded! My short story will be published in the horror anthology next fall! Woo! More info on that below.
Third, after settling into my new space and organizing my books, I realized that there are 10 books that I'm currently reading (10 physical books, so not including ebooks or audiobooks that I own and library audiobooks). And by currently reading I mean I started at some point this year and have yet to get back to it. 2/10 I'm going to restart but the others I'm just going to dive back in. Some of these books I'm only a few chapters into, some I'm a few chapters away from the end. So, you already know which ones I'm opening back up first! Let's see if I can finish all 10 in September!
Ugh! I definitely feel like I'm missing something but I cannot for the life of me remember what it is! Onward!
TV
Yes, I'm STILL catching up on the TV in time for the Fall TV season which begins this month. I'm essentially done with my usual shows and now have moved onto the freshman series from last season so I can determine if I'll watch their sophomore seasons. I finally started Station 19 (ABC) and have two episodes left. I usually watch Shondaland shows right away but I've been on a firefighter drama ban ever since Rescue Me ended because that show was absolute perfection and I couldn't see myself watching another firefighter drama. But then Shondaland came along with Station 19. And even though Rescue Me ended 7 years ago, I still had that feeling of "It's too soon!" But I finally got myself in the mind space to give room for more firefighter dramas ha ha and I'm so glad I'm on board now! Woo!!!
As for shows that returned in August, Insecure (HBO) and The Sinner (USA) are the main shows worth mentioning. If you're not watching The Sinner which (Jessica Biel stars in and produces)  is absolutely wild, you need to watch season one on Netflix. Take a weekend to burn through that! It's really disturbing though FYI so just be prepared for some really dark subject material.
Kevin Smith
Movies
I ran into Kevin Smith! In my attempt not to mention Clerks or anything he's heard a million times before, I said that I liked Comic Book Men (AMC) and I didn't mention that I'm also from Jersey or that I loved his episodes of The Flash or anything umm more substantial than Comic Book Men, so looking back, I wish I had just mentioned what I wanted to hahaha but oh well! Anyway, the best part of this interaction was the photo taking. I held my phone up and he took the phone out of my hands to find the right lighting! I wish every celeb I ran into was a director! My would be shot was terrible so good looking out!
Moving on, the time finally came in which I dumped MoviePass. After they moved from one movie a day to 3 movies a month with extreme restrictions, I knew that my time with Movie Pass was over. From January to August 2018, I saw 29 movies through MoviePass which, counting up the prices on my tickets would have cost me $439 if I had paid full price but only cost me $80 at $10 a month. (And there were still a dozen movies that I wanted to see during this time but was just too busy/exhausted to get to the theaters to see.) I am SO glad that I took advantage of MoviePass while it lasted because I got to see so many movies in a way that was affordable for me. But at the rate that I'd like to go, the new system plus it's overall messiness as a company made me bow out. Now, I've joined AMC Stubs ($20 a month) which allows members to see 3 movies a week, even all in the same day if you want, no black out dates, including 3D and other formats and you can see the same movie more than once if you like. MoviePass already had and began to implement restrictions on all of the above so AMC Stubs is clearly the better option now. So far, I've seen one movie with AMC Stubs and it was so easy! I'm excited to put this program to work ha ha ha!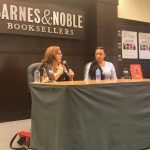 Books
First and foremost, Betty Bites Back has been fully funded! Thank you SO much to everyone who pledged to support this Kickstarter! I am beyond thrilled to have this feminist horror anthology edited by Demitria Lunetta (The Fade, Bad Blood), Mindy McGinnis (Heroine, This Darkness Mine) and Kate Karyus Quinn (Down with the Shine, (Don't You) Forget About Me) in my hands next year! My first short story ever published will be in Betty Bites Back!!! The anthology releases October 2019 so stay tuned for that! You can add the anthology to your shelf on Goodreads now! Wooooo!!!!!!!!!! Ahhhhhhh!!!!!!!!!!
As for bookish events in August, I went to two!! First was the launch event for Gretchen McNeil's #MurderTrending. She was in conversation with Tiffany Jackson (Monday's Not Coming) and it was so much fun – even though the day started with me being dehydrated, fainting at the bank, and going to the hospital! I took off for the day just for that event so nothing was going to stop me! I was a trooper haha and it was worth it! The second event I attended was the launch for Brandy Colbert's Finding Yvonne. She was in conversation with Lilliam Rivera (The Education of Margot Sánchez) and it was so great!!! I love supporting all of the authors on my radar but there's something special about attending author events for people who look like you. It's reassuring and it feels like I'm home. I loved this event. Definitely a highlight for 2018.
Vegan Stuff
All that comes to mind is my visit to Voodoo Doughnut at Universal City Walk right before I went to see Crazy Rich Asians. The doughnuts were great, so rich and I totally couldn't tell they were vegan! I still can't believe it! Wow! I definitely know where to go to treat myself at Universal, that's for sure!
E-book/Book/ARC/Audiobook Haul
* Down Time: An I Hunt Killers Prequel by Barry Lyga
* What the #@&% Is That?: The Saga Anthology of the Monstrous and the Macabre edited by John Joseph Adams & Douglas Cohen
* Finding Yvonne by Brandy Colbert
* #MURDERTRENDING by Gretchen McNeil
* Monday's Not Coming by Tiffany D. Jackson
Books I Read
If you'd like to keep track of my reading progress as it happens and reviews as they are posted, feel free to follow me on Goodreads!
Books That I Own That I Read (Physical/E-Book):
1. A Thousand Pieces of You by Claudia Gray
Library Books That I Read (Physical/E-Book):
1. Ms. Marvel, Vol. 9: Teenage Wasteland by G. Willow Wilson, Nico Leon
2. Giant Days, Vol. 4 by John Allison, Max Sarin, Whitney Cogar
3. Saga, Vol. 4  by Brian K. Vaughan & Fiona Staples
4. Locke & Key, Vol. 3: Crown of Shadows by Joe Hill & Gabriel Rodríguez
Audiobooks That I Listened To (Own/Library):
1. If They Come for Us by Fatimah Asghar
2. Harbor Me by Jacqueline Woodson
3. Zenith by Sasha Alsberg & Lindsay Cummings
My favorite read this month was: Saga, Vol. 4  by Brian K. Vaughan & Fiona Staples and Locke & Key, Vol. 3: Crown of Shadows by Joe Hill & Gabriel Rodríguez
Movies & Documentaries I Watched
Watched in August 2018
The Spy Who Dumped Me (Movie Theaters)
Eighth Grade (Movie Theaters)
Crazy Rich Asians (Movie Theaters)
My top three favorite movies this month were: All 3 movies were great!!!!
Until next month, happy reading and viewing!