It's been a long while since I've done a When I Didn't Have a DVR. To recap, I tell you what I watched back in the day before DVRs existed and before shows dropped entire seasons on streaming platforms. Sometimes it even took longer than the next day for shows to appear on their own network's websites. Ah. Those were the days. Very frustrating for sure haha.
So far, I've talked about Monday nights in the fall of 2007, Tuesday nights in 2008, and Thursday nights in the fall of 2009. Today, I'm going back to Wednesday nights in the fall of 2009…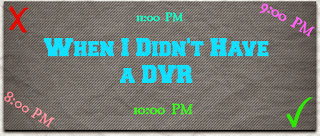 In the Fall of 2009, Primetime TV Looked Like This:
8pm Hour
ABC Hank + The Middle
CBS New Adventures of Old Christine + Gary Unmarried
The CW America's Next Top Model
Fox So You Think You Can Dance
NBC Parenthood / (Midseason: Mercy)
9pm Hour
ABC Modern Family + Cougar Town
CBS Criminal Minds
The CW The Beautiful Life
Fox Glee
NBC Law & Order: SVU
10pm Hour
ABC Eastwick
CBS CSI: NY
The CW Local Programming
Fox Local Programming
NBC The Jay Leno Show
FX Nip/Tuck
I Watched:
8pm
It was always about NBC during the 8 o'clock hour. Whether Parenthood was on or Mercy was on (which I adored even before the show premiered), I was there. While I did watch The Middle regularly, it wasn't enough that I would watch that over Parenthood. I did watch SYTYCD but not regularly. I love that show so much, it hurts to watch it honestly. It's so good but dance is so emotional and I just didn't want to go there so I didn't watch often. While I always wanted to watch New Adventures of Old Christine, I ultimately have never seen more than a handful of episodes, which is  travesty because Julia Louis-Dreyfus is comedy GOLD. Also, by this time, I was long over ANTM. I don't even know what the shows Hank and Gary Unmarried are.
9pm
This was the year that Modern Family, Cougar Town, and Glee all debuted on television. I watched Glee live and I watched Glee On Demand at least 2-3 more times before recording an episode of Gleek Squad Podcast, the first podcast dedicated to Glee. I was a huge Gleek, so nothing was going to get in my way of watching that show. I also made sure to watch Modern Family and Cougar Town when they were made available on ABC.com/On Demand. I think this was the year that ABC came to Hulu though if I'm not mistaken because I do remember catching up on Modern Family on Hulu in the early days of Hulu. While I do watch and enjoy Criminal Minds and Law & Order: SVU, I don't watch them regularly, so there was never any competition there. As for The Beautiful Life, who needed another show like that? Talk about fatigue. Yeah, that was never gonna happen.
10pm
Based on the schedule for this block, the only shows in competition for me were Eastwick and Nip/Tuck and I hadn't stuck with Nip/Tuck by that point (the show was in its final season then) so, Eastwick was where it was at for me. I thought the show was fun and had potential to be great but it didn't get the viewership to warrant the networking giving the show more time to become great. So, we ended up saying goodbye to both of these shows after 2009 ha ha. Yikes.
What were you watching on Wednesday nights in 2009?