So far on When I Didn't Have a DVR, I've talked about Monday nights in the fall of 2007 and Thursday nights in the fall of 2009. Today, I'm going back to Tuesday nights in the fall of 2008…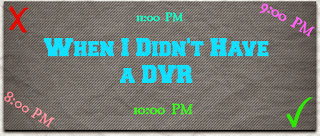 In the Fall of 2008, Primetime TV Looked Like This:
8pm
ABC Opportunity Knocks
CBS NCIS
The CW 90210
Fox House
NBC The Biggest Loser
9pm
ABC Dancing with the Stars
CBS The Mentalist
The CW Privileged
Fox Fringe
NBC The Biggest Loser
ABC Family Greek
10pm
ABC Eli Stone
CBS Without a Trace
The CW Local Programming
Fox Local Programming
NBC Law & Order: SVU
FX The Shield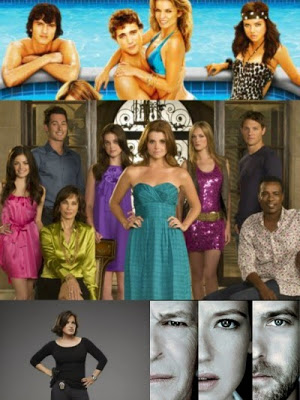 I Watched:
8pm
90210 on The CW instead of House on Fox but I remember both shows switching to Monday nights at one point and me watching both on Hulu, choosing another show to watch live ha ha and I wasn't into The Biggest Loser yet so that wasn't a conflict.
9pm
Fringe on Fox for the first half of the season and then I switched to watching Privileged on The CW and I didn't catch Greek on ABC Family.
As noted here, I caught up on Fringe later on and well, there was no need to catch up on Privileged because it was canceled. The fear of cancellation is actually why I started watching Privileged live. I even covered it each week in my TV Week in Review. I knew Fringe was fine but in the end, Privileged wasn't able to get picked up. As for Greek, as noted here, I started watching in 2009. If my memory is correct, I'd watch Greek live and Fringe on Hulu though Greek ended in 2011 and Fringe in 2013 so there was a time when I was lucky enough to watch live. I actually reviewed episodes of Fringe seasons 3 and 4 on BuzzFocus which is harder than it sounds as there's so much going on in this show. I'm glad I stopped reviewing that show because it really made my brain hurt ha ha! But boy is it one of my favorites.
10pm
Law & Order: SVU on NBC depending on the celebrity guest star that week instead of Eli Stone on ABC which I still need to catch up on. I never watched The Shield on FX and I am still debating if I should one day.
What were you watching on Tuesday nights in the fall of 2008?