While we count down to the third season of The 100 on The CW, I'm giving away one copy of The 100: The Complete Second Season which the winner can watch again to prepare for the most amazing season yet! Be sure to enter the giveaway (U.S. only) at midnight on 10/22/15 anytime until 10/29/15 at the end!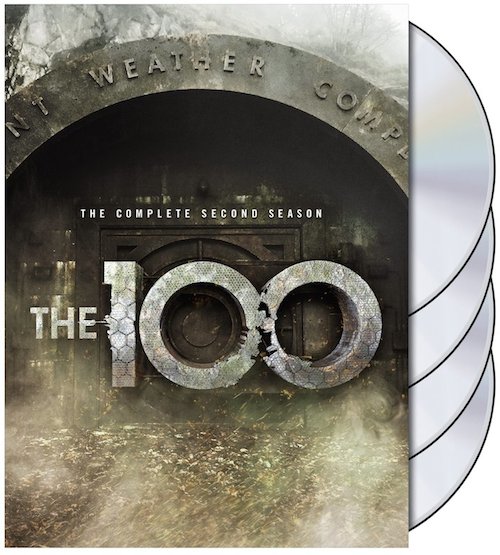 Release Date: October 13, 2015
Rating: Not Rated
Running Time: 673 minutes
Set almost 100 years after mankind nearly destroyed itself in a nuclear Armageddon, the surviving members of the human race aboard the orbiting "Ark" space station take the first step to recolonize Earth, by sending 100 juvenile delinquents back to the planet's surface to see if it is habitable. 
In the first season, they discovered that the Earth is not quite what they imagined – and that they were not alone.  Survivors from the nuclear apocalypse have broken into dangerous factions including The Grounders, Reapers and Mountain Men.  The first season finale found all of the survivors of the Ark returning to the surface, while The 100 fought for their lives against the Grounders. 
In Season Two, our heroes find themselves alternately challenged, supported and betrayed by their own people and alliances with the Grounders, but always manage to reach common ground in survival, as they face off against the lethal forces of Mount Weather, whose civilized environment masks a horrible secret. 
The 100: The Complete Second Season stars Eliza Taylor, Paige Turco (Person of Interest), Thomas McDonnell (Suburgatory), Bob Morley, Marie Avgeropoulos (Cult), Devon Bostick (Diary of a Wimpy Kid), Lindsey Morgan, Ricky Whittle (Austenland), Christopher Larkin, with Isaiah Washington (Grey's Anatomy) and Henry Ian Cusick (Lost).
Season one was absolutely fantastic so it was hard to imagine how the writers would top what they did but it's clear season one was a tease and in season two, we are just getting started on the ground. Mount Weather is the big bad this season, the people within it both guilty and innocent, the people outside it. Everywhere, there is trouble.
Clarke knows this haven is too good to be true and she never waivers from her duty to protect her people. She is headstrong and I love it. And I love that in the season premiere, Jasper says, "For the first time in our lives, we're not hungry. Why would we want to leave?" The foreshadowing is bananas. He finds out soon enough that the people of Mount Weather are hungry too! Hungry to survive. And he and all of the hundred are the key to them surviving. Talk about tension…and a battle to the death. I loved every single minute of it.
Everywhere, people must choose who to trust, who to test, who to use, how to live. 48 of The 100 are stuck inside Mount Weather…but not for long. Our people fight once their eyes are open. They don't lie down and take it. They search for answers, demand respect, and demand to be treated like human beings. Clarke thought she was a leader in season one? Ha. If she only knew what she would be facing in season two! What does it mean to kill and still be good at your core? Really tough questions posed here for very complex characters in a very complex world. Such beautiful, lively arcs for all of the characters, especially Clarke! Absolutely in love with these characters.
It's not all a fight to the death though. Clarke finds a love interest in Lexa. Clarke's friendship with Octavia is quite the interesting dynamic as Octavia comes into her own. Family ties are tested within and outside of the walls of Mount Weather. Really, when it comes down to it, the ground tests what it means to be human. Anya is back. Yep. She's back and she gives Clarke a run for her money. Jasper, Bellamy, Finn, everyone finds themselves challenged as well. When everything, even her body is against her, Raven becomes quite the soldier and makes me so proud while doing it! Many of the hundred are survivors in the beginning of the season and warriors by the end. They make me so proud! I love these guys! So many layers. Rejected by society and look at them now! Even the adults on the ground now can't stop them!
Then there's Chancellor Jaha and Murphy. If you wanted to see what's beyond the ground, we finally get to see that through their eyes. The pacing of this was such a tease! But I love it and I loved that at the end of the season, we're introduced to Allie (Erica Cerra, Eureka). If there's one thing I'm highly anticipating for season three, it's the storyline involving Allie! What storyline are you most anticipating seeing carried out?
Brilliant season two. Probably the strongest second season a show on The CW has ever seen. Absolutely phenomenal. Beyond excited for season three!
Special Features:
Deleted Scenes (Approx. 17 minutes total) – There is one unaired scene from "The 48" and "Many Happing Returns" on disc one, both including Raven – and I say that because for the deleted scenes here, I much prefer the ones with my favorite characters, like Raven. There's also one unaired scene from "Human Trials," "Fog of War," "Spacewalker," "Rubicon," and "Blood Must Have Blood – Part Two." There are two unaired scenes for "Long into an Abyss" and two unaired scenes from "Survival of the Fittest," none of these moved me but I do appreciate having these as options to view.
What I like about these scenes is that for the most part, all of the effects haven't been added so we get to see them at a slightly more organic stage in the production process. Also, there's the option to play all of the deleted scenes on the disc or play by episode which is always great!
The 100: Unlocking the Mountain (10:05 minutes) – What an incredible look at creating Mount Weather, which was inspired by the real Mount Weather which is a location in Virginia which will house the President of the United States and other very important people should there be a national emergency. It was also fun to hear the cast talk about what they think of what will become of Mount Weather in season three! Any theories of your own?
Appearing in This Feature:
Executive Producer, Jason Rothenberg
Production Designer, James Philpott
Cast Members, Eliza Taylor, Christopher Larkin, Devon Bostick, Marie Avgeropoulos, Johnny Whitworth, Bob Morley, Henry Ian Cusick, Lindsey Morgan, Ricky Whittle
The 100: Pre-Viz Stunts (6:25 minutes) – This feature is really cool! Viewers get to see the pre-visual effects stunt scenes by the stunt performers with the final air scenes intercut so we get to watch both at the same time! There are five scenes including Clarke and Anya's infamous battle, the scene in which Lincoln goes crazy, Finn & Clarke's wild struggle, Resurrection (go Jasper!), and those times when Octavia took out the guards. Very cool feature. Probably my favorite of them all.
2014 Comic-Con Panel (29 minutes) – If you missed the San Diego Comic Con panel last year or simply want to relive it again, here it is, edited conveniently for your viewing pleasure. My favorite part? The fans of the show as a whole fandom really appreciate the complexity of the world here and ask really awesome questions so the Q&A rocked. We rock!
Appearing in This Feature:
Moderator, Damian Holbrok
Executive Producer, Jason Rothenberg
Cast Members, Eliza Taylor, Isaiah Washington, Marie Avgeropoulos, Ricky Whittle, Devon Bostick, Lindsey Morgan
Gag Reel (3:55 minutes) – My favorite part? Eliza having trouble saying, "Withdrawal" in an American accent!
a Rafflecopter giveaway
Own The 100: The Complete Second Season on Blu-ray, DVD & Digital HD today.