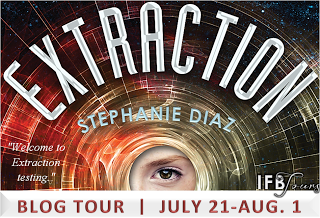 Extraction by Stephanie Diaz
Release Date: July 22, 2014
Publisher: St. Martin's Griffin
Genre: YA Sci-fi
ISBN: 9781250041173
Source: Netgalley
Add it to Goodreads
"Welcome to Extraction testing."
Clementine has spent her whole life preparing for her sixteenth birthday, when she'll be tested for Extraction in the hopes of being sent from the planet Kiel's toxic Surface to the much safer Core, where people live without fear or starvation. When she proves promising enough to be "Extracted," she must leave without Logan, the boy she loves. Torn apart from her only sense of family, Clem promises to come back and save him from brutal Surface life.
What she finds initially in the Core is a utopia compared to the Surface—it's free of hard labor, gun-wielding officials, and the moon's lethal acid. But life is anything but safe, and Clementine learns that the planet's leaders are planning to exterminate Surface dwellers—and that means Logan, too.
Trapped by the steel walls of the underground and the lies that keep her safe, Clementine must find a way to escape and rescue Logan and the rest of the planet. But the planet leaders don't want her running—they want her subdued.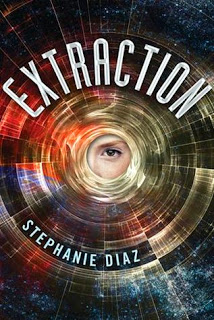 Immediately, I was drawn into Extraction by the concept and I am so glad that this book did not disappoint because the story here means everything. Yes, there are familiar elements that might stick out due to the setting at hand but I don't read nearly enough stories set in space so I was fine with, heck embraced the familiar. Diaz gives us what we expect and makes it her own in the most delicate ways and I love that! Great world building here. It really needed to be solid so the story itself holds up and it does. Talk about intense!
I was also very dedicated to these characters from page one and I was very excited about discovering how these characters would get from point A to point B, how everything would play out. To me, it was clear what would happen but Clementine had to get to a place in her own head space where she uses fear to push her forward. That, for me, is when the story really deepened. The matters of the heart. Of human will. Sure, her life changes when she's picked for extraction but that is just the beginning.
Talk about a rude awakening for Clementine to long for being saved and getting a spot at the Core where citizens are safe from the poisonous moon, only to find out what she does. Not only is Clementine on a mission to save herself and desperate to save those she loves (up until the very last person in her corner, Logan), she stands for truth and has to learn how to navigate that in her new home.
Clementine comes across the good and the bad… the very, very bad in a place she didn't think could have any negatives. This brings me to a place where I want to point out that when Clementine stands up to a slime ball named Sam… that moment was glorious! Go, Clementine! Anyway, what I love about this world is that these people grow up in a world that always makes individuals question themselves as worthy enough for extraction but we watch Clementine break out of that mold and it's like she's being reborn. It's beautiful.
I don't want to say too much about the book because I enjoyed jumping right in only having read the synopsis. I will say that Extraction is a solid debut with great characters, imagery, action, pacing, etc… and Diaz gives readers plenty to be satisfied with and much to anticipate in the sequel. I am looking forward to the stakes being raised so much higher in the sequel, Rebellion which releases in February. There's so much to work with here, especially with the way Extraction ends. It clearly sets up for a lot so I can't wait to see what comes next in this story. I read Extraction in two sittings and am sure that you'll find yourself in a similar situation! So go get Extraction today!
My Extraction Playlist With A Twist:


Who I'd Like to See Score the Extraction Soundtrack
If
Extraction
were ever adapted into a movie, here is a list of composers who'd be first on my list to approach to create the score (with one of my favorite pieces of their work in parentheses).
1. Alexandre Desplat (Extremely Loud & Incredibly Close Soundtrack)
2. Philip Glass (The Hours Soundtrack)
3. David Wingo (Take Shelter Soundtrack)
4. Anthony Gonzalez & Joseph Trapanese (Oblivion Soundtrack)
5. Fall On Your Sword (Another Earth Soundtrack)
Extraction by Stephanie Diaz is available today.
Be sure to visit all of the Extraction tour stops, listed here!