Megan over at The Nerdy Girlie has inspired this post today about…fandoms. I love being a part of so many different fandoms but I don't think that I have ever sat down to acknowledge them collectively. So I've created a few lists below and if you're curious about anything else, feel free to leave a comment!
3 Music Fandoms I'm In:
Britney Spears
Justin Timberlake
Spice Girls

Bonus: Broadway (Rent, Next to Normal, Hair, Spring Awakening, Wicked, Hairspray, Legally Blonde, etc…) – God bless the actors who come out for stagedoor in the winter. It means more than you know.
5 Movie Fandoms I'm In:
The Sound of Music
Shaun of the Dead
High School Musical
Across the Universe
Zombieland
Notice how three of the five are musicals. I can't help myself.
5 Miscellaneous Fandoms I'm In:
Podcasts: The Lost Podcast with Jay & Jack and The 10th Wonder Podcast
SDCC
YouTube: Colleen Ballinger/Miranda Sings stands out the most for me
Nerdist Industries
Nerdfighters
I am forever grateful for The Lost Podcast with Jay & Jack and The 10th Wonder Podcast which was dedicated to the TV series, Heroes. These two podcasts got me into the podcast world and now I can't keep up with all of the podcasts that I listen to!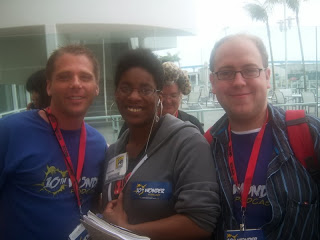 10 Book/Author Fandoms I'm In:
Harry Potter
The Hunger Games
Delirium
Divergent
Shatter Me
Unwind
The Walking Dead
Holly Black
D.J. MacHale
Marissa Meyer
I've always loved reading but Harry Potter took my love for reading out of this world.
15 Celebrity Fandoms I'm In:
Joss Whedon
J.J. Abrams
Josh Schwartz
Alyssa Milano
Hilary Duff
Kristen Bell
Tina Fey
Amy Poehler
Will Ferrell
Steve Carrell
Elizabeth Banks
Meryl Streep
Ellen DeGeneres
Chelsea Handler
Tia & Tamera Mowry
I'll never forget on my third visit to Chelsea Lately when one of the security guards remembered me and asked, "Weren't you here a few weeks ago?" "Yes," I said with an innocent face. Yes, I was.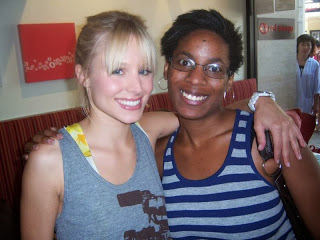 20 TV Fandoms I'm In:
Buffy the Vampire Slayer
Charmed
Big Brother
One Tree Hill
Lost
Doctor Who
The Office
It's Always Sunny in Philadelphia
Heroes
Jericho
Gossip Girl
Moonlight
Pushing Daisies
Chuck
Fringe
Terminator: The Sarah Connor Chronicles
The Vampire Diaries
White Collar
Cougar Town
The Middle
Parenthood
Nikita
Scandal
Orphan Black
Syfy Channel (Battlestar Galactica, Caprica, Eureka, Stargate Universe, Warehouse 13, Being Human, Lost Girl, Continuum, Face Off, Fangasm, etc…)
I really miss when cwtv.com had message boards and I could fangirl all day long with other One Tree Hill fans. I miss the Heroes fan forums. I miss the Moonlight groups on Facebook back when people actually used groups. I miss every single thing about Chuck and TSCC and those fandoms. I miss talking about Fringe each week during and after the episodes and being way over my head. I love that the Lost fandom is alive and kicking, just as strong as it was when the show was on. I love TV and the diverse communities of people it brings together. TV fandoms have been so good to me. You're the best.
10 Fandoms I Wish Existed:
Cone Heads
The Flintstones
Jumanji
Good Burger
Riding in Cars with Boys
The Princess Diaries
Stick It
The Book of Eli
Jim Carrey
Rebel Wilson
Do fandoms exist for any of the above? If so, show me the way!
7 Instances in Which I'm A Big Fan But Not Active in the Fandom Anymore:
Mary Kate & Ashley
Stacie Orrico
Jennifer Lopez
Mariah Carey
Michael Jackson
Twilight
The Big Bang Theory
At one point, I put together an unofficial street team for Stacie Orrico. Yeah.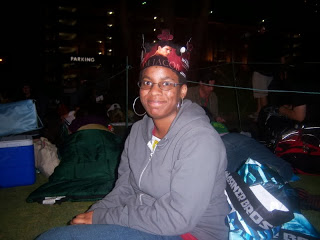 7 Fandoms I'd Like To Consider Myself In But Will Not:
X-Men: Well, this is easy to explain. I love the films but I haven't read nearly enough comics to even dare say that I am worthy of being in this fandom.
Disney: I may have grown up watching Disney movies all the time but there are only a handful of movies that I ABSOLUTELY LOVE and even then, I can't say that I know all of the words to these movies or even just the songs in the movie musicals. Because I know so many people who know all of the lines to essentially ever Disney movie ever made, I know people who collect Disney films, I know people who are overjoyed when any piece of Disney news comes out… I don't feel like I can say that I'm part of the fandom because I'm just not at that level. I'm not obsessed. Yeah, I'll watch Tangled three times in a row because it's that good but as many times as I've done that (more times than I can count), I still fumble through the words during the songs. I love Disney movies but I know people who take all that is Disney even outside of the films to an entirely different level and sadly, I am not on that level. To find out which Disney movies are my favorites, click here.
Kevin Smith: While I've seen his films, I've never re-watched any of them and while I make it a point to attend his panels at San Diego Comic Con, I don't make it a point to see him at other conventions and while I live in NJ, I've never been to his comic book store and while I have such a high level of respect for him, I know what the hardcore Kevin Smith fans do and I do half of that so I don't consider myself worthy to be a part of this fandom.
Arrested Development: I really enjoy Arrested Development but when I think about it, I can't tell you one line from the show by heart and I've never re-watched the show before. For me, those are the first signs that I am A) Obsessed and B) Nearing towards being in a fandom. Neither apply here…so…
Beyonce: My sister is a big enough Beyonce fan for the entire world. I love Beyonce but I'll leave it to Kira to fangirl. Believe me, she's got it covered.
Starkid: I may be subscribed to their YouTube channel but I've honestly only watched their Harry Potter musicals and I don't feel like I can say that I'm part of this fandom when I haven't even watched their other work and I don't actively keep up with what they're doing. I need to change this.
The Fandom That Never Stood A Chance:
Purple Moon – I was devastated when this company folded in 1999, ending many, many hours of obsessing over Rockett and her world. Gone too soon.
So what fandoms are you in, miss being in, and are not quite sure that you are in?