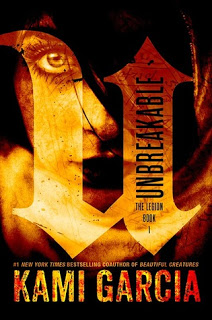 Unbreakable by Kami Garcia
Release Date: October 1, 2013
Publisher: Little, Brown Books for Young Readers
Genre: Young Adult Supernatural
ISBN: 978-0316210171
Source: ARC from BEA 2013
Add it to Goodreads
I never believed in ghosts. Until one tried to kill me.
When Kennedy Waters finds her mother dead, her world begins to unravel. She doesn't know that paranormal forces in a much darker world are the ones pulling the strings. Not until identical twins Jared and Lukas Lockhart break into Kennedy's room and destroy a dangerous spirit sent to kill her. The brothers reveal that her mother was part of an ancient secret society responsible for protecting the world from a vengeful demon — a society whose five members were all murdered on the same night.
Now Kennedy has to take her mother's place in the Legion if she wants to uncover the truth and stay alive. Along with new Legion members Priest and Alara, the teens race to find the only weapon that might be able to destroy the demon — battling the deadly spirits he controls every step of the way.
Suspense, romance, and the paranormal meet in this chilling urban fantasy, the first book in a new series from Kami Garcia, bestselling coauthor of the Beautiful Creatures novels.
1. Who were the most memorable characters?
Kami Garcia did a fantastic job making all five members of the legion memorable in their own way. My favorite of the legion is easily, Priest – even though I'm not a fan of his nickname.
2. Which characters did you want more from?
While readers do get a tiny bit of back story on each member of the legion, it's all need to know back story and it fits for this book. Usually, I'd want more back story but since we don't need to know it right now, it would only be a selfish distraction at this point so I'm fine with what's been shared thus far.
3. Which character name is your favorite?
Since my cousin, a girl is named Kennedi, it was fun to see the MC, a girl, named Kennedy. I also jumped up when I saw the names Elle and Millicent. Any Legally Blonde or One Tree Hill fans out there?
4. How did you connect with the main character?
Kennedy was thrown into a whole new world essentially and wasn't going to take her new circle of friends' word for it. She still had to come to terms with all that happened and her role in it moving forward on own her and I think we can all relate to that. I found that to be refreshing, Kennedy really struggling with accepting this new reality, especially when her own family knew about it and didn't prepare her for it. I think that's really where the struggle came in and I was so happy to see Kennedy step up to the plate despite her being in the dark for so long.
5. Is there a minor character you really connected with?
As soon as Alara was introduced, I was waiting for that moment of vulnerability so when it finally came, I was extremely gratifying. At first, it's easy to write her off as an unlikable character but then you remember, they are all in mourning and they are all scared. And everyone shows both in their own way. That was especially important to see for Alara given how off putting she seems in the beginning. Most important of all, they're all pushing forward.
6. Which relationship did you enjoy reading the most?
The dynamic between Kennedy and each member of the legion was exciting to see. Although I can't say that I am a fan of Kennedy being slightly torn between the brothers. It seems as though it's clear which brother she's into but certain scenes made me think, "Oh no. This is borderline love triangle." None of that please. This story is enjoyable enough without one.
7. What were your initial thoughts on the premise?
I initially thought, "Whoa, this sounds like a teen version of a Supernatural episode." That about sums it up even after reading the book.
8. Did you have a favorite quote?
This is from the ARC: You have to lace your fingers just right to catch your dreams. And you don't want to lose them because they're not easy to find again.
9. What setting had the best imagery?
I loved the imagery in the beginning of the book but the scene that stands out to me the most is the well scene. That was fun to read!
10. What line or scene made you think, "I wonder how much research it took to write this?"
I pretty much thought this on every page. The research she's done plays a big part in the world and the story being told. That said, she makes it her own and I love what she's done mixing what we know about the supernatural and what best serves this story.
11. What did you notice most about the author's writing?
The characters each had their own voice which I always love to see. I hoped this would be the case for her first solo project after Beautiful Creatures and was pleased to find it so from page one. It's so great to see her skills without her Beautiful Creatures co-writer, Margaret Stohl. Which reminds me, I still need to read Icons by Stohl.
12. Which scene resonated with you the most?
The well scene was powerful for me because it was a chance for somebody to step up to the plate in the face of a known and yet still very much unknown danger.
13. What theme/symbolism struck you the most?
All throughout reading, I found it very interesting to see how knowledge and power (and trust) played a part in how these characters interacted with each other and their own individual decisions, especially when it mattered most.
14. If this book had a theme song what would it be?
There's not a song that comes to mind immediately, perhaps because this book is somewhat creepy but not nearly as dark as I expected it to be given the cover, so now I'm trying to come up with a song that matches both the book and the cover and I've got…nothing. But Priest has quite a number of songs he listens to throughout the book, so perhaps any of those.
15. What was the biggest lesson learned for you or something you needed to be reminded of?
You can never be reminded enough how quickly life can change and how often it can change. Keep your eyes open and don't let change break you.
16. Did you read this at the right time in your life?
As a fan of the supernatural, this is a book I'd enjoy at any time in my life but at the height of my supernatural love, in the late 90s, I think I would have raved and raved and raved about this book.
17. Any pet peeves?
Well, I did roll my eyes at the line we see in just about every YA book when the MC feels her tears and realizes she's crying.
18. Which did you like the most, the title or the cover? The storytelling, writing, or world building? The opening or conclusion?
The title was interesting because while the bond of the legion is unbreakable, Kennedy comes close to breaking a few times…and even though she steps up to the plate, I wouldn't say she can't break. Really, they are all so broken but do they even have time to fix themselves when they have to save the world? I like what the title implies and encourages but these characters are broken-hearted. They're just stepping over the pieces right now. It's an interesting title to say the least.
19. Can you rate pacing, transitions, and the middle on a scale of 1-5 with 5 being the best?
Middle 3.5, Transitions 4, Pacing 5
20. If you read this again, would it be as an audio book or on your kindle to annotate?
I'd love to read this as an audio book.
21. Do you think Unbreakable could adapt to film well?
If it's done right, yes but I like the story just fine in my head.
Unbreakable by Kami Garcia releases October 1, 2013.