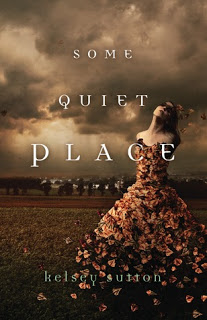 Some Quiet Place by Kelsey Sutton
Release Date: July 8, 2013
Publisher: Flux
Genre: Young Adult Paranormal
ISBN: 978-0738736433
Source: Paperback from BEA 2013
Add it to Goodreads
I can't weep. I can't fear. I've grown talented at pretending.
Elizabeth Caldwell doesn't feel emotions . . . she sees them. Longing, Shame, and Courage materialize around her classmates. Fury and Resentment appear in her dysfunctional home. They've all given up on Elizabeth because she doesn't succumb to their touch. All, that is, save one—Fear. He's intrigued by her, as desperate to understand the accident that changed Elizabeth's life as she is herself.
Elizabeth and Fear both sense that the key to her past is hidden in the dream paintings she hides in the family barn. But a shadowy menace has begun to stalk her, and try as she might, Elizabeth can barely avoid the brutality of her life long enough to uncover the truth about herself. When it matters most, will she be able to rely on Fear to save her?
Three pages into Some Quiet Place and I knew I'd be putting this on my list of favorite reads of 2013. This book is truly one of the most magnificent pieces of work I have read not only in 2013 but ever. Looking at the cover, I knew this book would be dark but I had no idea how incredibly awe-inspiring it would be until I opened it up. This book will be on my mind just as often as Delirium by Lauren Oliver is…every single day.
Are you ready to face Fear? That's what you have to ask yourself before you pick up this book. Some Quiet Place is heavy. It is not for the faint of heart. Three reasons why: One, there's a story being told here but underneath that there's another message being shared in every line of the story and some readers might find that overwhelming. Fear is a character in this story but as we know…fear is also…fear. Read these three sentences, once where Fear is a character and once recognizing fear for what it is:
I stand again, scooting the stool back but Fear moves to block me.
Fear is so cold.
I don't bother asking him to leave-he never listens to me, anyway…
Which brings us to number two…some readers might not be ready to face the messages in this book. If you're not up for a book that makes you think and/or you're not willing to recognize fear, acknowledge it, and face it, I wouldn't recommend this book for you right now. It might help some readers get out of a state of fear that they're in but for some others, it might be too heavy. So, just know what you can handle.
Three, the main character doesn't feel emotions. So please, for the love of God, if you read this warning or hey, even the back of the book for the synopsis and go in thinking the MC is a likable character, you have only yourself to blame for your initial disappointment. Now, I liked the MC right off the bat but that's because I was willing to take a chance on her (just as so many people have taken a chance on me – and I have emotions, so…). The thing is, we're following the MC as she figures out why she is the way she is, as she tears down those walls, and as she grows because of it. That's half the story right there. If you're not willing to watch that growth, the most unique type of character growth I've ever seen, please make sure you put this on your TBR list for a time when you are ready. Sometimes it takes stripping everything away in order to see the whole picture. Sutton has done this in the most hauntingly beautiful way ever. The payoff is so worth it.
This book is unconventional in every way. Give it a chance just like you gave Shatter Me by Tahereh Mafi a chance. People want to see something original, different in YA and then aren't willing to give it a chance or slam it because they aren't willing to see themselves in such madness. This is what you've been waiting for, if only you're willing to open your eyes to wholeheartedly see this perilous beauty. I promise you, your heart will break and be made whole again by the end.
The title really says it all. This book will force you to recognize and acknowledge truth in a way you have never been challenged to do so before. Some would say that people distract themselves with noise because silence is so terrifying. Some would say it's terrifying because the only person you have to face in that moment is you. Is truth. Are you ready to go to some quiet place?
Some Quiet Place is fascinating and unforgettable and without hesitation, truly one of the most exquisite pieces ever. What an outstanding debut. I cannot wait to read more from Kelsey Sutton!
Some Quiet Place by Kelsey Sutton releases July 8, 2013.