Super Pop! Pop Culture Top Ten Lists to Help You Win with Trivia, Survive the Wild, and Make It Through the Holidays by Daniel Harmon
Release Date: June 4, 2013
Publisher: Zest Books
Genre: Yound Adult Nonfiction/Humor/General
ISBN: 9781936976362
Add it to Goodreads
As David Letterman demonstrates every night on the Late Show, top ten lists are really funny. And we know lists are a great way to get organized, get things done, and streamline life's many tasks. But now, pop culture expert Daniel Harmon takes a totally new approach to list making in his new book Super Pop! and organizes 500 movies, songs, books, video games, TV shows, and podcasts into top ten lists that not only have the power to entertain, but also to help create a new and better you!
Just in time for summer movie blockbuster and beach reading season, Harmon shares tips on not only what we all can watch, play, and read next, but also which top ten movies, music, comics, and other types of entertainment will help us become more interesting at a dinner party, more fun on a date, and generally smarter and happier people overall.
As someone who has always been a huge fan of pop culture, this book was right up my alley. Super Pop! is broken into five categories that revolve around different ways to look at pop culture for self-improvement – providing a refreshing twist on lists like these and a guilt free way to be immersed in the culture (not that I need anymore excuses). There are 40+ lists and before I even got to them, I knew I loved Daniel's voice, energy, and where he was headed. I mean, he referenced how awesome the titles of the collections at Blockbuster were. Nostalgia at its best!
You can tell when someone is really passionate about a topic and this guy pays attention. Daniel takes it a step further than TV, movies, music, and books. He includes YouTube, web series, podcasts, comic books, video games, etc… which automatically make this collection of lists ten times better than any other list! I mean, podcasts?! I love podcasts and never see them on lists so he won me over with that. I'm very confused as to why Pop My Culture Podcast is nowhere to be found in this book but hey, there a million podcasts out there. Maybe this one wasn't on Daniel's radar? I've been listening to that podcast since episode one and cannot recommend it enough! Especially for aspiring (comedy) writers. Anyway, back to the book…
What's great about these lists is that you know exactly what you're in for by the sub-title. So if you're not into gang wars and the drug trade, you can skip a list full of Breaking Bad and The Wire or you can skip Gone Girl on the Valentine's Day list. Oh wait, that doesn't sound right. Yeah. If you've read Gone Girl, you know that this book serves no place on any Valentine's Day list. Or does it? Daniel Harmon thinks out of the box and believe me when I say you'll want to read this book to see where he takes you.
There's a list for everyone in this book and an endless amount of recommendations for any addict of TV, movies, etc… and don't think that all of the list are exclusive to one medium. The majority of these lists are a mixed bag, which is awesome! It may account for why you believe something should have made the list and is not there. I definitely thought that while reading the list, "Stop Talking Bad: Models of Soulful, Incisive, Hard-Hitting Dialogue." "Get Motivated: Songs Guaranteed to Get You Pumped" was a list of all songs and I still felt that way. But really, these lists turned out very well considering the endless amount of pop culture in the air.
Each item on a list comes with the director/writer/creator of the project, the year it released, and a brief description of why it belongs on the list. Great layout. Great descriptions. I really got a kick out of "Happiness, As Defined by Ten Random Celebrities." Oh my God. That list. I am still laughing. Other favorite lists of mine include:
* Drink the Kool-Aid: Touchstones for Quirky, Like Minded People (I am trying my hardest to get through Twin Peaks & I still need to watch The Room)
* Outwit Death: Essential Lessons in Survival
* Put on a Poetic Air (Deadwood and Flight of the Conchords FTW!)
* Drop the Facade: Songs Guaranteed to Melt Your Frozen Heart
* Be More Responsible: Essential Reminders That If You Don't Do It, No One Will (Yes! I love this list!)
* Achieve Mindfulness: Movies That Will Show You the Way (With Wise Elders Now Included!)
* Thanksgiving: Ad Hoc Families That Will Do in a Pinch
You'll have to pick up the book to find out what lists Veronica Mars, Misfits, Thirteen Reasons Why, Delirium, Party of Five, Beyonce's "Countdown" Video, Parks & Rec, and Louie make it on! Happy Reading!
Melody's Top Ten List
Faes Wide Shut: Fae Can Teach You A Thing or Two About Life
(But You'll Have to Watch/Read to Find Out What!)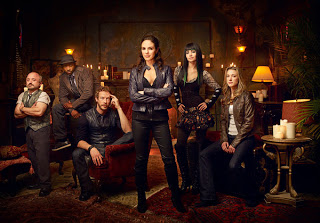 10. Lost Girl Created by Michelle Lovretta (2010) – TV
9. Tithe Written by Holly Black (2002) – Book
8. Charmed Episode 3.3 "Once Upon a Time" Written by Krista Vernoff (2000)
7. Hook Directed by Steven Spielberg (1991) – Movie
6. Paranormalcy Written by Kiersten White (2010) – Book
5. FernGully: The Last Rainforest Directed by Bill Kroyer (1992) – Movie
4. The Iron King Written by Julie Kagawa (2010) – Book
3. Supernatural Episode 8.11 "LARP and the Real Girl" Written by Eric Kripke and Robbie Thompson (2013)
2. "Faerie Queen – Faerie Dance" by Blackmore's Night (2006) – Song
1.
Click here for the dates of the Super Pop! Super Summer Blog Tour!
Buy Super Pop! at IndieBound, Amazon, Barnes and Noble, and The Book Depository.