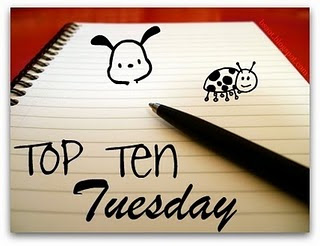 It's Top Ten Tuesday, hosted by The Broke and the Bookish. This week's challenge: Top Ten Authors That I'd Put On My Auto-Buy List. I picked:
1. Jodi Picoult
My favorites of hers include Perfect Match, The Pact, My Sister's Keeper, Vanishing Acts, and Nineteen Minutes.
2. Lauren Oliver
I fell in love with Oliver after reading Delirium. It took me all of two seconds to come to the conclusion that I will buy anything she writes.
3. Holly Black
After seeing Holly on a panel at San Diego Comic Con back in 2007 and enjoying her so much, I realized she would be signing autographs alongside D.J. MacHale whom I love, so I decided to pick up one of her books since I was already in line anyway. I fell in love with Tithe, Valiant, and Ironside! I absolutely loved White Cat and in my eyes, she can do no wrong! I love Holly Black!
4. Ellen Hopkins
I'm just mad that I didn't start reading her books when she first came out, when everyone I personally know told me to.
5. D.J. MacHale
If you haven't read the Pendragon series, you need to go get all ten books now! You will not be disappointed!
6. Dan Brown
Yes, I love his books. What can I say?
7. Stephenie Meyer
I understand the irony of having Meyer on the list and not J.K. Rowling. But when The Casual Vacancy came out, I realized that Rowling is actually not on my Auto-Buy list like I thought. Meyer however hasn't given me a reason just yet to pass. Especially since I enjoyed The Host way more than the Twilight series. So. Yeah.
8. Ellen DeGeneres
Do I need to explain this one?
9. Tim LaHaye & Jerry B. Jenkins
I'm kind of obsessed with the end times so reading the Left Behind series among other books by these authors just goes with the territory. The Left Behind series is a really incredible adventure that I recommend to everyone!
10. Joyce Meyer
Everyday, we strive to be better people. Joyce's books are a reminder of how we can do that.
Extra
Top Ten Screenwriters That I'd Put On My Auto-Watch List:
Joss Whedon, Jane Espenson, Josh Schwartz, J.J. Abrams, Julie Plec, Christopher Nolan, Tina Fey, Cameron Crowe, Ben Affleck, Andrew Niccol
Which authors do you automatically buy from?