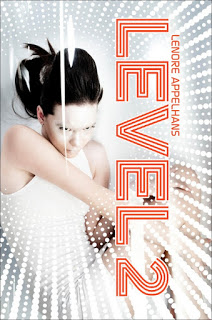 Level 2 by Lenore Appelhans
Release Date: January 15, 2013
Publisher: Simon & Schuster Books for Young Readers
Genre: Young Adult Sci-fi
ISBN: 978-1442441859
Source: Bought
Add it to Goodreads
Since her untimely death the day before her eighteenth birthday, Felicia Ward has been trapped in Level 2, a stark white afterlife located between our world and the next. Along with her fellow drones, Felicia passes the endless hours reliving memories of her time on Earth and mourning what she's lost—family, friends, and Neil, the boy she loved.
Then a girl in a neighboring chamber is found dead, and nobody but Felicia recalls that she existed in the first place. When Julian—a dangerously charming guy Felicia knew in life—comes to offer Felicia a way out, Felicia learns the truth: If she joins the rebellion to overthrow the Morati, the angel guardians of Level 2, she can be with Neil again.
Suspended between Heaven and Earth, Felicia finds herself at the center of an age-old struggle between good and evil. As memories from her life come back to haunt her, and as the Morati hunt her down, Felicia will discover it's not just her own redemption at stake… but the salvation of all mankind.
The year has just begun but I am going to stand firm in my statement that Level 2 is one of my favorite 2013 releases. This is one of the most original pieces of work I have read in a long time. Level 2 is a reminder of why we all fell in love with reading.
Appelhans lets her imagination soar in the afterlife and then brings us back to earth in such seamless transitions and gives us something to ponder at every turn. Don't be afraid of the flashbacks. Don't even think about groaning. The world building is phenomenal. Seriously, you should have seen me putting the book down to clap my hands & say "Bravo" over & over throughout my reading of the book. Appelhans knows the weight and significance of flashbacks and has clearly done her homework on how to make the most out of them. She has masterfully interwoven the past and the present in a way that keeps you turning every page until you've finished the book. Oh the suspense! Not to mention, the imagery was fantastic! CBS Films has the option rights for Level 2 and I am hoping they make the moves that need to be made to see this on the big screen because this is the perfect book to adapt.
As for adapting to the outline of the book…I admit that at times in the first half of Level 2, I was looking for more action than memories but waiting for the climax was worth the anticipation! Especially with the twists and revelations along the way. That said, much of the main action at the end happens without Felicia and goes by really quickly. At least it was that way when I read the ARC last summer. While that might be slightly disappointing to hear, remember, we do have Level 3 to look forward to and we definitely won't have these thoughts then. Level 2 might seem like it concludes in a nice little bow but we all know what comes next. Game on. I am really looking forward to seeing The Morati more fleshed out in the sequel!
Character development for both the main and minor characters is superb. The pacing is perfect. We knew just enough about each character at all of the right times and you feel for every single one of them. Now that is not easy to do! Appelhans killed it! She did it! I am also thrilled to say that there is no love triangle in this story. I am hoping that remains the case in Level 3. There doesn't have to be a love triangle for a story to be complex and gripping and everything else you want a story to deliver. Relationships between two individuals is complex enough as we see in all of the different types of relationships Felicia has. Some might even go as so far to argue that there is not a love triangle but instead a love rectangle/square. It is easy to read into things that aren't there in a genre that is saturated with love triangles but one thing is for sure. Felicia has love for everyone and it is tailored to them. She has been awoken in more ways than one. Love is worth fighting for but not just the love between a girlfriend and a boyfriend. There is so much more to love than that one aspect. Bravo Appelhans for making a story about that love.
Sure, I could throw a few words at you, "the afterlife, fallen angels, & every day life struggles come to a head" but that's simply not enough. Yes, I did say fallen angels. But I don't want to say anymore on that. I want you to be surprised by how everything comes together just as I was. I will say though that on earth, I was very pleased with how Appelhans portrayed the church. The characters weren't stereotypical or worse, big time religious folk. Jesus is greater than religion so I love how she incorporated this aspect into the story.
Diving right into the book, my initial reaction of the setting was that the hives and chambers remind of Dollhouse, a one hour Joss Whedon drama that aired on Fox a few years back and the scanner drones remind me of War of the Worlds among other things. More on comparisons in a future Thursday Trails post. Now in the book, Level 2 is described as a place where you sift through memories to find meaning of your time on earth in order to let go and move on. I love to be thrilled and thrown thought provoking nuggets at the same time and that's what Appelhans does with this story. What a fascinating story this is and what life changing messages there are here. We see the consequences of wanting what doesn't belong to you. We see the rewards of truly living the best life you can live. It really makes you think about just how rich your afterlife would be if you died right now. At the risk of sounding cheesy, life is a flower… how much are you willing to water it? Appelhans will wake up so many readers up with this fascinating debut. Don't sit on this. This is a fast paced novel that you will easily devour in one sitting so go ahead and pre-order your copy today! You will not be disappointed.
Extras:
* I am in love with the cover of Level 2.
* I appreciated the shout out to the card game, Skip-Bo. I hope that made the cut! Can't wait to get a final copy and re-read this one!
Level 2 by Lenore Appelhans hits bookshelves January 15, 2013.