I've been going to San Diego Comic Con on and off since the mid/late 90s, annually since 2005 (minus '11, '13, '14, and '15). Though I don't count the 90s since I don't really remember much of it. Anyway, every year, when I meet first time Comic Con goers, I'm asked 21 questions, so I wanted to make a list of answers or a guide for those wanting tips. I've compiled a list of tips below, though feel free to check back a week or two before the Con, as I may add a thing or two. I've never volunteered, I do not bring my car, I do not have kids, and I haven't given blood, so I am afraid I am not much help in those departments. But if you have any questions that I have not yet touched upon, feel free to leave a comment and I will be sure to help as best I can!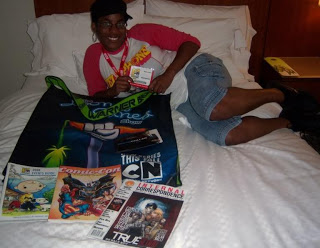 Planning Ahead
* Plan ahead so that you are not lost and overwhelmed each day. The programming schedule will be online ten days to two weeks prior to Comic Con. They'll release one day's worth of scheduling each day over 4 days, instead of releasing the entire schedule at once. You are most likely not going to be able to do everything that you want to do. So just be grateful that you are able to come in the first place and that way you can't be disappointed.
*Bring: Money, food/snacks & water (Ralphs Supermarket is open 24 hours on Market St & 1st), comfortable walking shoes, hat/sunglasses, sunscreen, an umbrella (to block the sun in addition to rain), hand sanitizer, gum/mints, aspirin, allergy medication, pepto bismol (you never know if you'll eat something that will give you an upset stomach), camera (charge it and bring your charger), cell phone (charge it and bring your charger if your battery dies quickly), iPod (charge it), your wi-fi card (just in case you do not want to deal with the slow wi-fi available in the exhibit hall and Hall H as well as the hot spots around San Diego), book/nook/kindle, portable chair/small blanket/pillow (If you will be waiting in line for panels, specifically overnight), playing cards to keep you and those around you busy, notepad/pens/sharpies, business cards, deodorant, jacket/sweater (there is strong air conditioning inside of the convention center), bag or backpack to carry food/snacks/drinks and freebies (if you don't stop in the exhibit hall on Preview Night and get one of the few free collectible bags at certain booths).
*Hit the ATM before you start your day, it's so much easier this way. Many booths take credit cards but you need to be prepared if they don't and if you didn't call your bank before you came down to SDCC to let them know that you will be in SD, your card might be flagged and declined if you spend too much that seems irregular to your bank. So to avoid any delays or bigger disappointments, call your bank and carry cash. Manage your money wisely.
*Get plenty of sleep each night (and depending on your schedule, you may need to get up way before the sun rises).
*DO NOT forget to wear badge every day on your way to the convention center, or you won't get in.
*The shuttle bus and cabs are great but walking is fine too…sometimes quicker. Pedi-cabs are expensive, don't do it. If you plan on parking each morning and haven't reserved your spot, it is best to arrive as early as possible…at the latest 7:30am.
– Because of the hotel disaster in 2011, Comic Con has expanded the shuttle route to hotels in the Mission Valley and Shelter Island areas. The route for Mission Valley will run from 7:00 am to 8:00 pm from a location near the Omni Hotel.
– Bag Check will also be open until 2:00 am now so that attendees can check their bags while taking part in evening activities.
*Pick up the daily newsletter each morning which showcases the previous day and shows any changes in the program of events for the current day. The dailies are usually stacked around escalators, near exhibit hall entrances inside convention center, etc… Also, be sure to check the information boards located throughout the center, typically right outside the entrance of all of the panel rooms.
*Make sure you know where your bank is, the post office is, and Fedex/Kinkos amongst other important places before you arrive, especially the latter if the lines are busy inside the convention center.
*Make sure you DVR/Tivo/etc… G4's coverage of Comic Con! DVR Syfy Presents Live From Comic Con and check out Comic-Con HQ whether or not you're attending.
Your Badge
*Badges are now being mailed to attendees months-weeks before the convention rather than having attendees pick them up at the convention center and personally, I like the mailing of the badges way more. Once at the convention center, all you have to do is pick up your bag, programming guide, and souvenir book and if you are disappointed with your collectible bag, you can always trade with other attendees or buy someone off if you so choose to. I traded that Cartoon Network bag and traded two more times until I got The Big Bang Theory bag.
The badges are now RFID badges which 1) tracks the number of attendees inside of the convention center at any given time and 2) significantly cuts down on counterfeit badges which have been a huge problem over the years. The addition of RFID to the badges has been a huge plus to the convention center as it has really cleared up the floor of attendees using fake badges to get in. It's still crowded but noticeably less crowded. Good work, SDCC! All you have to do is scan your badge when you enter and leave the convention center and it's actually not as time consuming as you'd think. It's really easy and a huge plus to your overall experience.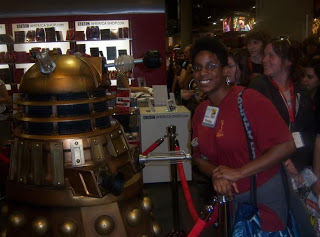 Preview Night
*Because of the increasing number of attendees on Preview Night each year, Comic Con has limited attendance this year. They've made available four-day badges with and without the Preview Night option. Only 4-Day Badges that include the "WITH PREVIEW NIGHT" option can pickup their badge and be admitted to Preview Night on Wednesday.
*If you want to be the first to get collectible items, it is best to come right back to the convention center after you have settled into your hotel, received your badge, and gotten a bite to eat. This way, you'll be one of the first let into preview night. Otherwise, you can walk right in about 10-15 minutes after the doors open and the crowds outside have already entered. But don't dilly dally if you plan on getting in line for Hall H or Ballroom 20 overnight or are going to a nighttime panel/screening.
– You'll notice a lot of lines on preview night inside the exhibit hall for swag, demonstrations, etc… so be sure you know what line you are getting in before you get in a line and be sure to find the "End of the Line" sign.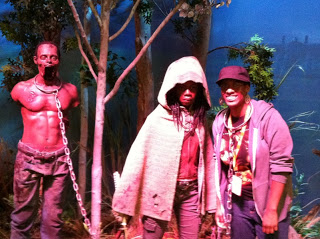 Exhibit Hall
*There are certain ways to participate at certain booths such as getting "buried" when the film,
Buried
was coming out or becoming a DHARMA Initiative staff member when
Lost
was on. So be sure to be very observant of what is going on at the booths.
*There are lots of freebies, exclusives, and collectibles given out at booths everyday all day, everyday at the beginning of the day, everyday at certain times, certain days at certain times, once at a certain time, etc… so ask before assuming it's free because there's a lot of merchandise out, only take the swag that you really want, pack light or bring an extra suitcase for all of your goodies…or mail your goodies home at the end of your stay. If you're big on posters, don't forget a poster tube! Also, make sure you're following the companies on Twitter whose booths you're going to because sometimes they'll tweet something along the lines of "The first ten people to come up and say ____ will get a free ___" or "We'll be giving away 10 _____ at 1pm."
*As for the exclusives, a list can be viewed here and here of what to expect so far.
*As for freebies, there is a free comic book day in the exhibit hall and I have yet to find out which day it will be. If anyone knows, please hit the comments.
*Do not forget to hit up Artist Alley with a sharpie, pencil/pen, and sketchbook!
*Be respectful of the handi-capped, say excuse me, don't walk too slow like you're in a high school hallway without a care in the world, and don't stop suddenly in your tracks when there is a walking flow.
Panels
*Rooms DO NOT clear in between panels so keep that in mind when choosing where you want to go. You can get in line whenever you want but you SHOULD get in line pretty early depending on the panel. Some panels you won't even have to wait in line while others (such as the panels in Room 6BCD, Ballroom 20 and Hall H) you may have to wait in line for
hours
. So it is up to you to decide if you are satisfied with spending more time waiting in line for a panel in say Hall H or Ballroom 20 than enjoying more panels that do not have line issues and enjoying other things at the con instead.
*Ever since Twilight came along, people coming out in droves to sleep outside in line for Hall H has been an annual routine. So if the panel that you would like to attend in Hall H is (right) after Twilight and you want a decent seat, you should still arrive the night before or very early on the day of because hundreds of people camp in Hall H all day and some of those people in Hall H all day are also Twilight fans. If you are not concerned about getting a good seat, it would be wise to arrive an hour or two before your panel because once Hall H reaches capacity, the doors are closed until the exit doors are opened by those leaving the panel before.
– Attendees also sleep outside the convention in line for Ballroom 20 panels as well as panels in the Indigo Room at the Hilton San Diego Bayfront.
*If you are sleeping outside in line and you have to use the bathroom but your hotel is quite a walk and there is no volunteer on post yet to let you inside the convention center, walk to a nearby hotel and walk in aimlessly to their bathroom.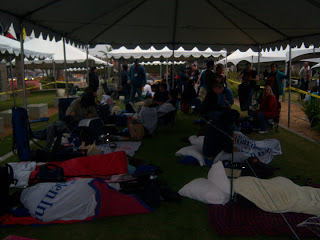 *At the beginning of the day each day there are a number of lines that you'll see outside of the convention center. There will be a line for Hall H, a line to get into the exhibit hall, a line for Ballroom 20, a line to enter upstairs, a line for registration, etc… so make sure that you are in the right line because you do not want to waste your own time.
*Saving seats (in Hall H and Ballroom 20 among the other bigger rooms especially) for your family and/or friends that are still outside in line is a big NO NO. If you are getting food from inside the convention center or going to the bathroom, that's a different story. You will get a pass from a Comic Con volunteer so that you can get back inside of the room and go back to your seat, which you can just let those sitting around you know is your seat and you're just getting food/taking a bathroom break. Otherwise, don't even think about saving seats. One seat saved, people around you may let it slide but I've seen two people try to save half a row. Bottom line, if no butt is in the seat when the panel begins, it's free. Give it up. To be early is to be on time, to be on time is to be late. Seat saving only adds stress anyway, so just split up for that panel if need be.
– Asking the people in front of you if you can have their seat when they leave only works if they only say yes to you and no one else. You should establish within the entire group around you what agreements have been made to avoid a big seat snagging mess like I have seen happen a number of times… especially this one time two years ago at the Glee panel. What a brat/nightmare this girl two seats down from me was. It's really not that serious.
*Please think about your question for Q&A if you choose to participate in this part of the panel and do not waste anyone's time or you will be booed. It's as simple as that. Unless you're a cute six year old kid wanting an autograph from The Green Lantern who is Ryan Reynolds, (and even that is sometimes annoying) do not ask for an autograph or hug or anything of the sort during the Q&A.
*At a time when I had a lot of questions on site, I found that the security and volunteers weren't much help (because of miscommunication among their end, security mainly and oddly enough) but the volunteers who are annual comic con goers are full of answers! It's really a luck of the draw if you have a question on site about anything and need to ask someone who's "official." But if you're in line or just passing a long line, ask the comic con goers… or even ask the exhibitors if you find yourself in a conversation with them. Just slip in your question at the end and be on your way!
*As far as eating goes in the panel rooms… the bigger rooms such as Hall H, Ballroom 20, Indigo Room at Hilton San Diego Bayfront, Room 6BCD, etc… are fine. Just practice common courtesy and do not bring anything smelly like fish or too messy like a triple cheeseburger with extra sauce. Subway and pizza are common but there are many options around the area to get before making your way to panels. More on that later. The smaller rooms, I would stick to just eating a small snack, if that. Eating in line, whether outside or inside is also perfectly fine. I actually bring a small backpack full of snacks/food/drinks for the day, and if you're only doing panels…I'd say that is the best way to go.
*Just because an actor, writer, etc..'s name is not in bold in the programming guide, it doesn't mean they won't be there. So it's up to you if you want to take that chance and sit in at a panel just to see if that one person that you are dying to see makes a surprise appearance. Also, take a look around at who you're sitting by, there might be a celebrity or two in the audience enjoying the day's events as well!
– Swag from panels are cool but the lottery is no joke. If you are handed a lottery ticket before/during a panel, hold onto that sucker! That is how I met Milo Ventimiglia after a panel in Ballroom 20.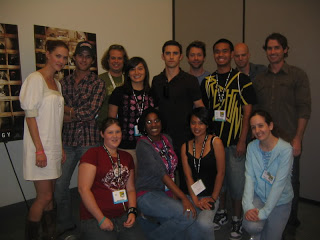 Autograph Signings
* Arrive early. The bigger the fanbase, the earlier you should arrive.
* Because of the popularity of some talent, some signings will be limited and ticketed through a lottery drawing. More information on how that works can be viewed here.
* Some signings only allow one item to be signed and sometimes that is a stack of posters laid out for the fans. Some signings also require a fee, usually around $20. These are usually cash only so be prepared.
* The main Autograph area is located upstairs in the Sails Pavilion but you can find more listings of autograph signings in the back of the programming guide in the "Booths" directory.
* As some signings are on the exhibit floor, please make sure to find the "End of the Line" so that you can avoid cutting unknowingly and avoid any confrontations.
* Have your sharpies on hand (black and silver) and feel free to ask artists in artist alley to add something to your sketchbook as well.
* As with the panels, changes and surprise occur in the schedule, so be sure to check the daily newsletter and the information boards located throughout the center as well as take chances.
* If you aren't able to make it to a signing, just keep your eyes open. You won't believe how many actors, directors, writers, etc… you will bump into around the con until it happens. And once it happens, it won't stop. It's like a domino affect. Have your camera ready at all times. Some actors also have fan meetups, so be sure to follow them on Twitter.
* There are also off-site autograph signings (and panels) thanks to Nerd HQ. Nerd HQ is not affiliated with Comic Con, therefore these events are not included in your Comic Con registration, therefore you have to pay for these events separately. So… if you aren't attending Comic Con, you can still see some of your favorite people who are. If you are attending Comic Con but are missing a certain panel or signing and are willing to pay for it at a later time during the con, this could be an option. Be sure to follow Zachary Levi on Twitter for all Nerd HQ updates during the con.
Offsite Events + Evening/Nighttime Events
* Masquerade – Arrive early in line if you want good seats. Otherwise, you can usually arrive an hour before the Masquerade begins and get a seat in the rear. Arrive early for the Eisner Awards.
– Just as a note, don't be shy about taking photos of fellow Comic Con goers in costume. They work really hard to get their wardrobe ready for Comic Con, so ask out of common courtesy and then snap away!
*Advanced Movie Screenings – Go through your programming guide and be observant in the exhibit hall and Gaslamp District for clues on how to get in.
* Offsite – Zombie Walk, Podcast Recordings/Meet Ups, Fan site Meet Ups, Media Parties, cult movie screenings, Dr. Horrible's Sing Along Blog Live, Archer Live, Buffy musical screening, comedy shows, concerts, parties, independent film festival, anime meet ups, art galleries, shopping (take advantage of deals just for comic con attendees), etc… are all the rage in the evening/night so be sure to stay up to date via various sources as to what you'll be doing at night if you aren't too exhausted. Keep your eyes open…you may bump into a celebrity or two. If you read my past Comic Con posts, you've seen pictures of me running into everyone from Joss Whedon to cast members of Smallville and The Big Bang Theory.
* TV Tapings – Register to 1iota and pay attention to the website to request tickets to events like Syfy Presents Live From Comic Con and Conan and if you can't get tickets, find out where the lines are and ask about standby lines. Many people who get tickets actually get caught up in the con and don't even attend so you have a very good chance of still getting in if you hop in the standby line. Be aware if the event is indoors or outdoors – if outdoors, put on sunscreen, bring a hat, and possibly an umbrella so you don't get sunburn. Also, bring a bottle water and protein bar or something to hold you over. It's also best to put your belongings in your hotel room or hold them at the convention center bah check (usually costs $3 per bag) before heading to the event to be more comfortable (and get through the security line quicker).
* Nerd HQ – Actor, Zachary Levi (Chuck) holds Nerd HQ which hosts panels for a fee and all of the money goes to Operation Smile. There are also photo ops with celebs for a small fee, again, all of the money goes to Operation Smile. Begin checking for panel tickets a week before the con and follow Nerd HQ on Twitter as well as download the Nerd HQ app on your mobile device for up to the minute updates because Nerd HQ really is up to the minute. Photo op announcements can happen anywhere between 30 minutes to 5 minutes so make sure your notifications are on. Nerd HQ also has gaming stuff to check out and fan parties that Zachary and others attend!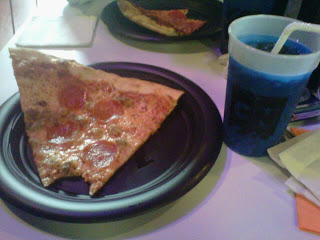 Food
*Food inside the convention center is incredibly overpriced Starbucks, Auntie Annes, Mrs. Fields Cookies, and Pizza. There are less than a handful of different places to choose from inside the convention center and you can get way more of your dollar outside. As mentioned earlier, there is a Ralphs Supermarket open 24 hours on Market St & 1st. Ralphs is inexpensive but you can always print out some coupons if you want to save more. The food court in the Horton Plaza mall is also inexpensive and convenient depending on your Comic Con schedule. Also, make sure your hotel room has a fridge that you can empty out if you are buying food for the week… otherwise, get a cooler or create a makeshift cooler with the ice bucket.
*The HISTORY Channel had a food truck across the street from the convention center one year. Hopefully this will not only be annual thing but will encourage more food trucks. Many networks also team up with local restaurants and there are plenty of deals so it's important to walk in and find out if there are or follow the right people on Twitter. More on that below.
*There is a Suite at the Marriott Hotel that offers free snacks for comic con attendees, but you must have your badge to get in!
*A simple Vegan Friendly list of places to check out can be viewed here.
*Quite a few eateries open earlier in the morning just for Comic Con, so definitely take advantage of this opportunity. Don't wait in the Starbucks line across from Hall H for an hour in the morning for breakfast when there are plenty of local cafes open.
*If you plan on eating at a restaurant after Preview night without a reservation, good luck.
Twitter
* Be sure to take advantage of Twitter, because you can find out about where to get free pizza, tickets to advance screenings, fan meet ups and more! There's also a lot going on outside of the convention center, more and more its seems every year so remember to take some time to venture out. You won't be disappointed!
– Don't be shy about networking and making Comic Con friends and exchanging Twitter names. You never know when their tweets may come in handy over the con. So be sure to follow me on Twitter @melodysimpson!