Yesterday, I had the pleasure of attending a taping of ABC Family's new original hit comedy, Melissa and Joey, starring Melissa Joan Hart, Joey Lawrence, Taylor Spreitler, and Nick Robinson.
In the new ABC Family original comedy series, "Melissa & Joey," Melissa Joan Hart portrays Mel, the grown-up former wild child of a political family who is now a local politician herself. When her sister ends up in prison and brother-in-law flees after a scandal hits, Mel must take responsibility for her teenaged niece Lennox and adolescent nephew Ryder. Spread too thin to manage by herself, help comes in the unlikely form of Joe (Lawrence) who, desperate for a job, moves in and becomes the family's "manny."
"Melissa & Joey" is a half-hour multi-cam comedy executive-produced by Bob Young & David Kendall, Paula Hart, Melissa Joan Hart and Joey Lawrence. "Melissa & Joey" premiered August 17, 2010 and was cable's No. 1 program in the time slot and ABC Family's most-watched comedy debut ever.
The episode that was being filmed was episode 10, "A Fright in the Attic," written by Seth Kurland and directed by David Trainer. I absolutely love holiday themed episodes, so I was excited to be an audience member for the Halloween episode. You know Seth Kurland's work from Friends, 8 Simple Rules, and Rita Rocks to name a few. You know David Trainer's work from Boy Meets World, Sabrina the Teenage Witch, That 70's Show, Sonny With a Chance, Hot in Cleveland, and My Boys to name a few.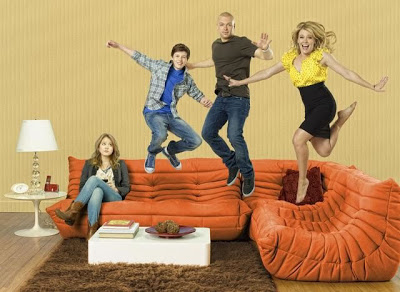 So the taping was scheduled to begin at 5:30pm, I arrived to get in line around 3pm (first in line!) and left around 9:15pm. It was a great evening and I will hopefully get to go again in future seasons. Once in line on the studio lot, everyone was handed a bottled water until we were relocated onto the stage…which is right by the Big Brother house/stage. Once inside, I sat in the very center of the 3rd row. The first two rows are reserved for family and friends of the cast and crew. Our warm up guy for the evening, was a stand up comedian, whose first name is Roger. Roger has been doing audience warm up for 20 years and I can definitely see why he keeps getting called back! I have been to many television show tapings and Roger is the most hilarious and entertaining warm up guy of them all. Not only that, he danced with audience members in between takes, had the crowd cheering (I still have a headache), gave out loads of chocolate candy, and did a great job at keeping the crowd pumped. But I came to see Melissa Joan Hart and Joey Lawrence, and after the audience watched the "Pilot" episode, the cast came out to say hello. Melissa also gave a shout out to Sweet Harts Sweets which I will definitely be checking out soon.
Within a few short minutes, the cast members hit their marks and started shooting the cold open. The show shoots with 4 cameras, cameras A, B, C, and X. Every scene was shot no more than eight or so times for different reasons. What I loved about each take is that the cast members had different variations of their punch lines (that got more risque after each take), so there was something fresh about each take. Both, Melissa and Joey had a few moments when they forgot their lines, so it was fun to see "blooper" moments right in front of my eyes. Also quite fun to see was Joey dancing to a few songs in between takes, including Michael Jackson's "Thriller," and Melissa dancing to a few songs including Lady Gaga's "Just Dance." The running joke for the evening was Melissa's line "Ooo wow!" even though you'll only see it once or twice within the same minute in the episode's airing. There were 2 wardrobe changes, as the episode takes place over 3 days. Lennox (Taylor Spreitler) and Ryder (Nick Robinson) tell Aunt Mel numerous times from day one that they are not dressing up for Halloween, but someone gets them into the Halloween spirit…and it is neither Aunt Mel or Joe! I was definitely spoiled about a certain story line at this taping about what is to come between episodes 5-9, but I won't spoil you.
As for Halloween day, Mel wears quite a sexy and mysterious outfit, and Joe's outfit…well, you're going to love his get up. There were about 3 scenes that were pre taped, which we watched at the moments that they were going to be placed into the episode. Before watching the pre-taped scenes, we reached the half way point, so there was a 20 minute break when audience members were given Pizza Hut. Once pizza and a variety of chocolate candy had been handed out and eaten up within minutes, the pre-taped shots were shown. The cast gathered around the camera by the director to watch, as audience members watched on the 4 screens that were faced towards us. In one of the pre-taped scenes, Joe makes a Sabrina, the Teenage Witch reference, which I absolutely loved! Another pre-taped scene had to be re-shot since it seemed one of Nick Robinson's lines had been changed. After one last scene was shot, the episode came to an end and what a fantastic episode it is. Melissa Joan Hart and Joey Lawrence were both outgoing during the taping, especially Joey. The kids were pretty low key in between shots. There is a guest star in this episode who will remain nameless so as not to spoil anything. She plays Mel's neighbor and she said hello to the audience, which was very nice. The entire cast and crew were quite open and loved the energy that we, the audience gave them. This was such a fun taping to attend and I highly recommend that you go when you are in the LA area.
"Melissa and Joey" shoots in front of a live audience at CBS Studio Center in Studio City, CA.
Melissa and Joey airs Tuesdays at 8/7 on ABC Family.