Last year while flipping through the channels, I came across Movie Mob (Reelz Channel) and was incredibly entertained by a small group of movie fans from across the globe sharing their reviews of the latest blockbuster hits. I particularly could not get enough of Nikita and Jade Ramsey, so I was thrilled to see the two appear in the 2009 film, Gamer. I had no idea that the twins were not only interested in reviewing films but they both went off on auditions to be in them. So with Movie Mob over, I had to catch up with the girls to get to know more about life in the mob and what's next for their acting careers. Keep reading after the photo for more!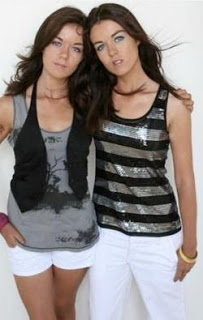 What was the best and worst film that you saw when you were part of Movie Mob?
The worst film we ever saw for Movie Mob was by far "In the Name of the King" directed by Uwe Boll. It honestly is the only movie we have ever walked out of a movie theater in. It was so over the top, it felt like we were watching a spoof of an action type film. The whole thing was just bad.
The best movie we watched was "My Sister's Keeper." We don't often cry in sad films, but this one made us cry tons throughout the movie. We also love Cameron Diaz and Thomas Dekker. We hadn't read the book before so we didn't know what the movie was going to be about, but we absolutely loved it.
What upcoming movies are you looking forward to seeing?
We have just watched all the Scream movies (yes we are very behind) and love them. So after hearing that a Scream 4 is being made, we can not wait to watch that! The Crazies looks really cool too. The new Greg Araki movie 'Kaboom' we can't wait for…we loved all his other movies, especially Smiley Face which was so funny! Shutter Island looks awesome too! Tons of good stuff is coming up that we are very excited to see! And even though the new Alice and Wonderland has too much special effects for our taste, we are still very intrigued to see what it's like!
What is your favorite movie genre?
We really love watching drama/thrillers and also recently got into watching horror movies. This Halloween we watched throughout the month of October the best horror movies and it was so much fun! Some of our favourite movies include "Dancer in the Dark", "This is England", "Thelma and Louise", "Heavenly Creatures", "Requiem for a Dream", "The Boy in the Striped Pyjamas", "Smiley Face", "Home Alone", and "What's Eating Gilbert Grape."
How did you get involved with the film Gamer?
We auditioned together as they were specifically looking for twins, and then the casting people sent the tape off to the directors/producers, and a few weeks later we heard we got the part, so we went and filmed it in New Mexico!
What was it like filming in New Mexico and did you have any downtime in New Mexico?
Filming in New Mexico was pretty cool, as we like going to different parts of America. We filmed in Albuquerque and it was FREEZING…we had a bit of down time and went to the Old Town which was cool, and some shops. But where we were staying was pretty deserted and there wasn't a whole lot to do in comparison to other places we have been. Though it was nice to go somewhere different and the hotel was huge and posh!
What was the audition process like for The Science of Cool?
This was actually different then normal, as the writer had seen us in something else and contacted us to see if we would be interested in being a part of the film. So the script was sent over and after we read it, we thought it sounded really cool and a fun project to be a part of. So we spoke to him and said we would love to accept the roles.
What has been your favorite film to work on?
"All About Evil" a film we shot in San Francisco which is coming out this year! We had the the most amazing time ever working on it. We play killer twins Vera and Veda and it was so much fun getting to do all the evil things we do in the film as we could never do it in real life! We absolutely love everyone who worked on the film, they are the nicest people in the world. Living in San Francisco for the filming was awesome! The film is so cool, there is nothing like it and we are really excited for everyone to see it! It's a black comedy and it tells the story of an introverted librarian (played by Natasha Lyonne) who inherits her late father's decomposing movie house and in order to get business moving, she churns out a series of gory shorts, in which the gore and murders are all too real! You will all have to keep your eyes out for it!
When did you decide that you wanted to branch out into voice over work and what are the challenges you face with this line of work?
Our commercial agency has a voice over department, and we had always been interested in doing voice over as it looked so much fun, having a cute cartoon character with your voice. So when we signed with them, they liked the fact we were British and had an accent, so they started sending us out on voice over auditions. They recommended a really good animation voice over coach, Tony Gonzales, who is amazing. The hardest part…with normal acting roles a lot has to do with your look/age etc, however with voice over a 50 year old women could do the voice of a 6 year old boy, so it is harder as the competition is a lot wider.
Of all of the people that you two have worked with, who has been the most inspiring or who have you learned from the most about the industry?
It is hard to pin point one person, but the whole experience of doing "All About Evil" definitely. The director Joshua Grannel is well known as Peaches Christ, a famous drag queen. We had never really seen drag shows etc before, but there is a whole really cool scene in San Francisco that we never even knew existed. Peaches does Midnight Mass, where movies like "Pink Flamingoes" and "Poltergeist" are screened at midnight. Before the screening, there are really cool pre-shows. We actually went and competed in one for "The Filthiest Person Alive" and it was so much fun. We also had never watched many horror or cult movies either and now we love these types of films. It was really cool as this film was Joshua's first full feature and he is an amazing director! Also whilst we did the film we made amazing friends with everyone and there are so many people from that movie who have taught us tons, so we can't really name one person in particular, but basically that whole experience was incredible.
Did you two always audition as a pair or did you think about if you wanted to or not?
We don't always audition together. There are times when both of us will go for the same part, or when just one of us is asked to audition, it just depends. Twin parts are always fun as we love working together, but there are fewer of them so we of course love going up for individual roles too!
Are you interested in just films or are you interested in television as well or even a web series?
We are interested in everything! Films, TV, web series…. Just doing cool projects really, we aren't fussy on what medium it is for – as long as it is an interesting project we are up to do it!
Are you interested in writing, producing, and/or directing?
Yes definitely. This is something we haven't done before, but would love to do. We have a bunch of really cool concepts for a TV series (starring us) so we have actually been meeting with different writers/production companies pitching the ideas in the aim of developing a Pilot. So we are currently working on that!
What's your favorite and least favorite part about living in Los Angeles?
Our favourite part is that it is always hot and sunny! We are always cold and hate the rain, which is what the weather is like in England all the time, so we love the weather here. Also, it's pretty cool that there are so many places so close to LA that we can visit on weekends, like San Francisco, Las Vegas, and we recently stayed in a cabin in Idyllwild with our friends. The worst part is getting back to England…there is such a distance and takes 11 hours on a plane. We always have to plan a long way in advance and only really go back once, maybe twice a year, so we would like to be able to visit more easily.
What are your birthday (February 10) plans?
Wow, it's just over a week away until our birthday! Just realised that now! We will have to get thinking of something cool to do – no plans yet but we are sure to be doing something fun with our friends to celebrate!
Check out more Nikita and Jade Ramsey.