On Monday, April 5, 2010 at 9:30/8:30c ABC's newest sitcom, Romantically Challenged featuring Alyssa Milano and Josh Lawson premieres and Hollywood the Write Way was thrilled to speak with not just one of the rising stars of the show, but of TV this year. Israel Broussard plays Justin, Rebecca's (Alyssa Milano) son and there's lot more to tell, so keep reading!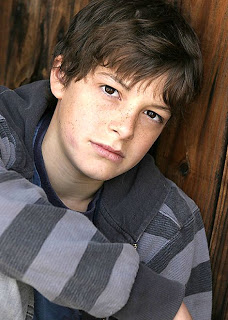 I am really excited to be talking to you because I am anticipating your new show, Romantically Challenged.
I am so psyched too! We just finished filming the first episode last night.
Did you shoot in front of a live audience?
Yeah. It was kind of weird for me since I'm the only kid on set and everything else I've been in there has been at least one other kid to interact with. Also the fact that it's a sitcom, I'm just jumping into the whole thing. It's great though! I nailed it and the whole cast is amazing. The show is funny and the audience loves it. I think it's going to be a great show. For now we are filming 6 episodes and I'm pretty sure they will all be filmed live but I'm not positive.
Can you tell me about auditioning for Romantically Challenged and how you found out that you got the recurring role?
I went in thinking that I was going to be a guest star. I only had a few lines and then when I went into the audition, there were a bunch of 6-9 year olds. I was wondering if I was at the right audition but I went in and they loved me, so I got a call back. They put me on tape and sent it to the network and a few days later, I got the part. The next day we went in for the table read for the network.
What's a table read like? Is there time to chit chat or do you get straight to business?
This was the first table read I've ever been to. It wasn't necessarily what I expected but we had about 5-10 minutes to chat before we started. I mostly interact with Shawn in the Pilot episode, so I was looking at Josh Lawson on the other side of the table for the most part.
What is Justin's relationship with Josh Lawson's character, Shawn?
Justin is a lazy kid, trying to find a shortcut for everything and Shawn is a writer. Justin needs help with English so Rebecca asks Shawn for this favor. Shawn gives Justin one of his stories…he doesn't want to help Justin (laughs) Shawn wants to be lazy just like him. But anyway, Shawn thinks that his story will get an A+ but it gets a B. Justin is psyched since he never gets a B but it's so funny that a 34 year old man doesn't pass an 8th grade English test.
So what is your favorite part about working with Alyssa Milano & Josh Lawson?
Alyssa is awesome and she's such a great actress. I really didn't know a lot about her until I booked it and I IMDBed her. I knew she worked on Charmed since my friends all loved the show. But when I looked her up, I realized just how big of an actress I would be working with. I looked Josh up on YouTube. He is an Australian comedian and he's funny! Working with him, there is this connection that is just so amazing. You go with the flow and when you put everyone together, the show is just amazing.
How does it feel having your show airing after Dancing with the Stars and before Castle?
I don't watch those competition shows but I hear Dancing with the Stars is amazing and I love Castle. Being in between those two big shows give you a rush, hoping the audience likes it, hoping the reviews are good. It's pretty cool to be in between those two shows.
The show is set in Pittsburgh, have you ever been there?
No, I wish though because I hear it's really nice up there.
What's it like working with director, James Burrowes?
This guy really knows what he is doing. It was interesting though because when I did my scenes, he wouldn't change anything with me and I wasn't sure if that was a good thing or not at first. Then my set teacher, Bonnie told me that if he wasn't saying anything, then I was doing fine. When we were rehearsing, he would sit in his chair and direct but then on film night, he would just walk around, not really even looking at things and would say, "No, the camera angle is too far" and I found it amazing how he knew everything that was going on. To have someone like him direct, it's so cool.
What's like going from Mississippi to Los Angeles?
That's a long flight and drive. Seriously though, the transition…I don't think I ever fit into Mississippi. They hunt and fish and I don't do either. My sister wanted to act and pulled me into it. When I came here to LA, I loved acting after a few commercials and a short film. I felt like I was finally in the right place.
So are you home schooled or do you go to public/private school?
I'm home schooled but I did go to public school until 6th grade. We switched to home schooling before I was even acting so at that point I would always get mad at my mom, questioning why we were being home schooled. She never really knew the answer but now I am understanding things. If I were in public school now, I wouldn't have been able to have the opportunities that I have now so I definitely have to thank my mom.
You also are in the upcoming film, Flipped based on a novel. Have you read the novel that the film is based off of?
Yes, that was an amazing book. I loved it. When I read the script, it was pretty much the same but they kind of switched it up a bit.
What was your favorite part about the book and working on the movie?
The book goes from one person's side of the story to another person's side of the story and you don't see books like that, so that was very creative. Working on the movie was huge. Rob Reiner for one. I had done a short film but taking that leap into a lead character in Michigan was huge. The casting was amazing. That whole experience was incredible.
Aside from acting, what are some of your other talents?
I am very inspired by music. I can play the guitar, and a bit of the piano and drums. I'm not the best singer but I have some talent. I am really inspired by the entertainment industry. If I'm not going to be an actor as I get older, I'll be a musician. If not a musician, a director. If not a director, a writer. I really want to be in the entertainment industry.
Watch Romantically Challenged Mondays this Spring on ABC.