If you love films, you will want to know about "The Best Films You've Never Seen." The Official Best of Fest, an international posse of film curators, who manage to see the majority of the 25,000 films made every year, have launched a series called "The Best Films You've Never Seen." These compilations are categorized, not by genre but by the experience of watching the film or the company you watch it with.
They include: Award-winning films that Inspire, Make You Laugh, Award-winning films about Real People, Romance, and Award-winning films for Family, Kids, Dog Lovers, Fathers Sons & Brothers, and Chick Flicks For A Girls Night In!
This compilation is a true celebration of the good independent films that the majority of people never see. Indie Filmmaker and Founder Rick Stevenson says, "99% of Hollywood Films are already made available to the public while 99% of Indie films get ignored." Stevenson also says that Official Best of Fest aims to "help a quality starved public, junk-food fed audience get cinematic nourishment."
After watching a sampler of this compilation over the past month, I have come to find some incredible short films and I cannot wait to see more from many of these writers, directors, and actors. These films are perfect to watch on your downtime over the holidays and into the new year, so keep reading below for my reviews of many of the films featured. Refresh this page over the weekend as I continue to add my mini reviews of each of these 14 films that I have seen in The Official Best of Fest Sampler.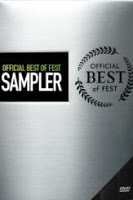 Films:
Full Disclosure (18 Minutes) – This 2005 short film featuring Judy Greer and Brent Sexton and written/directed by Douglas Horn is the best romantic comedy I have seen in quite some time. It is captivating from the very beginning. Everett decides to share all of his bad habits, everything about his personality and day to day life that might be considered a deal breaker, and his ultimate deal breaker in his dating life and after 10 dates in 12 days, he finally finds Brinn, who reacts much differently than his other dates to this new dating approach. In the end, viewers will be left wanting a feature film of this romance. Watch and love!
Jillian's Vantage (23 Minutes) – John, a reclusive is forced to go on a date with his brother's friend, Jillian as it has been a year since his wife's death. John is surprised to find that Jillian is blind but before John has a chance to let his nervousness set in, Jillian helps John to "see things differently through the eyes of the heart." This is a truly touching piece that not only makes you appreciate your blessings and appreciate people for who they are, but see things in a more beautiful way. This was wonderfully written and definitely leaves you wanting to know more about how John merges into Jillian's life. Watch a trailer of the 2002 film here.
The Wine Bar (12 Minutes) – This 2006 comedy starts out awkward as Henry walks into a wine bar expecting bear, not realizing that it is a wine bar. Although as Henry gets comfortable in the bar, so does the audience. Henry introduces himself to the woman sitting next to him, Evelyn who is mute. Henry is intrigued and finds out that she is avoiding her controlling and selfish boyfriend, who ends up coming to the bar trying to work things out (his way). Henry immediately sees why Evelyn is frustrated with her boyfriend of 3 years and decides to speak for her since her boyfriend seems to ignore her thoughts. It seems Henry was conflicted with helping Evelyn out for the sake of her relationship or helping her out in order to create his own relationship with her but in the end, surprisingly he goes for the first choice. This refreshing turn will make viewers appreciate this short film all the more!
Celamy (18 Minutes) – What an emotional journey this film takes viewers on. What starts out as a heartbreaking yet sweet story of a child, Nelly who lost her mother, Alison and then makes an imaginary friend, Celamy quickly turns into a heartwarming story about a father who lost his first daughter, Celamy and wife, Alison but does not discourage his daughter, Nelly from living life with her imaginary friend, Celamy who unbeknownst to her is in fact her sister helping her cope with her mother's death. The film takes another turn as Nelly grows up into her pre-teens and is slowly ignoring Celamy which leads to the moment Celamy leaves Nelly's side. Though it is expected, it is still heartbreaking to see Celamy no longer at her side but Nelly's smile at the end says its all. Celamy will always be there. This 2005 drama was wonderfully written and directed, and the cast was magnificent! This will really draw you in, no matter what age. What a wonderful story.
Dance Lexie Dance (10 Minutes, Ireland) – Little Lexie is fascinated with river dancing but unfortunately her father would rather not have anything that reminds him of happiness…his late wife. Although all it takes is the guilt trip from Lexie, "Mom would have let me." The father quickly realizes that making his daughter happy is more important than wallowing in his pain, so he purchases a river dance instructional tape. It doesn't end there as he becomes very invested in his daughter's dreams and signs her up for a competition. This is a wonderful dramedy bringing a father and daughter closer together and giving both of them even more reasons to be content in life.
The Mantis Parable (9 Minutes) – This is very well crafted storytelling and such a beautiful animation! Viewers find themselves rooting for the caterpillar to become a butterfly in the nature and even moreso after the mantis mocks the caterpillar who is stuck inside a bottle. Though the caterpillar comes away with the last laugh as the mantis is captured by a human right after he mocks the caterpillar. Even better, the caterpillar turned butterfly then saves the mantis after some time. There was so much detail in this animation, as it creates a world of wonder and allows viewers for a short time to envision life from the eyes of an imprisoned insect. The music was arranged beautifully. Everything about this short film was magnificent. People of all ages will be able to identify and appreciate this parable.
Snakebite (9 Minutes, Scotland) – The production quality seems to switch back and forth and that takes away from really focusing on the story at hand. As for the story, it is quite comedic however I believe it is supposed to be a drama as 7 year old Sammy believes he is close to death after being bitten by what he believes to be a poisonous snake. Though either way, it is not a must see short film but if more was added to the film, it has potential to become an independent fantasy.
Agricultural Report (3 Minutes, Ireland)- Given the country, well the world's concern over Mad Cow Disease, and other flues and viruses, this is quite the comedic short! This was very well written and animated and will definitely have viewers laughing out loud! If you ever wondered what happens when a cow hears on the radio the latest threats to their kind, this is the short to watch. Watch the short here.
Teeth (2 Minutes, Ireland) – This is a refreshing comedy about 2 longtime buddies who lose their teeth in the most hilarious circumstances while fishing. See who gets the last laugh in this short.
The films, Dutch Bird, Two Soldiers, Binta and the Big Idea, Mrs. Palfrey at the Claremont, and Mother of Mine also appear on the Sampler which you can enjoy when you pick up your copy!
Official Best of Fest is available online and in select Nordstrom, Whole Foods, Deseret Book and gift stores nationally.
Follow Official Best of Fest on Twitter.