Comedian, Brad Wollack is an Emmy nominated writer who I got the chance to talk to 2 weeks ago. Brad is a writer on the show, Chelsea Lately (E!).
Since I watch Chelsea Lately pretty much every day and have attended 3 live tapings of the show, I was very excited to be able to talk to one of the writers of the show. I learned what it is like inside the writer's room and so much more. Enjoy!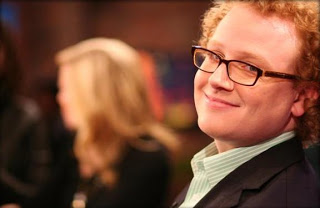 What led you to becoming a writer, producer, and round table guest on Chelsea Lately?
I became a writer on her first show, "The Chelsea Handler Show" through my current manager who was at the time an assistant at the same management firm that Chelsea was a part of. He told me that she needed somebody to help pump up the monologue for the pilot. There was no pay but if I did it, if she liked, and if it went to series then I would be on the staff. All of that came to pass and then when this show came along, she asked me to be a writer. Initially I was not on the round table but one day she asked me if I would like to try it, so I gave it a shot and the rest is history.
So what is it like in the writer's room?
Loud is the best description anyone can give. We have a lot of fun. It happens early in the day, so we have to have a lot of energy early in the morning. There are about 9 of us writers. We usually spend about an hour and a half – 2 hours each day in the writer's room. We will throw out topics, see what she likes, and then come out with the jokes.
You graduated from USC but have you ever gone back to USC to be a guest speaker in a writing class?
I am actually there right now getting my Masters in Business too. Now, I was a panelist at a writing course but I have never lectured anyone on how to write.
Did you have a favorite part about attending USC?
I worked in student news and I was the weatherman. I liked writing jokes for that.
Did you keep a journal in high school and college or a notebook to write all of your material down?
No, not at all. I never thought I would be a writer. I give a lot of credit to my parents. They taught me how to be a really good writer when I was younger. So I always knew I had the skill and I always loved comedy so one day it merged together. I started out on camera in this business with commercials and stand up. But I felt like I could do more, so I told my agent that I could write and I was submitted for The Wayne Brady Show. I wrote a sample monologue, Wayne liked it, hired me, and I was a writer.
So what were you looking to be, if not a writer?
That is a really good question. I think I would still be in TV production somehow. Even to be a producer, you have to have some type of writing talents. There is not a lot of room in this town, in my opinion for people who can't do it all. You will get a lot further if you know how to write, whether you are on or behind the camera.
Wayne Brady was on "Who's Line is It Anyway?" so aside from Wayne, do you have a favorite comedian who was on that show?
I think Greg Proops is hilarious. He is on Chelsea Lately quite often. They are all very talented though!
You have also worked with Joan & Melissa Rivers, so what was that like?
I was trying to write lines for Melissa (laughs). It was great! Joan really is incredibly funny and witty. It was pretty cool to hang around with a legend like that for an entire award season.
What is a misconception people might have about being a stand-up comedian if they are trying to become a successful stand-up comedian?
Don't get into it unless you really want to do stand up. There are some people who get into stand up because they want to be seen. It's a job. There are people that treat this as their profession and it is. You have to be serious about it. There is a lot of competition.
Have you lived in LA all of your life?
No, I was raised in San Francisco. I came down here for college in 96 and have stayed here ever since. I live here with my wife and it is amazing.
Now aside from Chelsea Lately, do you have any upcoming projects?
Well, I am always writing new scripts and developing new projects but there is nothing that I can speak of at this time.
Okay, those are all of my questions, thank you so much for your time.
Thank you so much.
For more info on Brad Wollack, visit his Myspace.