Today, I had the pleasure of finally attending Vegan Street Fair after salivating over all of the images on instagram over the past few years.
Vegan Street Fair blocks off a good chunk of street in North Hollywood – you see it as soon as you get off the Metro. The fair is mostly comprised of food vendors but also includes other vendors (fashion, etc…)
This year is the first year they expand from a one day event to a two day event. I stayed from 11am-2pm and hit up 11 of my top 30 spots that I wanted to check out. Hitting all of those spots plus more would be easy over two days. I did have a list compiled of must see vendors and non-priority vendors but the priority list reached 30. The non-priority vendors were 1) businesses that I've already supported and don't need to try at this event 2) businesses that I know are typically at Vegan Sunday, so I don't need to try them now or 3) businesses that are local and have hiked up their prices by $1-$4 specifically for this event so I don't need to visit right now since I can go whenever I want outside of the event for cheaper.
Since I had never gone before, I thought that I should bring a few things to be prepared. I brought a large bag (basically the size of a beach bag) with tupperware inside so that I could take home whatever food I wanted but didn't necessarily want to eat right away. I filled the tupperware within the time that I was there. So knowing that I will stay all day on both days next year, I know to bring 2 bags full of tupperware. I also brought a rechargeable battery but I didn't end up needing it since I didn't stay all day. I also brought my own 68 oz bottle of water, which I could refill at any of the water stations around the event (although I didn't end up needing to).  I also told myself that I would bring a picnic blanket but I didn't and I didn't need to. There was plenty of seating. That said, if I went with people, I'd bring one to sit on the sidewalk because the event did start filling up fast after the first hour and a half.
So what did I eat? I started out with the Berry Smoothie from Energy Smoothie Bar. As soon as I saw this on instagram, I knew that I had to make a beeline for this once Vegan Street Fair came around. I had half a dozen people ask me where I got it from in the span of the hour that I sipped on it. It was a hit! (And of course, gotta get it for the 'gram). The lightbulb is reusable, which is cool. I make smoothies all of the time, so really, the only reason to justify buying one out is instagram quality haha.
Instagram was also responsible for me salivating over the Pizza Puff from Scandylous Delights which I was excited to get. It's very fluffy and slightly messy so make sure you get napkins if you try this. I also really wanted their funnel cake with "the works" aka a bunch of fruit piled on top but I had a rule to only get one thing from each vendor due to my not having won the lottery and having an excess of money. Also, how can I east all of this?! They did however give me a free pretzel because the wait for the pizza took longer than expected. I LOVE pretzels and I had a pretzel from another place on my list so I'm glad that I didn't have to buy a pretzel today. Woo! Nice treat for later.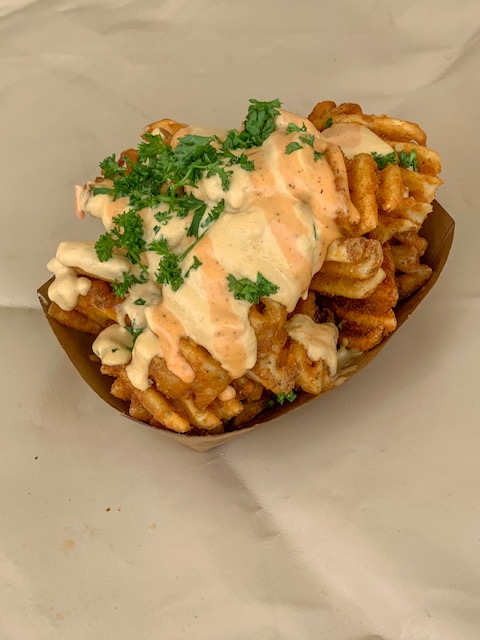 Next up were some Cheesy Waffle Fries from Veggie Fam which I didn't like. Pass on that but I still do want to try their Impossible Burger at some point.
Something I most definitely would get again? The cookie shot from The Dirty Cookie. It was so much fun to consume (and I could totally see this being a staple holiday food item for me in the future). It's a layer of chocolate and a layer of cookie in the shape of a shot glass and they put your plant based milk of choice in the drink. Optional is a marshmallow on top, which, of course, yes. The top is coated with nuts or sprinkles. So good! So yummy! Yes, please!
By this point, I wanted to continue my roll of something light. So I went to Subzero Nitrogen Ice Cream and instead of blowing fire out of my nose like a dragon, I let liquid nitrogen do the work. It was really fun to eat and if you have kids, I think they'd get a kick out of eating this especially.
Finally, I ended my day with Strawberry Sorbet from AB Sorbets which was your standard delicious sorbet. Sorbet is sorbet. This was good but if you are going to this event to try new things, I'd go with new things rather than something that can so easily be recreated at home. That said, this serving of sorbet can feed 2-3 people, so if you're at the fair and the line is fine and you need a break, this could be something to get for a group of people, I guess.
Now what did I fill my tupperware with? Egg rolls from Sreyvegan (dinner tonight), an empanada from Bolivian Meat Pies, crispy lemon pepper tofu from AFC Soy Foods (although I wish I had gotten the churro tofu because CHURROS but I didn't see it until after I ordered and only intended to get the $4 tofu which at the time only had the lemon pepper available but the guy talked me into the $6 size), mac and cheese from Mac & Yease (already ate it and it was tasty!), & a matcha macaron and lavender macaron from Vegaron (though I really wanted to get like a dozen more).
I thoroughly enjoyed myself at Vegan Street Fair and know that anyone planning to go will too. My advice for those who live in the LA area is to choose vendors to visit that aren't as easily accessible so that you can get the most out of the festival. My advice for those attending in a group is to divide and conquer! My advice for everyone is to get there as soon as the fair opens (11am) and budget well so that you can make the most out of the festival.
The good thing about the festival is that they make the fair menus for every vendor public which is super helpful when it comes to budgeting ahead of time. That said, this would be way more helpful if the menus were made public one week before the event, not 2 days before the event like this year. The fair map was also very helpful. Myself, I decided to do the East side of the street on Day 1 and if I go to Day 2, I will do the West side of the street. I did go slightly into the west side of the street on my way home but other than that, I was mainly on the east side of the fair.
Vegan Street Fair is free to enter but there are two lines at every vendor, one for the general public and one for people who have bought Fast Passes to get through the lines quicker. If you're going for only half a day and beginning in the morning, a fast pass is completely unnecessary. For me, I went to almost half of my must see vendors in 3 hours. I could have easily hit them all up if I had stayed until 7pm without the fast pass. So honestly, I don't see the point in the fast pass for anyone local who is attending alone and doesn't want the swag bag. The pass might be useful for anyone going with a group of people and/or anyone out of town. But if I'm going to pay for the fast pass, I might spring for the passport one instead which doesn't include the swag bag but does includes prepaid mini bites from over a dozen vendors.  So…a lot to think about for next year.
Overall, Vegan Street Fair was so, so, so much fun. I definitely can't wait until next year where I can really make the most of it! Have you been to Vegan Street Fair? If so, what was your favorite part? If not but you want to go, what food are you most anticipating?