FALL TV IS HERE. I REPEAT. FALL TV HAS ARRIVED!!!!! AHHH!!!!!! Finallllyyyyyyyy!!!!!!!!!!! Ahhhh! Bless everyone who works so hard in TV to give us the goods! I am so excited that American Housewife is back! The Good Place! This Is Us! How to Get Away With Murder! And so many more! As far as new shows that premiered in September, there's not a particular show yet that I'm super crazy about and addicted to yet but with time, I'm sure that will happen. This is just the first full week of new TV hitting, so there's plenty more new series yet to premiere. I also mentioned Maniac on Netflix in my last post and want to mention it again because it is some of the most mesmerizing and compelling storytelling of the year for me and I really want you to give it a chance! What are you all loving so far as the TV season is kicking off?
Movies
I had planned to take a day to go to the movies this month and just chill there all day to catch up on stuff after I reached my writing goal for this month but then I got food poisoning and all of my writing and reward plans were extremely delayed. So. I still have yet to see a number of movies that I'd like to watch which is absolutely unacceptable since I have AMC Stubs and with that. there is no excuse not to have seen the movies so I will catch up in October. That said, you don't have to leave the house to watch the Quincy Jones documentary, Quincy on Netflix which I will totally look down on you if I see you in person and you still haven't seen it. Get on it!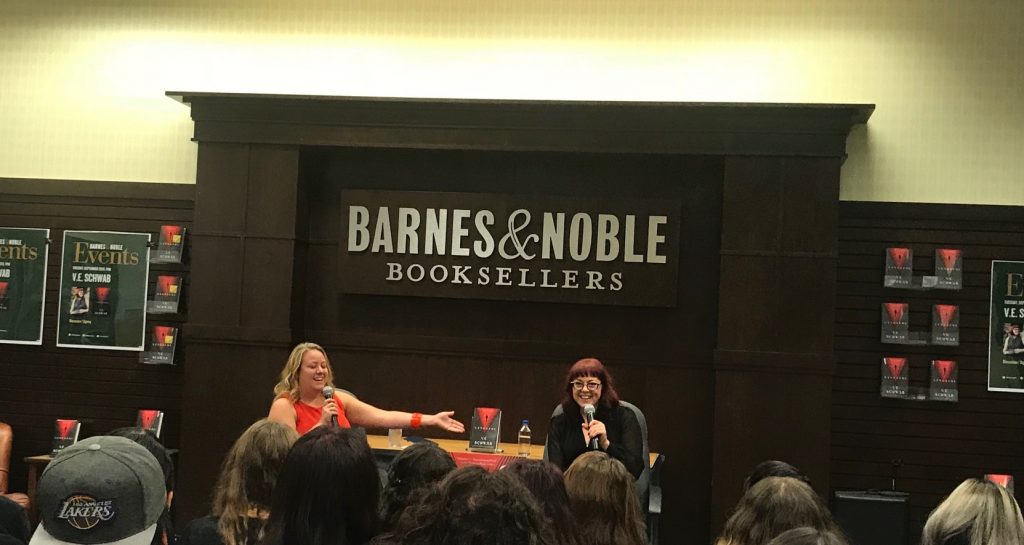 Books
This month, I attended the launch event for V.E. Schwab's Vengeful, the long awaited sequel to Vicious. This is Victoria's 16th published novel (she writes under V.E. Schwab for Adult & Victoria Schwab for Young Adult & Middle Grade) and as you know, I've been a fan since her debut novel, The Near Witch. Vicious holds a very special place in my heart because aside from the fact that it is absolutely phenomenal, it was the last book of hers for me that was truly mine before her Shades of Magic series took the world by storm and made her a household name in the fantasy community. I could feel the shift beginning with Vicious, her publisher for Vicious and the Shades of Magic series is Tor and just from a consumer's POV, I know that Tor takes great care of their authors. Though it was indeed the time of the Shades of Magic series during which she blew up. And definitely, not out of nowhere. I had always wanted a sequel to Vicious even though none was promised but with all of her successes following Shades of Magic, I had to really make myself comfortable with the possibility of not returning to that world anytime soon.
So when it was announced that Vengeful was indeed happening, I was absolutely beside myself. And when I saw Victoria at the event, I surprised even myself getting the most emotional I've ever been around her while she signed Vengeful. It has been such a ride. Such a joy to watch every single one of her successes since The Near Witch and this is still only the beginning.  And I am so, so thankful that through it all, she kept Vicious close, she wrote and rewrote the sequel and didn't give up on the story until it was just right and she continued to give us her all with Vengeful because she definitely didn't have to come back to this story. So yeah, to say that going to this event was a treat is definitely the understatement of the year. I'm getting emotional just thinking about all she's done in the past seven years, so I'm going to put a nail in it now before I give myself a good cry. Truly though, I've never been happier for an author. It's been such a privilege watching her career soar. Now to read Vengeful!
Vegan Stuff
I don't think I've mentioned Monty's Good Burger on here yet which is wild because I went there the day before their official launch and have been going to Koreatown quite a bit since just to get their burgers. The burgers are delicious. The fries are average, I tried them once and don't see myself paying for them again, I'd rather just get the tater tots. Since their launch, they've added the option (not on the menu) to add cheese to the side or make it, I forget their term for it, but it's their version of Animal Style, so I'd recommend getting the tots that way. They've also added a coffee milkshake and I've only tried that and their strawberry shake but I can already tell you that the coffee is my favorite one. So yeah, if you're in the area, definitely check them out! I recommend not on the weekend though because the line will literally be out of the door. Literally.
E-book/Book/ARC/Audiobook Haul
* Vengeful by V.E. Schwab
Books I Read
If you'd like to keep track of my reading progress as it happens and reviews as they are posted, feel free to follow me on Goodreads!
Audiobooks That I Listened To (Own/Library):
1. Everything's Trash, But It's Okay by Phoebe Robinson
Movies & Documentaries I Watched
Watched in September 2018
Girls Trip (Netflix DVD)
Thoroughbreds (Netflix DVD)
First They Killed My Father (Netflix Streaming)
Searching (Movie Theaters)
Quincy (Netflix Streaming)
The Mountain Between Us (HBO Now)
Atomic Blonde (HBO Now)
Fahrenheit 451 (HBO Now)
My top three favorite movies this month were: Quincy, Searching, First They Killed My Father
Until next month, happy reading and viewing!