May was more about books than TV or movies but I did binge watch the first season of the Netflix original series, The Rain which I recommend even though I have mixed feelings on it. The series starts off really strong and then there's a murky middle and also, the decisions that the characters make/the way that they behave are often absolutely ridiculous. But this aside, I was really intrigued by the series and will certainly check out season two when it airs. The Break with Michelle Wolf also premiered on Netflix in May and if you like smart comedy, check it out. Queen Sugar has returned for an all new season and if you're looking for an absolutely phenomenal family drama, this is your show!!!! Get on it! Finally, upfronts were in May and I'm woefully behind. So far, I've shared my thoughts on cancelled and new shows on ABC, CBS, and The CW. Stay tuned for NBC and Fox thoughts!
As for movies, I knew that I would enjoy Diablo Cody's Tully but I enjoyed it even more than I thought and highly recommend that to anyone considering giving it a watch. I'm anticipating the summer movies coming up so expect to see more Movie Pass usage soon ha ha! Okay, now to books…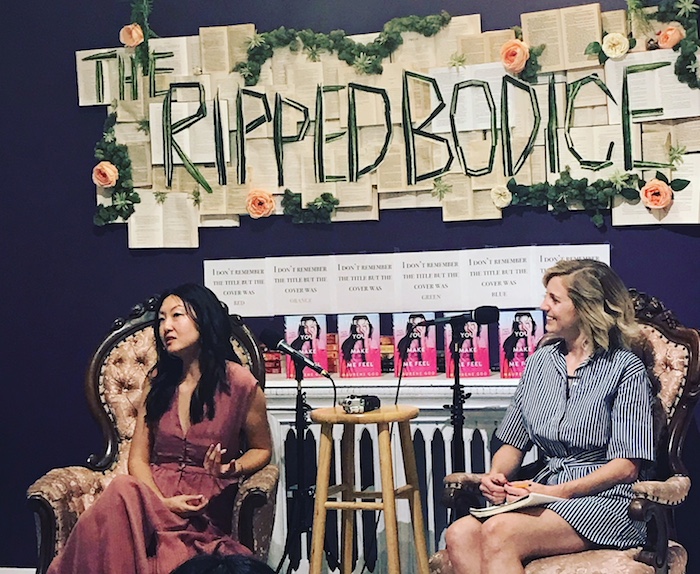 Books
I went to YallWest for the first time! I was only able to stay for half the day due to work but now that I'm back living in LA, I'm excited to make this an annual event that I attend. It was so beautiful to see so many readers and so many young readers! It made my day. I started the day having breakfast with a few members of my CP group and then we made our way over to YallWest. I got a few books signed and I also sat in on the "YA Goes Hollywood" panel with Becky Albertalli, Jenny Han, David Levithan, and Angie Thomas, moderated by Abdi Nazemian. I had a really great time and really look forward to soaking in YallWest in all of its glory in the future.
The launch party for Maurene Goo's The Way You Make Me Feel took place mid-May at The Ripped Bodice in West LA and I stayed for the panel discussion between Maurene and author, Sarah Enni (Tell Me Everything) but I had to bow out of the actual signing due to illness. I'm all better now though, woo!
I closed out May by attending Book Expo America (BEA) as I do every year. You'll hear all about that in my recap post coming soon! Stay tuned!
Vegan Stuff
I tried Backyard Bowls and I think it's safe to say it's my mission to try everything on their menu. SO far, I've tried the Power Bowl, Guru Bowl (amazing!), and Açaí Smoothie (two thumbs up!). I also tried Purgatory Pizza which I'll have to go back to again because their vegan pizza is legit!
I also went to Whole Foods in the morning and didn't realize that they served breakfast as well, because I never usually go to that end of the supermarket in the mornings. I tried their vegan breakfast options and I wasn't impressed (that tofu scramble was stiff y'all, yikes and those sautéed mushrooms were overcooked boo) but at least I know that on the other hand, freshly cooked food aside, I can make my own own fruit salad for breakfast if I want! Alright, enough about that…
E-book/Book/ARC/Audiobook Haul
* The Poet X  by Elizabeth Acevedo
* Far From the Tree by Robin Benway
* Leah on the Offbeat by Becky Albertalli
* The Way You Make Me Feel by Maurene Goo
* Ship It by Britta Lundin
* Restore Me by Tahereh Mafi
* Lock & Mori by Heather W. Petty
* The Fandom by Anna Day
Books I Read
If you'd like to keep track of my reading progress as it happens and reviews as they are posted, feel free to follow me on Goodreads!
Audiobooks That I Listened To (Own/Library):
1. Where There's Hope: Healing, Moving Forward, and Never Giving Up by Elizabeth Smart
2. Sunny by Jason Reynolds
3. The Beauty That Remains by Ashley Woodfolk
Comics That I Read (Own/Library):
1. Wool: The Graphic Novel by Hugh Howey
My top read this month was: Where There's Hope: Healing, Moving Forward, and Never Giving Up by Elizabeth Smart
Movies & Documentaries I Watched
Watched in May 2018
Tully (Movie Theaters)
Avengers Infinity War (Movie Screening)
Life of the Party (Movie Theaters)
Deadpool 2 (Movie Theaters)
The Ones Below (Netflix Streaming)
Ali Wong: Hard Knock Wife (Netflix Streaming)
Ali Wong: Baby Cobra (Netflix Streaming)
Cargo (Netflix Streaming)
My top three favorite movies this month were: Avengers Infinity War
Until next month, happy reading and viewing!