This year's BEA (Book Expo America) was unlike any other and that's because I'm beginning to see a shift from reader and blogger to reader and blogger and author. I don't know how well I'm going to be able to articulate this because I'm still all in my feels about it and in post BEA coma. But I will try.
First, a lot has happened since last year's BEA. In particular, within my critique group. In one year, my CP group has gained two literary agents (myself included), released three books, and gotten six book deals. You know many of us from our blog, Writer's Block Party. If you went to BEA/Book Con, you probably walked past us at some point ha ha. Those of us who attended BEA included Christine Lynn Herman (The Devouring Gray, Spring 2019), Amanda Foody (Ace of Shades, Available Now), Kat Cho (Gumiho, 2019), Janella Angeles (Where Dreams Descend, 2020), Claribel Ortega (Ghost Squad, 2019), Joan He (Descendant of the Crane, Spring 2019), Alex Castellanos, Meg, Maddy and Ashley.
Along with those of my CP group who were present, I met a number of writers from Twitter including June Tan and Swati Teerdhala (The Tiger at Midnight). I ran into friends and acquaintances as well, too many to name as the majority of publishing descends upon BEA so it's A LOT. I met new to me industry professionals and industry professionals that I've followed from afar online. One of which I want to mention (not by name because privacy) because this is when the shift really hit me. Myself and a few people from my CP group went out for drinks one night with their industry friends. One of their friends is an editor that I admire because she is marginalized and very vocal about supporting marginalized voices. I introduced myself and then she said, "Hi Melody, I like your posts." Then, I blurted, "What posts?" because in my mind, when it comes to the internet, I'm writing into the void always, at least that's how it feels the majority of the time. She responded, "You write for Writer's Block Party, right?" And the conversation continued for a bit but I want to stop there.
To be seen is one thing. Wow. I'm not writing into the void, here or there or anywhere. What I'm writing does matter and there will always be an audience for all of this. Not only that, to be seen in the industry by someone with talent and influence who is well respected is just…it makes me feel like Rachel Berry when she gets a gold star. Then, to be encouraged is another. It's that extra validation that you don't even realize you need. Showing people that what they do matters means so much. Our exchange might seem minor but it means everything. It means, I see you. It means people are watching. They're watching, they're waiting, and they're genuinely willing to support your voice with theirs when the time comes. That is so beautiful to me.
And real talk, it also means that 1) I need to engage and interact more at bookish events rather than assume that because I came by myself that I'm alone plus I've got to stop lurking like a creep when I see other authors chit chatting and 2) I need to really get into a groove when it comes to branding as an author so that I'm already settled into it by the time book readers come into the picture. Can I say that? I don't want to sound like I'm getting ahead of myself but also I need to believe in myself and be prepared should my publishing journey take me to that point (I hope it does).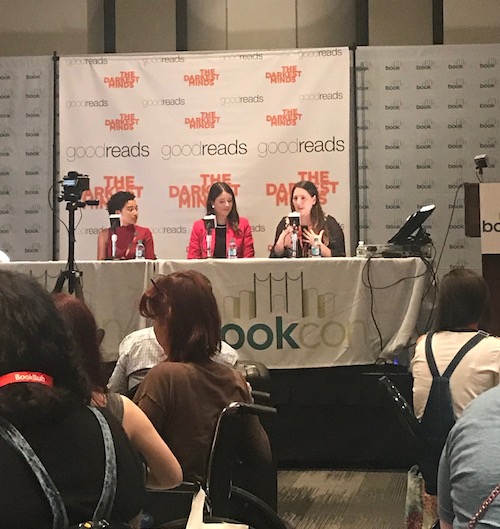 Then there's the other big thing. ARCs at BEA. As far as ARCs (advanced reader copies) go, since 2012, I'd go to BEA and get a crap ton of ARCs…and review maybe a third of them in a timely manner. The rest I'd either get to eventually, conduct giveaways for, or donate to my former high school library. When the BEA schedule would release, I would take an entire day to go through the BEA lineup with my Goodreads tab open to look up every book and determine if I should add it to my TBR list. I made a point to look out for the authors that I was unfamiliar with so that I could support new to me authors and debuts on what might be their first signings. I was so meticulous and a master at creating an Excel sheet for my BEA schedule each day including autograph area and booth signings and had a system for maximizing results. I was a pro at obtaining ARCs at BEA but I had tunnel vision and didn't allow myself to do anything else and truly relax, be present, and enjoy simply being there.
The past two years at BEA, especially this year, have been SO different. I'm the most immersed in the writing community now than ever before and I can confirm…writing friends are better than ARCs.
BEA is SO great to get ahead of schedule as a blogger and be on top of titles if I don't get them in the mail or as an eARC for review. ARCs at conferences/conventions are great! But. All of these books will be available to purchase/read from the library in the near future. I can always get a book but I can't always spend time with my writing friends from all over the country (sometimes, outside of the country).
So over the past two years, my position on ARCs at any conference/convention has changed from Get All the ARCs I Want That I Possibly CAN to If I Can, Get the ARCs I Feel Most Strongly About. And even from that pool, I choose not to attend certain signings because of the shift I talked about earlier.
I've been introduced as and have been establishing myself more as an author, as a peer in the community. So waiting in an autograph line for an ARC of a book by an author who I can easily have a back and forth with is something I can't imagine doing. That might seem obvious but I've never had to think about it before. But I've decided that at a certain point in a peer relationship, if it's not their debut and/or if it doesn't seem like they desire that support (on the front lines rather than on the sidelines), I'm not getting in their line – I'm not going to take away from someone else who wants that book. I can wait for their launch party or book tour or whenever I see them next so they can sign a finished hardcover. I don't keep ARCs anyway but I'm all about that personalized hardcover life!
BEA has provided me with the opportunity to embrace human connection, with the cherry on top of ARCs. So instead of lugging home 30+ books, I took home half that and am even more content than I was before. Imagine that. My favorites of my haul this year include Dry by Neal Shusterman and Jarrod Shusterman (which I'm currently reading and loving), Pride by Ibi Zoboi, and A Room Away from the Wolves by Nova Ren Suma. Ahhh I can't wait to read and talk about these!
I also got to spend some time with my MadCap Retreat classmates, Lindsey Summers (Textrovert, Available Now) and Adib Khorram (Darius the Great Is Not Okay, August 28, 2018) as well as run into Alexandra Overy a few times throughout the con but I have no photo for that! Gah!
I met my literary agent, JL Stermer at New Leaf Literary & Media, Inc. which was absolutely amazing! We talked business and got to know each other personally and it was all so amazing. Pinch me. I cannot wait to make even more magic with this woman!
Another highlight for me was meeting Courtney Summers (Sadie, September 8, 2018). I became a fan of Courtney's work in the spring of 2013 after reading her zombie book, This is Not a Test. Little did I know that the rest of her novels were contemporary, which I don't read much of. But I read hers and loved every single one of them and she's an auto-buy author for me. The thing is, Courtney's a Canadian author and trips to the U.S. do not occur often. I've been patiently waiting for the stars to align for when I'd be able to fangirl for a hot second in person and finally! The time came! BEA can be a blur of excitement but without sounding cheesy, when I said hello to her and we talked for a bit, it was just so nice to really BE in the moment. I appreciated this so, so much not just because I love her work but also because of that longing? Being from NJ, I can go to NYC and Philly events and now being in LA, I can go to LA events. But that distance and knowing how few opportunities there are to meet authors not in the metro areas or even in the U.S., it was just really, really wonderful to have this moment. To say thank you for your work, your work matters, your work is amazing, and I'm on board for whatever's next.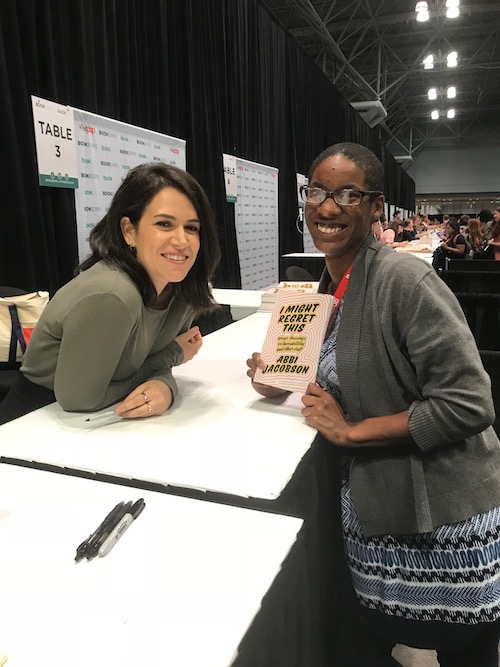 Finally, for fellow fans of Broad City, I met Abbi Jacobson (I Might Regret This: Essays, Drawings, Vulnerabilities, and Other Stuff, October 8, 2018) and she is kind and gracious and lovely and ABBI JACOBSON. If she does a book tour for her upcoming book and a date is near you, I highly recommend attending!
Now y'all know I couldn't have gone into the city without catching a show. This time, I saw Saint Joan starring Condola Rashad and it was so great! (Photo or it didn't happen!) Highly recommend!
Overall, what an incredible BEA. This truly was unlike any other BEA and it will stand out among the others in the best way. Thank you to everyone who made this BEA so wonderful. You rock. More than you even realize.
What 2018 books are you anticipating? If you went to BEA/Book Con, what was your favorite part about this year?