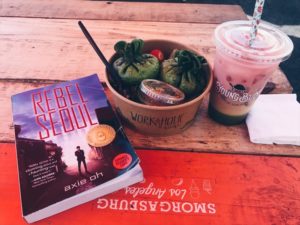 I moved to Los Angeles! Yes, I went ahead and moved here for the third time, in case you missed my instagram post. So I've been behind yet again in blogging but for good reason. I've been running on empty ever since I got here but had a moment to check out Smorgasburg LA this past Sunday. I'd recommend checking out the food vendors Workaholic, Amazebowls, and Young Bud if you get the chance to go and are looking for really good vegan options! Also, if you're a fellow writer in LA or have writer friends in LA, definitely feel free to reach out to me, would love a writing date at Starbucks or Panera or something!
Anyway, fall TV is coming up so you know what that means! Stay tuned for lots of fangirling on the blog and twitter! As for movies, I've been able to catch up on a few titles in the past few weeks and I was really blown away by The Founder which is currently streaming on Netflix. It tells the story of the minds behind McDonalds. I'm vegan for health reasons so I don't consume much fast food these days but that doesn't make me forget my McDonalds days nor does it take away my fascination with how this fast food joint became a multi billion dollar franchise known all around the world.
When it comes to books, I've just been so extremely exhausted ever since making the big move so I've not had the brain power to sit down and read a physical novel. However, I have been catching up on graphic novels and on my commute to/from work, have been listening to many audiobooks. But there's a lot I want to read before the year is up and it's nearing fall so I need to get my act together if I want to hit my reading goal.
How was your August, your end of summer?
Alright, let's dive in!
Books I Read
If you'd like to keep track of my reading progress as it happens and reviews as they are posted, feel free to follow me on Goodreads!
Audiobooks That I Listened To (Own/Library):
1. Denton Little's Death Date by Lance Rubin
2. Denton Little's Still Not Dead by Lance Rubin
3. A Madness So Discreet by Mindy McGinnis
Library Books That I Read (Physical/E-book):
1. No Intention of Dying by Lauren DeStefano (Novella)
2. There Are More Beautiful Things Than Beyoncé by Morgan Parker
Graphic Novels That I Read (Own/Library):
1. Ms. Marvel, Vol. 6: Civil War II by G. Willow Wilson, Takeshi Miyazawa, Adrian Alphona, Mirka Andolfo
2. March: Book One by John Lewis, Andrew Aydin, Nate Powell
3. The Arrival by Shaun Tan
4. The Vision, Volume 1: Little Worse Than A Man by Tom King, Gabriel Hernandez Walta
5. Boxers by Gene Luen Yang
6. March: Book Two by John Lewis, Andrew Aydin, Nate Powell
7. Storm, Vol. 1: Make it Rain by Greg Pak, Victor Ibañez, Matteo Buffagni
8. The Vision, Volume 2: Little Better than a Beast by Tom King, Michael Walsh, Gabriel Hernandez Walta, Jordie Bellaire
9. Trashed by Derf Backderf
My favorite reads this month: Denton Little's Death Date by Lance Rubin and the March graphic novel trilogy by John Lewis
Movies & Documentaries I Watched
Watched in August 2017
The Founder (Netflix Streaming)
Before I Fall (Redbox)
Kong: Skull Island (Redbox)
The Shack (Redbox)
Gifted (Fox Screener)
Jackie (Fox Screener)
Hidden Figures (Fox Screener)
My favorite movies/documentaries this month: I enjoyed all but one of the movies that I watched this month so I'd saying this was a great month for me!
Until the end of this month, happy reading and viewing!