Wow, July came and went so fast, I can't even process this month. First up, TV. Thanks to USA airing back to back episodes all season long, we reached the season finale of Playing House super quickly and I'm so sad to see it go so soon when it just came back after such a long (and understandably so) hiatus. Sad face. But when one door closes… Insecure is back for season 2 on HBO!! Wooo!!
As for movies, I haven't seen any recent movies. In fact I just got around to seeing Wonder Woman…so you can see how behind I am. But I'm excited to catch up on my movies more soon so I won't be so behind soon enough.
When it comes to books, Amanda Foody, who is part of my critique group, released her debut novel, Daughter of the Burning City (Add it to Goodreads). Ahhhh!!!! So exciting!!! Be sure to buy her book when you see it in stores or order it online if you can't wait! Here I am at her launch party!!!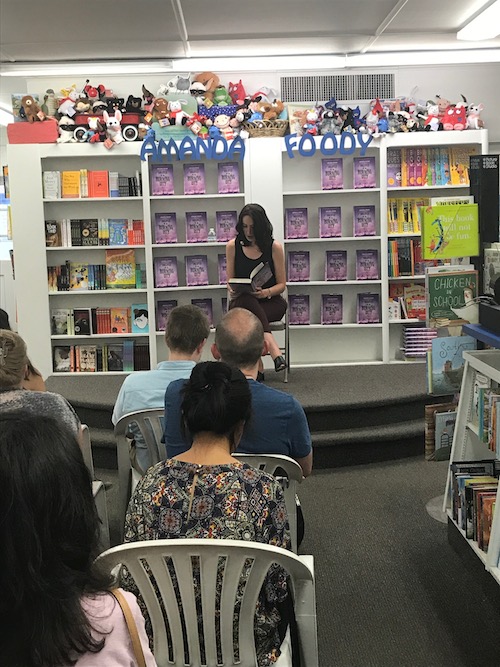 Okay, so, as per usual, it seems, I say "this month will be the month I kick the blog back into high gear" and I don't. But. Something is happening in August and I cannot wait to share what. With this change, you'll be seeing a lot more of me on Instagram and the blog so stay tuned. Anyway, here's my quiet recap of July!
E-book/Book/ARC (Advanced Review Copy)/Audiobook Haul
* Light Years by Emily Ziff Griffin
* Summer in the Elevator by Abigail Blakely
* Under by Abigail Blakely
* Wool: The Graphic Novel by Jimmy Palmiotti, Justin Gray, Hugh Howey
* Zen in The Art of Writing by Ray Bradbury
TV & Movie Reviews
* TV: Face Off Episode 12.02
July Notes
* I finally posted my ALA conference recap! With lots of pictures! Woo!
* I Read YA Week was this month and that was fun to participate in! You can check it out here.
* My latest Loot Crate haul is below. The theme was animation and I'm hit or miss with animation but they got me good with Bob's Burgers and Futurama. In this crate: Bob's Burgers Recipe Cards in a Box, Bob's Burgers Loot Crate Pin, Futurama Slurm Koozies 2-Pack, TMNT Turtle Van T-Shirt, and a Rick and Morty Rick "Peace Among Worlds" Figure. Great crate!
Books I Read
If you'd like to keep track of my reading progress as it happens and reviews as they are posted, feel free to follow me on Goodreads!
Audiobooks That I Listened To:
1. Ready Player One by Ernest Cline
2. Windwitch by Susan Dennard
Books On My Shelf/Kindle That I Read:
1. Home: A Memoir of My Early Years by Julie Andrews
2. Truthwitch by Susan Dennard
3. Solo by Kwame Alexander & Mary Rand Hess
Graphic Novels That I Read (Own/Library):
1. Monstress, Vol. 1: Awakening by Marjorie M. Liu & Sana Takeda
2. American Born Chinese by Gene Luen Yang
3. The Walking Dead, Vol. 27: The Whisperer War by Robert Kirkman, Charlie Adlard, Stefano Gaudiano, Cliff Rathburn
My favorite read this month: Ready Player One by Ernest Cline (I highly, highly recommend listening to the audiobook, narrated by Wil Wheaton).
Movies & Documentaries I Watched
Watched in July 2017
Wonder Woman (Movie Theaters)
The LEGO Batman Movie (Blu-ray)
My favorite movies/documentaries this month: Wonder Woman
Until the end of this month, happy reading and viewing!