To celebrate Black History Month, I set out to watch a number of documentaries that I hadn't yet seen about Black legends and that search soon turned into this list of documentaries, movies, and TV series of Black talent to check out and recommend to others. If there's a black title currently streaming on Netflix that you want to check out or recommend, be sure to share in the comments!
Note that as of February 5, 2017, all of the titles below are currently streaming on Netflix, however, some titles may expire in the future.
Documentaries
A Ballerina's Tale – TV-G – 1 hour 23 minutes
Few dancers make it to the highest levels of classical ballet. Of that already small number only a fraction of them are black women. Misty Copeland, from the small California city of San Pedro, has pulled herself up the ladder at American Ballet Theater (ABT) from the studio company to the corps de ballet to soloist. The only rung in the ladder left to climb is principal dancer aka prima ballerina.
In 2013, after more than a decade at American Ballet Theatre Misty was offered the lead role in Igor Stravinsky's Firebird to be performed at New York's Metropolitan Opera House, a major coup for a soloist.
The night of her performance Misty danced beautifully. But at the celebration afterwards she revealed she had been performing in great pain. Later Misty found out that she had six fractures in her left shin. Without corrective surgery the shin might one day break. Many doubted she would dance again.
A Ballerina's Tale is then an intimate look at this artist during a crucial period of her life. The bulk of the film is a cinema verité influenced look at Misty's journey, from the triumph of Firebird, the painful road back to dancing and to an unexpected third act where Misty not only returns to the American Ballet Theatre stage but emerges as a pop star in the process.
Misty Copeland's career shines a light on several challenges within the world of classical ballet: the absence of women of color at major companies despite so many gifted black women ready to make the leap; the emphasis on skinny bodies for ballerinas impacts the health of professional dancers and sends a negative message to young fans around the world. Misty, because of her race and her curves, is central to both issues in the classical dance world.
The film climaxes with a landmark performance by Misty in Swan Lake, which is an acknowledgement by American Ballet Theatre that she is back, dancing at the highest level, and the fulfillment of the dream of many to see a true black swan at a mainstream international company. A Ballerina's Tale is the story of how a great talent and a powerful will combined can open doors within a very cloistered world. – aballerinastale.com
13th – TV-MA – 1 hour 40 minutes + 13th: A Conversation with Ava DuVernay and Oprah Winfrey – TV-PG – 36 minutes
* Academy Award Nominee for Best Documentary Feature
The title of Ava DuVernay's extraordinary and galvanizing documentary refers to the 13th Amendment to the Constitution, which reads, "Neither slavery nor involuntary servitude, except as a punishment for crime whereof the party shall have been duly convicted, shall exist within the United States." The progression from that second qualifying clause to the horrors of mass criminalization and the sprawling American prison industry is laid out by DuVernay with bracing lucidity. With a potent mixture of archival footage and testimony from a dazzling array of activists, politicians, historians, and formerly incarcerated women and men, DuVernay creates a work of grand historical synthesis. – Netflix
What Happened, Miss Simone? – NR – 1 hour 42 minutes
* Primetime Emmy Award Winner for Outstanding Documentary or Nonfiction Special, Academy Award Nominee for Best Documentary, Feature
A classically trained musical genius, chart-topping chanteuse, and Black Power icon, Nina Simone is one of the most influential, beloved, provocative, and least understood artists of our time. On stage, she was known for utterly free, rapturous performances, earning her the epithet "High Priestess of Soul." But amid the violent, day-to-day fight for civil rights, she struggled to reconcile artistic ambition with her fierce devotion to a movement. Director Liz Garbus sensitively explores the constant state of opposition that trapped and tortured Simone—as a classical pianist pigeonholed in jazz, as a professional boxed in by family life, as a black woman in racist America—and in so doing, reveals a towering figure transcending categorization and her times. The film stays true to Simone's subjectivity by mining never-before-heard tapes, rare archival footage, and interviews with close friends and family. Charting Simone's musical inventiveness alongside the arc of her Jim Crow childhood, defining role in the Civil Rights Movement, arrival at Carnegie Hall, self-imposed exile in Liberia, and solitary life in France, this astonishingly intimate yet epic portrait becomes a non-fiction musical—lush tracks and riveting story resonating inextricably. – Sundance.org
Iverson – TV-14 – 1 hour 28 minutes
Feature-length documentary charting the rise of basketball great Allen Iverson, told largely in his own words. From a turbulent childhood of crushing poverty in Virginia to controversial run-ins with the law to iconic Philadelphia 76ers all star, his audacious rejection of convention and off the court embrace of hip-hop sent shockwaves through the NBA and influenced an entire generation. – Showtime
By the People: The Election of Barack Obama – TV-PG – 1 hour 55 minutes
* Primetime Emmy Award Winner for Outstanding Picture Editing for Nonfiction Programming
Filmed during the historic 2008 presidential election campaign, this documentary goes behind the scenes to trace the journey of Barack Obama from his seat in the United States Senate to his inauguration as America's first biracial president. Filmmakers Amy Rice and Alicia Sams offer candid footage of Obama and his aides from inside the campaign and also examine the fervent grassroots movement that helped propel Obama to the White House. – Netflix
Sneakerheadz – TV-MA – 1 hour 9 minutes
Consumer fascination with celebrity-name athletic shoes began with the first Air Jordan models marketed by Nike in the 1980s and exploded in the years that followed, as chronicled in this engaging look at sneaker collectors around the world. – Netflix
The Black Power Mixtape 1967 – 1975 – NR – 1 hour 32 minutes
From 1967 to '75, a film crew aimed cameras at major figures in the Black Power movement, creating hours of footage that remained unreleased for decades. In clips, Stokely Carmichael, Huey P. Newton and Angela Davis discuss the movement's evolution. – Netflix
The Trials of Muhammad Ali – TV-PG – 1 hour 32 minutes
Exploring issues of race, religion and wartime conscientious objection, this documentary gives viewers an inside look at Muhammad Ali's biggest battle: his struggle to overturn a five-year prison sentence after refusing to fight in Vietnam. – Netflix
Undefeated – PG-13 – 1 hour 53 minutes
* Academy Award Winner of Best Documentary, Features
Cinéma vérité tackles football in this inspirational profile of an inner-city Memphis high school football team, whose downtrodden players combine with a dedicated volunteer coach in a valiant effort to reach the school's first-ever playoff game. – Netflix
Bayou Maharajah: The Tragic Genius of James Booker – TV-14 – 1 hour 38 minutes
New Orleans piano player James Booker is profiled in this balanced documentary that covers both his personal troubles and his musical genius. One of several musicians interviewed, Harry Connick Jr. recalls Booker's early influence on him. – Netflix
Miss Sharon Jones! – TV-MA – 1 hour 34 minutes
Oscar-winning documentary filmmaker Barbara Kopple shadows R & B singer Sharon Jones during a difficult but ultimately triumphant year of her life, during which Jones battles cancer and struggles to keep her backing band from drifting apart. – Netflix
Stretch and Bobbito: Radio That Changed Lives – NR – 1 hour 38 minutes
Tuned in to hip-hop's future, buddies Stretch Armstrong and Bobbito Garcia began a Big Apple radio show in 1990 that brought a new generation of artists — including Jay Z and Eminem — to the wider world, as recounted in this engaging documentary. – Netflix
Marley – PG-12 – 2 hours 24 minutes
Featuring dozens of interviews, electrifying concert performances and rare footage, this documentary explores the music, life and legacy of reggae icon Bob Marley, from his birth in 1945 to his death from cancer at age 36. – Netflix
Movies
Lee Daniels' The Butler – PG-13 – 2 hours 12 minutes
Two-Time NAACP Image Award Winner for Outstanding Actor in a Motion Picture (Forest Whitaker) and Outstanding Supporting Actor in a Motion Picture (David Oyelowo)
Oscar-winner Forest Whitaker delivers a powerful performance as Cecil Gaines, who served as the White House butler under eight presidents. His three decades of service unfold against a backdrop of unparalleled change in American history. – Netflix
Fruitvale Station – R – 1 hour 25 minutes
NAACP Image Award Winner for Outstanding Independent Motion Picture (2014)
Winner of both the Grand Jury Prize for dramatic feature and the Audience Award for U.S. dramatic film at the 2013 Sundance Film Festival, director Ryan Coogler's FRUITVALE STATION follows the true story of Oscar Grant (Michael B. Jordan), a 22-year-old Bay Area resident who wakes up on the morning of December 31, 2008 and feels something in the air. Not sure what it is, he takes it as a sign to get a head start on his resolutions: being better son to his mother (Octavia Spencer), whose birthday falls on New Year's Eve, being a better partner to his girlfriend Sophina (Melonie Diaz), who he hasn't been completely honest with as of late, and being a better father to Tatiana (Ariana Neal), their beautiful four year-old daughter. Crossing paths with friends, family and strangers, Oscar starts out well, as the day goes on, he realizes that changes are not going to come easily. His resolve takes a tragic turn, however, when BART officers shoot him in cold blood at the Fruitvale subway stop on New Year's Day. Oscar's life and tragic death would shake the Bay Area – and the entire nation – to its very core. – Anchor Bay
Mandela: Long Walk To Freedom – PG-13 – 2 hours 21 minutes
Golden Globe Award Winner of Best Original Song – Motion Picture for the Song, "Ordinary Love"
Golden Globe-winner Idris Elba stars as Nelson Mandela in this in-depth biopic that portrays the groundbreaking South African leader from his rural childhood through his long imprisonment to his election as the country's first black president. – Netflix
Middle of Nowhere – R – 1 hour 41 minutes
After her husband is sent to prison for eight years, medical student Ruby shelves her studies to focus on her partner's welfare as he serves his time. The couple soon learns the new pressures they need to bear if their relationship is to survive. – Netflix
Dope – R – 1 hour 42 minutes
From Grammy Award winner Pharrell Williams and Academy Award winner Forest Whitaker comes a fresh and fun coming-of-age comedy Dope, nominated for the coveted Grand Jury Prize at the 2015 Sundance Film Festival.
Malcolm (Shameik Moore) is a straight-A high-school senior into old-school rap who finds himself in the middle of an adventure involving shady drug dealers, offbeat weirdos and a backpack that can make or break his chance of getting into Harvard. Also starring hip-hop talent A$AP Rocky, Blake Anderson ("Workaholics"), Zoë Kravitz (Divergent), Tony Revolori (The Grand Budapest Hotel), rapper Tyga and supermodel Chanel Iman. – Universal
The Wiz – G – 2 hours 14 minutes
NAACP Image Award Winner for Outstanding Actor in a Motion Picture (Michael Jackson)
Motown's Oscar-nominated take on L. Frank Baum's ageless tale stars Diana Ross as Harlem schoolteacher Dorothy, who exits a family gathering to search for her lost pooch, Toto, gets caught in a blizzard and is transported to the magical land of Oz. – Netflix
Seventeen Again – NR – 1 hour 36 minutes
True love and family ties are tested in this heartwarming tale. After 12-year-old Willie mistakenly spills his scientist father's anti-aging formula onto a bar of soap, Willie's divorced grandparents unwittingly use the soap — and suddenly, they're 17 years old again and their love is reignited. But Willie soon discovers that the formula could prove deadly, and he must find a way to safely reverse the process. – Netflix
The Cheetah Girls – TV-G – 1 hour 33 minutes
Television star Raven (of the eponymous show) moves to the silver screen in this charming film about four New York City girls fighting for fame in the music industry while facing challenges that test their friendship. Based on the wildly popular book series of the same name, The Cheetah Girls also features Adrienne Bailon, Sabrina Bryan and Kiely Williams. – Netflix
Home – PG – 1 hour 34 minutes
When Oh, a loveable misfit from another planet, lands on Earth and finds himself on the run from his own people, he forms an unlikely friendship with an adventurous girl named Tip who is on a quest of her own. Through a series of comic adventures with Tip, Oh comes to understand that being different and making mistakes is all part of being human. And while he changes her planet and she changes his world, they discover the true meaning of the word HOME. – FOX
TV Shows
Marvel's Luke Cage – TV-MA – 1 Season, 13 Episodes (Hourlong Drama)
After a sabotaged experiment leaves him with super strength and unbreakable skin, Luke Cage (Mike Colter) becomes a fugitive trying to rebuild his life in modern day Harlem, New York City. But he is soon pulled out of the shadows and must fight a battle for the heart of his city – forcing him to confront a past he had tried to bury. – Netflix
The Get Down – TV-MA – 1 Season, 6 Episodes (Hourlong Drama)
From Baz Luhrmann and a team of collaborators including four-time Oscar® winner and fellow executive producer Catherine Martin, legendary MC and executive producer Nas, associate producer Grandmaster Flash, Pulitzer Prize winning playwright, co-creator and executive producer Stephen Adly Guirgis; and expert collaborators, including hip-hop historian and supervising producer Nelson George, The Get Down is a mythic saga of how New York at the brink of bankruptcy gave birth to a new art form. Set in New York in 1977, this music-driven drama series chronicles the rise of hip-hop and the last days of disco -– told through the lives, music, art and dance of the South Bronx kids who would change the world forever.
The cast of the The Get Down includes Shameik Moore (Shaolin Fantastic), Justice Smith (Ezekiel "Books" Figuero), Herizen Guardiola (Mylene Cruz), Yahya Abdul-Mateen II (Cadillac), Jaden Smith (Dizzee Kipling), Skylan Brooks (Ra-Ra Kipling), Tremaine Brown Jr. (Boo Boo Kiping), Mamoudou Athie (Grandmaster Flash), Jimmy Smits (Francisco "Papa Fuerte" Cruz) and Giancarlo Esposito (Ramon Cruz).
The Get Down is produced by Sony Pictures Television for Netflix. The series is executive produced by Baz Luhrmann, Catherine Martin, Nas, Stephen Adly Guirgis, Thomas Kelly, and Paul Watters.
Being Mary Jane – TV-14 – 3 Seasons, 9-12 Episodes Per Season (Hourlong Drama)
* Two-Time NAACP Image Award Winner, for Outstanding Television Movie, Mini-Series or Dramatic Special (2014), and Outstanding Writing in a Dramatic Series (2016) for Episode 3.03 "Sparrow" by Mara Brock Akil Jameal Turner, & Keli Goff
Mary Jane Paul is a one-woman show: a successful TV news anchor, entirely self-sufficient – an all-around powerhouse who remains devoted to a family that doesn't share her motivation.
As Mary Jane juggles her life, her work and her commitment to her family, we find out how far she's willing to go to find the puzzle pieces that she, and society, insist are missing from her life as a single Black female. – BET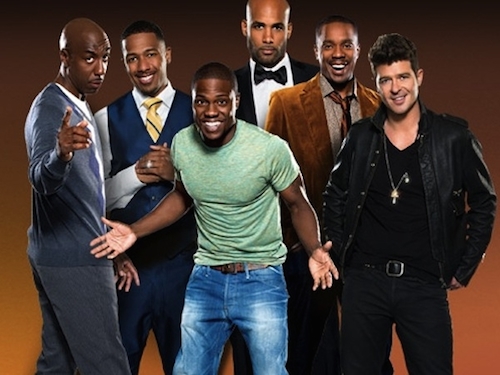 Real Husbands of Hollywood – TV-14 – 4 Seasons, 10-14 Episodes Per Season (Half Hour Comedy)
* Two-Time NAACP Image Award Winner for Outstanding Comedy Series (2014) and Outstanding Actor in a Comedy Series awarded to Kevin Hart (2014)
Kevin Hart and other real-life husbands of Hollywood celebrities play fictionalized versions of themselves in this reality-show spoof. – Netflix
The Bernie Mac Show – TV-PG – 5 Seasons, 16-22 Episodes Per Season (Half Hour Comedy)
* Primetime Emmy Award Winner for Outstanding Writing for a Comedy Series for the Pilot episode by Larry Wilmore (2002)
Bernie Mac stars in this sitcom as a stand-up comedian who agrees to look after his nieces and nephews when his sister goes into drug rehab. – Netflix
A Different World – 6 Seasons, 22-25 Episodes Per Season (Half Hour Comedy)
* Nine-Time NAACP Image Award Winner for Outstanding Comedy Series (1991), Outstanding Lead Actress in a Comedy Series awarded to Jasmine Guy (1990, 1991, 1992, 1993, 1994, 1995) and Outstanding Lead Actor in a Comedy Series awarded to Kadeem Hardison (1991, 1992)
This spin-off of "The Cosby Show" follows Denise Huxtable to historically black Hillman College, where she befriends an eclectic group of students. – Netflix
What Black documentaries, movies, or TV shows do you want to see come to Netflix?