The All Stars Season of Syfy's Face Off that we've all been waiting for arrived earlier this week! Finally!
In the season eleven premiere, we meet the 16 all star artists who will be competing in all new challenges this season. The artists are from seasons 6-10 and season 1 so we're basically pretending that seasons 2-5 didn't exist. I don't know what's up with that. Don't really think that's cool. And that's not all…
At the beginning of the season, we discover that the artists will compete on teams of two so they'll be eliminated as a team (or win as a team). Talk about an anxiety driven season! To soften this blow, there will be an elimination every other week with the winning team of the first week getting immunity and the other teams simply have two opportunities instead of one to be seen before the judges before the elimination. Okay, okay, that's fair. I can get behind that.
The teams are as follows: Tyler (Season 6) and Emily (Season 8), Ben (Season 9) and Evan (Season 9), Keaghlan (Season 7) and Melissa (Season 10), Jasmine (Season 9) and Stella (Season 7), Gage (Season 1) and Rachael (Season 7), Niko (Season 6) and Cat (Season 6), Cig (Season 7) and George (Season 7), Logan (Season 8) and Adam (Season 8)
We all know how I feel about Jasmine (Thumbs Up! – and The Gauntlet…Thumbs Down!) so obviously I want Jasmine and Stella to make it in the final three if they don't win this. I also loved Emily's work so I'm hoping Emily and Tyler make it far. The same can be said for Keaghlan, so now Keaghlan and Melissa. I'm also highly anticipating the work of Ben and Evan, Cig and George, & Niko  and Cat. I remember seeing so much potential in Logan so I wonder what he and Adam will create this season. I could go on but basically, this season is going to be killer. I've been waiting for an All Stars season for what feels like forever so this is just so exciting to finally take in!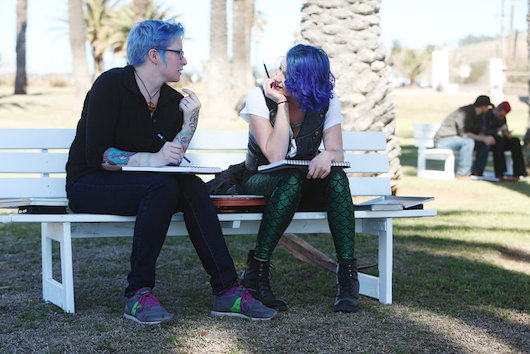 Host, McKenzie Westmore met the artists at the Lighthouse to give them their first Spotlight Challenge, creating their very own alien creation. I'm down for aliens any day of the week so this as the first challenge was perfect. No better way to start the season. Stepping it up a notch for All Stars, for the first time in the show's history, the artists were able to incorporate green screen into their creations. Each team chose a deep sea creature as inspiration.
Tyler and Emily chose Deep Sea Dragon Fish, Ben and Evan picked Japanese Spider Crab, Jasmine and Stella chose Helmet Jellyfish, Keaghlan and Melissa picked Flying Gurnard, Gage and Rachael chose Skeleton Shrimp, Logan and Adam picked Veined Octopus, Cig and George chose Roughback Batfish, & Niko and Cat picked Vampire Squid.
Series mentor, Michael Westmore joined the artists in the lab on day one and on day two, the artists were able to play around with the green screen to make sure their creations worked for the reveal. A few of the teams seemed to run into a few tiny problems on all three days but overall, nothing major. On a model note, does it feel like we're getting an all stars of the models too? Because. Yeah!
Judges, Ve Neill, Neville Page, and Glenn Hetrick all returned this season. On the reveal stage, Keaghlan and Melissa's Flying Gurnard was my favorite look hands down. I loved the silhouette of Tyler and Emily 's Deep Sea Dragon Fish. They should be very proud. Ben and Evan's Japanese Spider Crab was sooo Ben and Evan and I really appreciated what they were going for, loved the concept. But the execution was wonky. Jasmine and Stella did NOT start off as strong as I wanted them to with their Helmet Jellyfish alien creation. In fact, they made bottom looks. Fingers crossed that's the first and last time they are there, at least for awhile.
Gage and Rachael's Skeleton Shrimp was solid even though I thought the eyes were maybe a little too solid/dark? I don't know. I loved the creation overall though. Logan and Adam's Veined Octopus alien creation was so different than what I was expecting and I really liked that. And finally Cig and George's Roughback Batfish alien creation wasn't my favorite while the same can also be said for Niko and Cat's Vampire Squid alien creation. I liked aspects of each but overall, I wasn't in love.
The top looks were Rachael & Gage and Keaghlan & Melissa with the latter team taking home the win, aka the immunity for next week's spotlight challenge when a team will be eliminated. This means that the bottom looks, Ben & Evan, and Stella & Jasmine need to step it up or they will be gone. This makes me sad that Jasmine was in the bottom in the first week. Gah! Who are you rooting for this season?
Immunity Recap
Won Immunity This Week: Keaghlan & Melissa
Face Off airs Tuesdays at 9/8c on Syfy.