Spoilers ahead.
Also, there will be no TV Week in Review this week as I will be out of the country.
The Last Man On Earth (Fox) – Sundays at 9:30/8:30c
Episode 3.04 "Five Hoda Kotbs"
What a jaw dropping episode this week! A very eventful ride to San Francisco and beyond brings for one of the most memorable, entertaining, and endearing episodes of the series. I loved the show from day one and the writing continues to blow me away and continues to make more room in my heart to love it more and more each and every week. – Full review here.
Quantico (ABC) – Sundays at 10/9c
Episode 2.04 "Kubark"
Another stellar episode in the books! NOW, Shelby holds a meeting to inform the FBI that the terrorists are rogue CIA, most likely part of the group that the FBI tried to infiltrate last year. She informs them that everything that they do is a distraction. Indeed, it is.
Raina translates for the terrorists in a video in which she says that in an hour, the terrorists will trade 1667 hostages in exchange for a hacker named Eric Boyer. Alex finds her way to Raina and they catch each other up. There are 112 hostages in the room Raina was in but all of the world leaders from the Summit are at Federal Hall and those are the hostages that will be traded. Because they're dead weight and slowing down the hostages from their true mission. So, the longer Alex and her people can keep the Federal Hall hostages, the more they can weaken the terrorists. I love love love what how one in the same the minds of these ladies work and how their personal strengths and weaknesses get in the way or or advance what's happening. It's fantastic. That said, I find it incredibly hard to believe that they know how that this is a distraction and people higher up around Miranda don't seem to agree or care on this matter. That's weird.
Meanwhile, Miranda is pushing for the trade. Shelby is not. She knows, like Alex, that there's a reason why they want the trade and it's not exactly to help out the FBI. If there was any doubt before, it's all crushed now. We learn that Miranda is indeed, in her own words, "a representative" for the terrorists as she arrests Eric Boyer and talks to him alone in the car before taking him in. It appears Boyer was supposed to do something for the terrorists, didn't, and now they want him. Yes, we're finding out more about the case but at this point, now confirmed that Miranda is not on the good side, now the question of Why? becomes the big question. Why is she working with the terrorists? Her son is gone. So there's no leverage as far as I can see. What's so big that she has to work with them? Because she wouldn't be so easily manipulated. I can't accept that.
Raina is put back with the hostages, where she meets and exchanges words with Lydia. Lydia tells Raina to trust her and I sure hope she has a reason to because at this point, we think that Raina knows more about what's happening than Lydia does. But Lydia's words may indicate that this is not the case. Or Lydia has no problem jumping into a terrorist attack blind. Which doesn't sound smart to me. But I don't have all of the pieces, so enough babbling about that right now.
In the final moments of the episode, Shelby reads and email from Boyer telling her that Miranda is one of them. Yes! Shelby knows now! Please don't get killed in whatever you do next, girl! We love you too much!
THEN, Miranda and the crew are concerned about why they couldn't bug the CIA – the CIA might be onto them. They also have to find out who from the inside killed an agent just 10 miles from where they are…while in the middle of their next test from The Farm. Is it Leigh, the late recruit who they discover has been bugging them the entire time she's been there? I find it odd that she's the only late recruit. Why would The Farm allow one late recruit? What's so special about her that she got to start The Farm late? Unless Owen and Lydia know about her…but I don't think that they do.
Finally, Ryan admits to Alex that she is his greatest weakness and he needs to pull away from her and go through The Farm alone so that nobody makes that connection. Woooo. That's hard. Ughh. Based on Now, maybe he pulled away too much. Eeek. I still ship these two so hopefully by the end of the season or the beginning of season 3, they will be back together. What do you think?
The Voice (NBC) – Mondays & Tuesdays at 8/7c
Knockout Round
The knockouts went by in such a blur for me. There were mostly predictable choices made and really only a few noteworthy mentions. Bindi, who hopped from Team Adam to Team Blake was eliminated. The song choice for her was horrid and the performance was not music to my ears. Her voice is undeniable though so I hope she finds herself on a successful musical path outside of The Voice. Dave from Team Adam, formerly Team Alicia was eliminated which was unfortunate. He was great. Courtnie, who was formerly Team Miley and joined Team Alicia was sadly eliminated. Whitney & Shannon were also eliminated from Team Alicia. Together, these sisters are magical but separate and wow, they just do not measure up at all. So, this was an obvious no for the next round. Lauren, formerly Team Alicia, most recently Team Miley was eliminated. Which was kind of expected but still sad to see. She has a beautiful voice but there's nothing particularly special about it. So. Yeah. The most memorable moment from knockouts for me was Belle being stolen and making her way to Team Miley. I was so not ready for Belle to go so I am so, so, so excited to know that she's still in the competition. So if you ask med about knockouts, my response will be, "I really don't remember but I sure am glad that Belle is through!"
Scorpion (CBS) – Mondays at 9/8c
Episode 3.05 "Plight at the Museum"
An easy case at the LA Natural History Museum turns into a trap as a group of thieves use the night Team Scorpion decides to go into the Museum to do their dirty work. When Team Scorpion gets ahold of their plan, they must think off the cuff to figure out a way to stop the thieves and get out in one piece. I loved the case. The stakes weren't ridiculously high but it was still very captivating and thrilling to watch.
Meanwhile, Walter, Happy, and Toby are still working through the whole Happy being pregnant with Toby's child but Walter and Happy being not so secretly married for Walter's green card situation. And now with Walter's citizenship being expedited with Cabe's help, they've got eyes on them now and have to make their marriage seem real. Cue the hilarity of the last scene with Walter and Happy in the same bed and Toby sleeping on the floor beside them. Ha! Hysterical. I can't wait to see what's next!
The Mindy Project (Hulu) – Tuesdays
Episode 5.04 "Mindy Lahiri is a Misogynist"
"Well, when I get really stressed out, I just don't come to work for a couple days and the doctors don't even notice." – Mindy
"We notice. It's a break for all of us." – Jody
The practice needs help after Jeremy's heart trouble during the strike and Mindy doesn't want the fill in doctor to be a female, stealing the spotlight and what not. She's in for a rude awakening after interviews – in which she rejects all of the qualified female doctors and brings in an incredibly under-qualified male doctor and when everyone agrees that she's kind of a misogynist.
Then, Mindy brings in a female doctor to interview, Dr. Anna Ziev who was let go from her previous position because she got fed up with males calling her "honey," "sweetheart," and the like and slapped one of them. She gets hired…and takes one of Mindy's patients when Mindy is late to work. When Mindy confronts Dr. Z in her office, she also bumps into Nate Berkus. Ha! Great cameo there. Anyway, I loved the way the show handled misogyny and feminism and highly recommend this episode if there's only one episode you watch this season so far.
Meanwhile, Mindy and Ben are getting serious. Mindy has dinner with him at his home in New Jersey and he sees her off the next morning on the train station. As someone born and raised in Jersey, it was great to see the accuracy that was here (license plates, commuting, etc..). And then we get to meet Ben's daughter, Lindsey! And she's black! A blended family for the win! Awesome revelations and developments. Great episode! Can't wait for next week.
The Middle (ABC) – Tuesdays at 8/7c
Episode 8.03 "Halloween VII: The Heckoning"
After eight seasons, it's great to see a Halloween episode that's over essentially being a Halloween episode. Instead, it's a backdrop and we get an absolutely terrifying and hysterical story line where the kids wonder (rather quickly) who'd they go with if Frankie & Mike got a divorce. They all said they'd go with Mike. Cue Frankie's stir of anxiety that any parent would understandably have at this point. Kids say the darndest things. They know not what they say and do. Oh, goodness. Who else just wanted to hand Frankie a margarita during this episode? Great episode. Parents and older children who now see how horrible they were to their parents will come out of this one with a buzz in honor of Frankie, that's for sure.
American Housewife (ABC) – Tuesdays at 8:30/7:30c
Episode 1.03 "Westport Zombies"
"Really, Greg?! The freezer? I asked you to hide the candy, not make it more delicious." – Katie
When Katie notices her oldest daughter, Taylor getting closer to their super annoying new neighbor, Viv (Leslie Bibb), Katie tells Viv that she's participating in the local 5k Zombie Run – after having rejected the idea from her husband, Greg. Nothing gets a Mama Bear in the zone like another woman imposing themselves on the mom's territory.
Viv is everything that Katie despises so Katie's doubt about this new friendship that her daughter and neighbor have begun vs. her own relationship with her daughter gives Katie the determination she needs to finish the race and prove to herself that she is awesome and will always be her daughter's number one.
I love that this episode explores mom jealousy and that Katie is a mom that is so genuinely invested in her children's lives. It's not a job that she despises, which is why she doesn't like someone else coming in and being the role model figure that she sets out to be each and every day. Taylor was being kind to Viv because she took notice that Viv was lonely. Viv being a role model to her was the last thing on her mind. But what Viv represents and portrays is what got in the way of Katie seeing that too. We're all struggling to be our best self. Even the ones that look like they have it altogether. This was a great portrayal of that conflict and I hope to see many more topics like this addressed on the show.
Finally, shout out to Greg's dad moment at the end of the episode, counting to three in zombie speak to get Anna Kat to get out of bed and wash off her zombie makeup. The best.
Fresh Off the Boat (ABC) – Tuesdays at 9/8c
Season 3.03 "Louisween"
This week, Louis attempts and fails to scare Jessica multiple times on one of his favorite holidays of the year. Meanwhile, Jessica, who doesn't like Halloween, attempts to write a horror novel instead. Neither of them really brought the laughs this week except for one moment in which Jessica decides to embrace the holiday – the morning after it takes place. She walks into Eddie's room and puts freshly cooked bacon in front of a portable fan so the smell will wake Eddie up…and then she goes into the boys' room and does the same thing but instead of bacon, she uses a History book. A History book! Oh my goodness. I don't remember the last time I had such a hearty laugh. My goodness.
Backtracking a bit, Eddie is excited about a party at Nicole's house since it will be his first high schooler party as a middle schooler. Anyone who is actively seeking to be in a position that Eddie is trying to place himself in (cool), anyone in the position of being a middle schooler invited to any high school event (on or off campus) knows how special this is so this was endearing, to say the very least. So was this Halloween themed episode of Fresh memorable in the grand scheme of things? No. Not at all. But it was solid. And for me, someone who doesn't even celebrate Halloween, that was enough.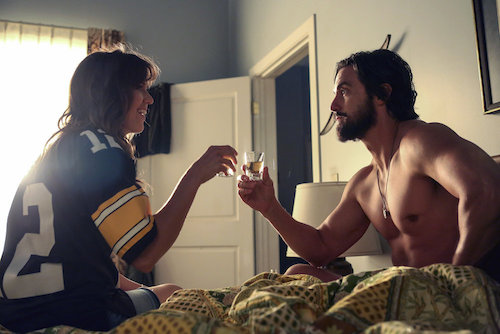 This is Us (NBC) – Tuesdays at 9/8c
Episode 1.05 "The Game Plan"
Another great episode of This Is Us. In the past, we get to see Rebecca and Jack before they had kids. We get to see a moment in time when Jack poured his heart out to her about wanting kids and Rebecca wasn't on board because she liked where she was at in life and was afraid of change and that change end up not being a good change. Oh man, I loved how these two came together. I love it.
In the present, Kevin is hanging out at his brother, Randall,'s house. He ends up babysitting while Randall and Beth go out. William is home too. Fun with the whole family! Ha. Cut to Beth and Randall, when Beth informs Randall that she's late. So their fun date night turns into a trip to the pharmacy for a pregnancy test. and Randall is not happy. But the two come to grips really quickly with the reality that their reality could expand. Great moments between Randall and Beth this week. Perhaps the most Beth heavy episode we've gotten yet.
Finally, we follow Kate and Toby who are so adorable as a couple and so genuine in their obesity struggles. I love that their relationship struggles are just as much a part of their story, because it is. There's so much more to them than their obesity. So this was great. And really, who hasn't bailed on a social outing to sit at home alone and watch their favorite program on television, be it sports, reality, or scripted TV?! I have plenty of times. Ha ha.
All of that humor, only to end up finding out that Jack did indeed die. It's still unclear how or when but you already know my prediction of how although the when is still murky as far as guesses go. Anyway, really strong episode. Very much looking forward to what's next. As always!
Modern Family (ABC) – Wednesdays at 9/8c
Episode 8.05 "Halloween 4: The Revenge of Rod Skyhook"
Luke throws a Halloween party at the house with his parents' permission but nobody shows up because everyone's at another party. I love how everyone came together to help make Luke's party better. Aww. Family. Then there's Manny who goes to a different Halloween party thrown by the son of Jay's work nemesis. Needless to say, Jay makes Manny do his dirty work with pranks. Eek. This could have been way funnier but it totally fell flat. Finally, Mitchell has the difficult task of helping Cam balance enjoying Halloween while not going overboard and going into a sugar rage. If the Luke story line didn't tug at my heart so much, I would say that the Mitch-Cam story line this week was my favorite. But, in the end, Luke takes the win. But it wouldn't feel right if someone from that part of the family didn't get the win for Halloween.
Blackish (ABC) – Wednesdays at 9:30/8:30c
Episode 3.05 "The Purge"
"We have opted out of The Purge. I demand safe passage!" – Rainbow
While Dre tries to teach Andre a lesson about pranks (involving Andre being under the impression that he accidentally killed Charlie), mischief night in the neighborhood turns into a light reenaction of The Purge, thanks to Ruby. Both story lines were equally laugh out loud funny. Andre definitely learned his lesson. And Dre definitely went too far in getting him there. Ruby had the night of her life. As did Diane. Until Rainbow went out into the neighborhood to gather her kiddies. Talk about the laughs. This was great. I enjoyed every minute of this episode, just as much as I do any other episode of the show. Fun episode. Can't wait to see what the show has in store for future holiday episodes.
Designated Survivor (ABC) – Wednesdays at 10/9c
Episode 1.05 "The Mission"
Tom gets serious when he gets the Navy Seal involved and man, I thought this would be more exciting. This show was so, so thrilling in its first episode. It told us what to expect this season and has been working so incredibly slow in getting us there. Nothing's wrong with the pacing as is, but when it's presented one way in the beginning and then flips itself 360, that's a problem. So while I do enjoy the show, I won't be talking about in weekly anymore. It's just too dry to deliver a passionate discussion about it.
The big twist of the night comes when Alex is confronted about Tom possibly not being the father of one of their kids. OoOoO! Twisty twist! I didn't see that coming! That was exciting. As was Hannah finally realizing that dun dun dun, she can't trust everyone. Duh. So it's getting good again but too little too late. Still love the show, just not in a way that I need to talk about it each and every week. What did you think?
Grey's Anatomy (ABC) – Thursdays at 8/7c
Episode 13.06 "Roar"
Alex goes to court to get the trial date. Through this non-romantic triangle, we discover that Jo and Alex aren't even speaking at this point. Alex also bumps into a pregnant lady with a rash in the security line and tells her to stop at the hospital to get checked out. She ends up finding out she has cancer and may have to terminate her baby. I really liked how this played out.
Then, Leah Murphy is back! Possibly a love interest (again) for Arizona. Hmm. She was boring before so hoping it's more compelling the second time around. And finally, Catherine encourages Bailey to make some changes in the staff since they were the number one teaching hospital on the West Coast and aren't anymore. With Richard at the helm of the teaching department, Catherine may have quite a decision to make regarding possibly firing or demoting her own husband. I wonder if that will happen and whether or not it does, what other staff shake ups will happen. Solid episode. Not particularly exciting water cooler talk but solid nonetheless.
Rosewood (FOX) – Thursdays at 8/7c
Episode 2.05 "Spirochete and Santeria"
This week on Rosewood, Rosie and annalise investigate the murder of a man who comes to Rosie the day before he dies to ask Rosie to do his autoposy. If that's not an awesome concept, I don't know what is. I was intrigued from the moment things kicked off in this episode and it did not disappoint.
We also got the introduction of guest star, LeToya Luckett who is playing Tawnya, a love interest for Rosie. I still miss the love interest that Joy Bryant played so I'm definitely not ready for a new one. I guess you could say that I'm pretty much over this new love interest already because we all know it's going to come to an end soon enough and their chemistry isn't off the charts ship worthy so, it was doomed to begin with. Eric Winter (Witches of East End) makes his debut as Adrian. He's basically the male version of what Sherri Shepard played before her character was killed in regards to his super big crush on Annalise. So, that's a fun dynamic to see. Also worth mentioning, I really enjoyed watching Ira make an effort to be there for Ryan when he realizes that someone close to Ryan passed away. That was great. Ira is such a genuinely great guy so it's good to see that he can still keep his head up after the move that he made that led him to being demoted. Anyway, this was overall a really light and funny episode with a great case and I really enjoyed it.
Superstore (NBC) – Thursdays at 8/7c
Episode 2.07 "Halloween Theft"
"Ooo! Peer pressure from a group of people that I don't respect. Now that's scary." – Dina
Dina, the only person not dressed up for Halloween (until she"s peer pressured into dressing up and ends up being the sexiest one there) stunts everyone's Halloween plans when she starts investigating an employee theft and tells them that they can't leave until the issue is resolved. If she's not a female Dwight Schrute, I don't know who it.
And Jonah randomly tries to bond with Cheyenne. And I seriously could not stop laughing at the ridiculousness of everything else going on. The nuances on this show!!! ACES. God, I love this show. I love it!!!!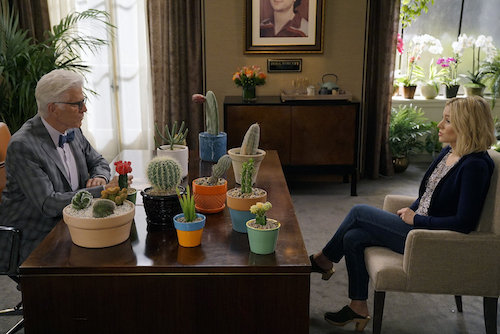 The Good Place (NBC) – Thursdays at 8:30/7:30c
Episode 1.08 "Most Improved Player"
With Eleanor's news out there, she has a meeting with Michael to iron out the details of who she is and to determine what kind of person she is – fundamentally good or bad. Since there are no mistakes in The Good Place, Michael is on a mission to find out why she's here. He's also on a mission to find out who "killed" Janet and dole out the appropriate consequences. So much so, that he uses a lie detector to interview Eleanor and those closest to her, starting with Tahani and Jianyu. Of course, just when he is ready to interview Chidi, Janet comes around with – not a cactus (she's still loading to her regular self) but Eleanor's real file. But of course.
I love that after all he asks her, Michael asks Eleanor if she thinks she deserves to be in The Good Place. I love that she says no. I love that we got to hear from someone above Michael, even though it was only a greeting. And then. And then Michael tells that person that Eleanor is in his neighborhood.
Cue the train rolling into the neighborhood and Trevor (Adam Scott, Parks and Recreation) along with a few others tumbling out. Ready to pick up Eleanor, who we learn is a legend in The Bad Place due to her bad behavior. Shortly after Eleanor boards the train, Chidi confesses to Michael. But with Chidi's revelation, Michael decides that until they sort it out, Eleanor stays in The Good Place. So Trevor ups the stakes and says that until it's resolved, they're keeping the other Eleanor that truly belongs in The Good Place. Best of all, she's on the train so we get to meet her! She's played by Tiya Sircar (Witches of East End, The Vampire Diaries). Talk about a can of worms! I don't think I've been this excited for the next episode of the show, it's like an entirely new level of passion. Wow. There was SO much to love about this episode and man. Next week cannot come soon enough!
Pitch (FOX) – Thursdays at 9/8c
Episode 1.05 "Alfonzo Guzman-Chavez"
Another great episode this week! It's 48 hours before the trades and everyone on the team is on edge, especially Blip. Especially Ginny about Blip. Ginny already lost her best friend before she joined the Padres, she doesn't want to lose the best friend she's got now. Also, whoa. That backstory of Ginny and her former best friend, his drunk dad being the person who killed Ginny's father in the car accident. Oh my goodness.
Meanwhile, Oscar tries to navigate working with Charlie Graham (Kevin Connolly), the interim Padres President of Operations. And he's got a new assistant played by Josh Peck. Is everyone from the cancelled Grandfathered going to end up on this show at some point? Obviously they've got some episodes in their contract to fill out across another Fox show. I'm not complaining. Just find it quite noticeable.
Finally, Amelia is the target of a groupie hate crime at Mike's place. Eliot now knows about Amelia and Mike and has been sworn to secrecy. On the other hand, Blip tells Mike that he needs to tell Ginny before it gets out and it's not from him. Amelia gets to Ginny first. If I were in Ginny's position, I wouldn't care about them dating but I would feel some type of way about them rushing to tell me back to back before the news gets out, when they've been together for a couple of weeks. She'll get over it though so, it's not a big deal. So overall, no major drama here except for the trades and some more very compelling Ginny backstory. Excited to see what the writers take on in next week's episode.
Noteworthy Premieres This Week (October 30 – November 5, 2016)
Monday
9pm PEOPLE OF EARTH (TBS, October 31)
What are your thoughts on this week's TV?