Spoilers ahead.
Once Upon A Time (ABC) – Sundays at 8/7c
Episode 6.04 "Strange Case"
It's dawned on me that I'm entering the phase in my OUAT relationship when I really don't care about the show. It happens. I always return, don't worry. But when I'm watching and there are more misses than hits each week and I tend to not really pay attention and not care that I don't have much of an idea what's going on…it's time to take a break. So far this season, only one episode stood out. Last week's. But I've been so bored otherwise. The only interesting thing that came out of this episode is learning that the only way to kill the Evil Queen is to kill Regina and honestly, that wasn't really a revelation because we pretty much already knew that, yeah? So. With that, I'll be watching the show but I won't be reviewing it because I'm just not excited about the show at the moment. What did you think of this episode?
The Last Man On Earth (Fox) – Sundays at 9:30/8:30c
Episode 3.03 "You're All Going to Diet"
With Pat gone, the crew decides to put new safety precautions in place in the house. Tandy and Melissa take the charge in two very different ways. Tandy's approaches are more peaceful and Melissa's approach is more shoot 'em up and I love the contrast. It's pretty fantastic. They all have PTSD and are absolutely terrified of another serious threat coming down on them but don't want to leave the house they've built into a home. As someone who's moved multiple times, I can tell you that I would have zero problem shipping out the very same day of discovering Pat was alive. I would have been packed in under an hour.
Tandy also asks Louis to be his friend in this episode. How endearing! A lovely and equally comical moment it was. I wouldn't have had it any other way. Great episode! Oh man, this show is so good. I can't wait to see what's next for these guys.
Quantico (ABC) – Sundays at 10/9c
Episode 2.03 "Stescalade"
Another stellar episode this week. The most notable note to mention from THEN is the new recruit, Lee who came on super late to The Farm. Interesting. Oh, wait, and Lydia possibly being in on the terrorists' group? I don't know who exactly she was talking to but I'm curious. As for NOW…
Shelby approaches Miranda to tell her that she thinks that the group Alex and Ryan were investigating, which they call the AIC (backwards for CIA) is behind the terrorist attack. Shelby clearly has no idea that Miranda may be conspiring with the terrorists. After the fiasco at Quantico a year prior, I'd expect her to be a little less trusting. Even if she's worked with and feels like she can trust Miranda after all the time that's passed. Shelby, get a clue and don't get killed once you find out!
Meanwhile, Ryan decides to create a distraction with Harry's help in order to unmask one of the terrorists. We discover that while Ryan is CIA, Harry isn't. Also, even The Farm dropouts are in the room. Hmmm. Anyway, Alex has already attempted to infiltrate the group, posing as one of the terrorists and Ryan's plan almost gets Alex killed. Yikes. But of course, our girl fights back and ends up killing not one but two of the terrorists! Two down. So many more to go. Oh! It's already good and just keeps getting better! I'm itching for next week's episode!
The Voice (NBC) – Mondays & Tuesdays at 8/7c
Battle Rounds
As per usual, first up with Team Miley. Darby and Karlee went head to head which I hated because I love them both! They performed "Brand New Key" and it was the absolute best. Thankfully, I didn't have to cry myself to sleep because Miley picked Darby and Blake stole Karlee so neither went home! Thank goodness!!!! Aaron and Sa'rayah were up next and is it just me or would you also totally buy an album of these two as a duo? That's how much I loved this pairing. I love Miley's reasoning for choosing Aaron and agree with it 100%. I'm also glad that Blake and Alicia went head to head to steal Sa'rayah. She ended up going with Alicia which was a perfect match.
As for Team Alicia…Alicia paired my favorite, Halle with Belle from Brooklyn who I also loved in the blinds. Alicia chose Belle and Halle was not stolen so…very sad to see Halle go! Next were Josh and Kylie, both of whom I enjoyed in the blinds. It was fun to see that mentor, Charlie Pluth actually went to college with Kylie! They sang "House of the Rising Sun." Talk about a battle! Now THAT was a battle. Whoa. A definite highlight of this season. Alicia chose Kylie and Miley stole Josh, so another happy dance is in order! Broadway boy, Gabriel vs sisters, Whitney & Shannon were next. I'm biased because I love Gabriel. But bias aside, Whitney and Shannon are great together but separately not that dazzling. So. I was still rooting for Gabriel. But Alicia chose Whitney and Shannon. Understandably so. It's hard to go up against a duo. But oh man, was I so sad to see Gabe go. He was one of my favorites on Team Alicia! And he always will be.
Next is Team Adam. First this week from Team Adam that we got to see where Johnny vs Nolan with Nolan taking the win. I was rooting for Johnny so I was sad to see him go but both were great in the round so, I can't be too upset. Next were Bindi and Brendan and even though I wasn't a fan of the song choice, I am a fan of Bindi's voice and was hoping she'd win this round. Sadly, Bindi was not chosen. It's unfortunate but after seasons of watching Adam coach on this show, I think it's safe to say that Adam and I just don't connect on the same level and that's okay. Anyway, Blake stole Bindi so she's not gone yet! Woo!
Finally, Team Blake. On Team Blake, Blaine and Josh competed against each other with Josh winning. I wasn't impressed with either so it didn't matter to me. Blake also paired Dana with Tara and Dana won which I was hoping for since I like Dana in the blinds. Next up were Christian and 15 year old Gabe. I was taken by Christian during the blinds but during the battle, they sang "The Reason" and I must say, Gabe stepped up and it was an even playing field. Blake ended up picking Gabe so Christian will be missed. Austin and Preston were next and Austin was noticeably better so Blake went with him.
Scorpion (CBS) – Mondays at 9/8c
Episode 3.04 "Little Lost Boy"
This week on Scorpion, an autistic boy from Ralph's class goes missing on a field trip and his communication iPad is mistaken for an iPad used at a secret drop between criminals. Chaos ensues and the safety of the child is at the center of it all. What I love about this show is its attention to not only the main characters who are different from most people but kids as well who are different. The stakes are always high on the show but when children are involved, it's just a whole other level of stakes and empathy and I really enjoyed it.
But that's not the most exciting part of this episode. No. At the end we got not one but two big bombshells. First is that Happy is married to Walter! Yes! Walter. As a friend, she married him so that he could get his green card although he won't be a citizen for possibly another two years. Problem is, Happy is pregnant and needs to marry Toby before the baby is born. Whoa! I was NOT at all expecting all of that! Whoa. Whoa. Whoa. Whoa. Whoa. I am elated and nervous about what's ahead but if anyone can get Walter citizenship, it's Team Scorpion! And congrats, Happy!
The Mindy Project (Hulu) – Tuesdays
Episode 5.03 "Margaret Thatcher"
"Can you believe these nurses? Asking for more money for the same job they've done for years. Who do they think they are, the cast of The Big Bang Theory?" – Mindy
Even though we all desperately miss Mindy and Danny together, the possibility of Mindy and Ben (Bryan Greenberg) is something that I can absolutely get behind 100%. I love the actor who plays Ben (One Tree Hill anyone?) AND love the chemistry between these two. There was no genuine romantic chemistry between Mindy and her last suitor. This is different. This makes my heart skip a beat. I love this and I hope we get to be in this blooming relationship for some time now. Great budding romance. Great developments with the strike. Oh so many laugh out loud moments. Fantastic episode all around. Can't wait for next week.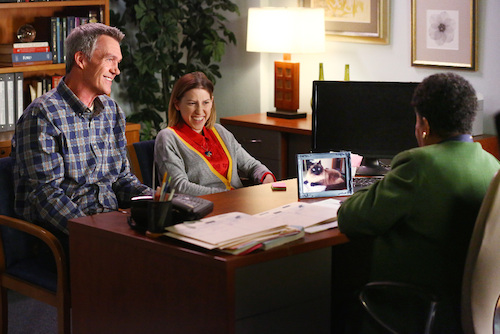 The Middle (ABC) – Tuesdays at 8/7c
Episode 8.02 "A Tough Pill to Swallow"
I don't know what was funnier, watching Brick try to master swallowing a pill or watching him shame his mom for not knowing how to parallel park. Both were so funny and I'm just glad that I wasn't drinking anything while I watched this episode because I would have spit it all out.
Meanwhile, Sue has a financial aid issue that forces her out of college. Without Sue knowing, Mike sells his share of his business to pay for the tuition for the year to get Sue back on track and all is well. I would have had a nice long rant had it not gone in Sue's favor. I feel like this show has an obligation to get these kids through college to show that struggle, to show that it is possible to be in the middle class and graduate from college, especially if you're willing to make big sacrifices. Watching Mike go far and beyond his comfort to keep his daughter in school… there are not enough words to express the gratitude I have for this fatherly figure, for this family, for this episode, for this show. Oh man. This episode stands out so much now. Because of this story line. I am so, so happy with how they handled the financial aid part of Sue's story line this year. Wonderful job, writers.
Brooklyn Nine-Nine (Fox) – Tuesdays at 8/7c
Episode 4.05 "Halloween IV"
It's Halloween at the precinct and the squad competes for the title of "Ultimate Detective Slash Genius," a fun office heist that will most definitely boost morale as the holiday season begins. Jake's body double for Boyle was jaw dropping. Gasp worthy. So good. The Boyle body double dressed as Gina? Oh my goodness! Comedy gold. Gina's front teeth being knocked out?! Dying! Rosa reading The Babysitters Club books at Amy's suggestion and Amy fangirling was absolutely entertaining. Gina wearing Amy's clothes! Stop it omg this is too much hilarity, I cannot handle this. Ha! This was great. I don't even celebrate Halloween but I enjoyed this episode. This season is killing it.
New Girl (Fox) – Tuesdays at 8:30/7:30c
Episode 6.05 "Jaipur Aviv"
Schmidt and Cece remodel their fixer-upper, which isn't as laugh out loud funny as you'd expect it to be. The gang votes on whether or not to let Reagan move back into the loft when they're ready (financially in need of) of new roommate. I vote yes. Reagan is the best thing to happen to the show in a long time so I'm super excited about the possibility of Reagan being recurring. I would jump to welcome her as a series regular but I'm getting ahead of myself, I think. Especially since they won't need a roommate for awhile since Cece and Schmidt are still tied to the loft for the next few months.
The best thing to happen in this episode was following Nick and Winston who made a very awkward discovery about the house that Cece and Schmidt now call home. Ha! Could you imagine if you rented or bought a house only to find out it was used as a setting in adult movies? Lord have mercy. Decent enough episode but not by any means all that memorable.
American Housewife (ABC) – Tuesdays at 8:30/7:30c
Episode 1.02 "The Nap"
When Katie gets an offer from her old job to come back, she has a big decision to make about returning to work or continuing to be a stay at home mom. Both have their pros and cons. And we get to see, for the majority of the episode, just a small handful of the cons, in the most comical ways, when it comes to the stay at home mom position. It's not until the end of the episode that Katie realizes that for her, the pros of being a stay at home mom far outweigh everything else. So she decides to turn down the position. I loved, loved loved, that in the end, Katie acknowledges that both positions are respectable and both will make you want to pull your hair out, but at the end of the day, it's what's best for you. And what's best for her is to be there for her family 24/7. This was a great episode with what I felt like no bias which I'm sure everyone greatly appreciated. Excited to see what the show tackles next.
Also, things we learned in this episode: Angela shares custody of her kids with her partner, so it appears she's divorced? Or at least single. And Doris is filthy rich. That is all!
Fresh Off the Boat (ABC) – Tuesdays at 9/8c
Season 3.02 "Breaking Chains"
"I root for the best. That's my homeland." – Jessica
Eddie is starting eighth grade, Emery is starting sixth and joining Eddie's middle school. Evan is mourning the time that he had going to school with Emery. As a middle child, I can relate to so much of this oh my goodness. This was great. I really enjoyed how all of this played out and can't wait for more school stories throughout the season.
Meanwhile, in a fit after she notices the messes that people keep making and leaving around the house, Jessica says that it would be nice to get some help around the house but Louis takes her words seriously and hires a housekeeper which Jessica takes immediate offense to. Grandma even says, "If my husband got me a cleaning lady, I'd throw myself in a river." Oh my God. Talking about cracking up laughing. I couldn't stop laughing in this episode. This was absolutely great. I loved how the story played out and am sure more people can relate to this story line than you'd think. Loved this episode. Can't wait for next week.
This is Us (NBC) – Tuesdays at 9/8c
Episode 1.04 "The Pool"
This week was fantastic, yet again.
We follow Rebecca and Jack who take the kids to the community pool. It starts off with a few looks here and there. The tension isn't thick. Barely noticeable if you're not paying attention, which Rebecca and Jack weren't really. At least when it came to Randall at first. They moreso were worried about Kate, who had more baby fat than the other kids – who made it known that they weren't open to this small difference. Before the race issue is brought on next, there's young Randall who asks if he even needs sunscreen as Rebecca is getting the kids ready to get in the pool. Talk about a laugh out loud moment. Loved it. Perfect break in between the tension. I love that the real reason Randall wanted to go to the pool was to be with the other black families. My heart.
I love that Rebecca realized this need for Randall to be around people like him and dropped her pride so that this could happen. Best of all though, as the middle child, I could relate to the invisibility that Kevin experienced this week – Kevin though was in the situation because the parents were so concerned about Kate's weight and Randall's blending into the family, that Kevin's often not a concern. I know the kid almost drowned but his freakout to his parents afterwards made me laugh aloud so  much. You're not alone, kid!
Fast forward to the present day and Kevin, who has brought his childhood issues with him to the present and has sought out attention in the acting world, is auditioning for his first Broadway play. It doesn't go well. That's pretty much all that there is to say here. Nothing really compelling or captivating here at the moment.
Meanwhile, William is mistaken for a loiterer outside of Randall's home because nosy white neighbors aren't cultured enough to know what a weathered old man looks like. He wasn't dressed in rags for God's sake. I love that William and Randall have two different approaches to addressing the problem and that Randall puts William in his place about the black experience, the black man experience. Just because Randall is well off, it doesn't mean he doesn't face racism and have to make decisions on how to react to it. William may have fought the good civil rights fight but that doesn't erase the experience of the black men that came after him. Especially successful black men.
Finally, Toby runs into his ex-wife, who, in Kate's eyes is drop dead gorgeous compared to her. Kate ends up stalking the ex-wife to a point where she actually goes into the store that thee x-wife owns, ends up in a job interview, and gets a job working for Toby's ex-wife at her store. Ha. Wow. Of course, she doesn't keep the job but whoa. It's such a funny look at how quickly we can fall down the rabbit hole. Great episode.
Grey's Anatomy (ABC) – Thursdays at 8/7c
Episode 13.05 "Both Sides Now"
Really strong episode this week. Amelia believes she is pregnant and doesn't know how to tell Owen. We discover that the last time Amelia was pregnant, she didn't have to tell the father…because he was dead. Eeek. Well. Anyone think Amelia and Owen will get pregnant by the end of the season? Meanwhile, Owen babysitting Harriet and shooing Jackson out of the room after finally getting her to sleep was hilarious. Absolutely hysterical. Loved it.
Then, Bailey's got a granny patient who's been on the waiting list for a liver for 3 years and is scheduled for surgery just as a 25 year old woman comes into the hospital needing a liver. I love, love, love that the granny doesn't give in and takes the liver she's been waiting 3 years to get even though Meredith's patient might not make it through the night. I love that Karev stopped Meredith from going in and shaming the granny into giving her liver away. Meredith has no boundaries and it's going to be her downfall, whenever that comes. If.
Anyway, granny has a right to go out how she wants and if she's been waiting for years, she's earned that liver. That's why it's important to live your life to the fullest everyday. Some 20 somethings have lived a thousand more lives than some old people on their death bed and if you know me, you know that I absolutely loathe ageism. So in all fairness, the liver belongs to granny and so I'm Team Granny. This coming from a twenty-something. And hey, the 25 year old ended up getting a liver! You see what happens when you play fair? Ha ha. Really, really great episode. I loved it.
Superstore (NBC) – Thursdays at 8/7c
Episode 2.06 "Dog Adoption Day"
"Attention shoppers, are you thinking of having a baby but want to test the waters with something that's not the same at all? Adopt a dog today!" – Garrett
I haven't laughed that much at a cold open in awhile. That was brilliant. Glenn and Dina tricking the staff into volunteering for puppy day (yay!) and clearing a hornet's nest (noo!) and then Jonah saying that he'd switch places with someone if they wanted since he's neutral when it comes to dogs, especially since enough people noticeably care about dogs more than they do about children who are in need. He's neutral until he finds out that all of the dogs that aren't adopted that day will be euthanized. Watching Jonah and Mateo work together to get all of the dogs adopted after that revelation was so funny and heartwarming and brilliant.
Meanwhile, when Cheyenne and Bo are second guessing their relationship, Cheyenne considers another guy who's been interested in her for some time now. A responsible, respectable guy. Who happens to have been her former teacher.
And if Dina and Garrett going to war over the employee handbook, if Dina's "Rules are Rules" isn't something that every retail employee can relate to at some point, isn't the greatest thing, I don't know what is. That and old people who like to pay their $27.59 bill (I made up the number, it was just a huge bag of change that we saw) in all change. YES. This happens. They hold up the line. Yes, customers get irate when there's literally nothing the cashier can do other than call another cashier and if the store is slow in business, there will literally only be only one other person available to help so that might even make a dent in the line and people will STILL complain because they're entitled and have zero empathy for the cashiers who are doing the best that they can. Okay, I totally just went on a rant. Ha ha. Oh man, I love this show. I can relate to it so much. The little details especially. Awesome episode. Can't wait for more!
The Good Place (NBC) – Thursdays at 8:30/7:30c
Episode 1.07 "The Eternal Shriek"
"I owe you an apology." – Michael
"Oh no, you don't. But please, continue." – Tahani
Michael, who believes he is the sole problem, asks Janet to escort him into retirement – an extreme punishment as described by Michael, where his soul will be disintegrated and each molecule will be placed on the surface of a different burning sun and then his essence will be scooped out of his body with a flaming ladle and poured over hot diamonds. And then what's left of his body will be beaten by a titanium rod. They call it "The Eternal Shriek." Oh my goodness! That is a very dramatic bout of torture ha ha I was not expecting that!
So what was the retirement party that Tahani decided to throw Michael to say goodbye turns into a wake, essentially. With Michael present. Oh my goodness.
Meanwhile, Eleanor comes up with the brilliant idea to get rid of Janet because without Janet, Michael can't get on the train (the only way between neighborhoods) to retirement. So Chidi accidentally kills Janet. And the entire neighborhood knows that she's gone. And Michael knows now that someone else is part of the problem. Finally, Michael! About time!
So with a rebooted Janet, Michael will have to postpone his retirement by a few days since that's how long it will take for Janet to gain all of her knowledge back…and Eleanor and Chidi have a few days before Chidi is revealed as Janet's murderer. But Chidi, the moral guy that he is, is ready to confess now! But he doesn't have to because Eleanor finally does the right thing. She confesses – in front of the entire neighborhood that the problem is her and she was brought to The Good Place by mistake! What! Dun dun dun!!!
I totally was not expecting her to confess so early on into the season. I thought at least November sweeps if they were going to do it early so this was great. Also, Eleanor saying "I love you" to Chidi right before she confessed?! Did anyone else's heart just melt?! Mine totally did. I loved, loved, loved this episode. The stakes were high, it was very emotionally charged, and as much as Eleanor could work her way around not feeling guilty about anything…she couldn't let her soul mate, Chidi take the heat. That's love. Fantastic episode. I am dying to know what's next!
Noteworthy Premieres This Week (October 23 – 29, 2016)
Sunday
9pm The Walking Dead (AMC, October 23)
Monday
8:30pm MAN WITH A PLAN (CBS, October 24)
Thursday
9pm Mom (CBS, October 27)
9:30pm Life in Pieces (CBS, October 27)
Friday
Good Girls Revolt (Amazon Prime, October 28)
What are your thoughts on this week's TV?