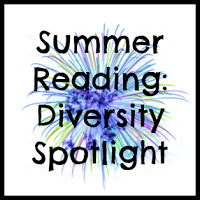 I am so excited to be launching the Summer Reading Diversity Spotlight today! This summer, expect a book review of a diverse book and/or a book written by a diverse author every other day on the blog. An archive of the reviews can be found here. I'm so excited to be launching with a review of the absolutely wonderful Simon vs. the Homo Sapiens Agenda which I think is the perfect way to launch the summer!
Note: Summer Reading: Diversity Spotlight Archive
Simon vs. the Homo Sapiens Agenda
By Becky Albertalli
Release Date: April 7, 2015
Publisher: Balzer + Bray
Genre: Young Adult Contemporary, LGBT
ISBN: 978-0062348678
Source: Bought
Add it to Goodreads
Sixteen-year-old and not-so-openly gay Simon Spier prefers to save his drama for the school musical. But when an email falls into the wrong hands, his secret is at risk of being thrust into the spotlight. Now Simon is actually being blackmailed: if he doesn't play wingman for class clown Martin, his sexual identity will become everyone's business. Worse, the privacy of Blue, the pen name of the boy he's been emailing, will be compromised.
With some messy dynamics emerging in his once tight-knit group of friends, and his email correspondence with Blue growing more flirtatious every day, Simon's junior year has suddenly gotten all kinds of complicated. Now, change-averse Simon has to find a way to step out of his comfort zone before he's pushed out—without alienating his friends, compromising himself, or fumbling a shot at happiness with the most confusing, adorable guy he's never met.
What an amazing debut! I haven't enjoyed a book this much in I can't even tell you how long. Wow, wow, wow, wow, wow. While I've had this book for awhile, I admit the hype surrounding this book scared me because I really wanted to like it, so I put off reading it as if that would solely affect the way I felt about it once I finally got to it. Well, I'm here to tell you that not only did I like this, I loved this, and it's worth the hype and then so much more! Don't sit on this one!
Everything about this book rocked. Becky Albertalli is a rock star for this book. It was written so beautifully, with such charm and care. If you want to know what a book that has a lot of heart is supposed to be like, read this book. If you want to know how to create fully engaging and compelling major and minor characters with complex and fully explored relationship dynamics, read this book.
I loved seeing Simon and Blue's relationship grow over email and watching Simon navigate his secret life with his school life, home life, and the big bad blackmailer. I loved how the story concluded and appreciate so much how throughout the story, there was never a tone of bias and every character had strengths and weaknesses and flaws and made mistakes and there were consequences and no one was immune to all of this and there was a true sense of vulnerability and understanding and compassion for every single character.
Every character had such a depth to them, I loved it so much. I haven't seen this in such a long time, such richness, such humility, such humanity displayed so genuinely on the page from each and every single character with no judgement from the storytelling POV even though the story so heavily explores identity and truth and judgement. When hate is deserved, still, there's love. It's a wrestle but still, there's grace. This is a contemporary romance but that's not the only kind of love displayed here. This is such a wonderful character study on love, making this book brilliant for this one reason alone. I will cherish this book forever because of it.
If you want a master class in voice, read this. If you want a book that brings a setting alive and fully immerses you in its world, read this. If you want a book that will hook you in from the very first line and won't let go until you reach the very end, read this.
If you want a book that celebrates love and explores what it means to live in truth while also keeping your eyes open to the truths of those around us, read this. If you want a book that will make you laugh, that will make you swoon (I did more than a couple of times), that will bring you back to that moment in your life when your emotions were first heightened and electrifying and boy, was it a roller coaster, read this. It is so spot on, I can't even. The pacing is perfect. The storytelling is superb. Becky Albertalli is all of that and a bag of oreos for a reason. This book is absolutely delightful. It's the perfect summer read so if for whatever reason, you have yet to read this book, you must read Simon vs. the Homo Sapiens Agenda this summer!
Simon vs. the Homo Sapiens Agenda by Becky Albertalli is available today.