So we jump right into this episode as we see that Nathan has found out that Claire is his mom, he has a sister, and his memory was erased. HRG says he has to get Nathan and Malina to Odessa but doesn't give a straight answer as to what comes next. Okay…
Something happens with the Carlos storyline but it's so insignificant, I wonder if however Carlos is involved in the end will actually make up for all of this screen time that could have went to our favorite heroes…
Luke and Joanne go head to head right before Jo is about to kill Nathan and Emily! Two children! Teens but still children. Jo willing to kill children EVOs and those who are closest to them brings her evil to an entirely new level. She was already deeply disturbed but her mourning has warped all of her thinking and she is straight up out of her right mind with no point of redemption now.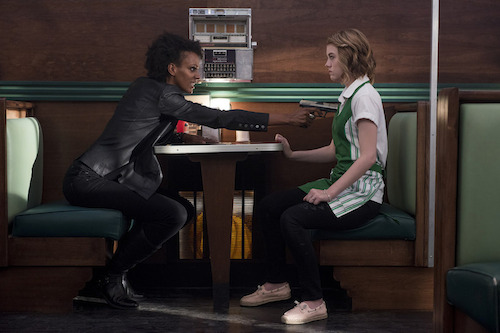 Luckily, Nathan realizes how to use the time travel power that he previously took from Hiro. He freezes time and bounces with Emily, leaving Jo and Luke super confused. As Jo runs out, she runs into a Harris clone. No good came come from that! Funy how Harris clones always appear at just the right time…
So Nathan and Emily find themselves at the hospital with his mom and HRG but they're quickly met by Quentin and Phoebe who take Nathan at gunpoint. Gunpoint! Ugh. Quentin. Be careful what you wish for when you wish to see notable characters again. HRG realizes that Quentin is the butterfly. Yeaaahh. You should have been looking out for the butterfly from the moment you got back, HRG! C'mon! Now Nathan is in Erica's hands. God only knows what's next. Hopefully, she doesn't warp his mind with whatever mind games she has up her sleeves and Nathan gets out of Erica's grip. I think my favorite moment with Nathan in this episode easily goes to the moment he freezes time, discovers his power, and then sees who I'm sure he's put the pieces together is his sister. I can't wait until these two really get to interact. What a tease!
Meanwhile, Taylor is on the run and comes into contact with a group of EVOs who identify as The Hunted. They claim that Micah was their leader. Micah!!!! I need to see him. Will we see him in a future episode?? Will we???
Then there's Matt. Matt, oh man. So disappointed in his actions. He really fell off the deep end. Our favorite cop turning into a killer. Killing EVOs who weren't on the same side as Erica, it seems. Who didn't serve a use to the cause. Matt. Really?! This is just so far of a stretch from the Matt we know. He was like a moral compass during the original run so even though he's doing what he's doing because he believes it's the right thing to do, I don't believe this arc. It's just too far left I think. We need to explore more of what's happened with Matt since the last time we saw him and I need to see more for me to believe this stretch in his character. His character hasn't much changed as much as the circumstance but how do they line up, where do they truly meet because I'm at a loss right now…
Finally, the episode closes out with Miko almost 8,000 years into the future where nothing is left, it's barren land like a desert. So. umm…what's up with that? This episode overall wasn't nearly as exciting as any of the past eight episodes but the developments were needed so I can appreciate it. What did you think?
Watch Heroes Reborn Thursdays at 8/7c on NBC.