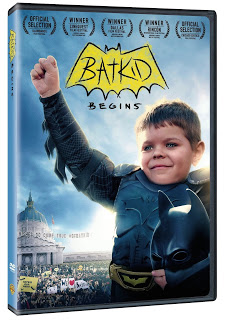 Release Date: October 6, 2015
Rating: PG
Running Time: 87 minutes
"Batkid Begins" looks at the "why" of this flash phenomenon. Why did the intense outpouring of spontaneous support for a child reverberate among the world and become one of the biggest good news stories ever? The film explores what happens when an event goes viral, and reveals surprising truths about what happens when a nerve is touched in our digital society. Will the Greater Bay Area Make-A-Wish Foundation fulfill its mission to help Miles reclaim his childhood after battling disease for more than half his short life?
In the end, the film leaves audiences to decide: did Miles need the world for inspiration? Or did the world need Miles?
There are three foundations that I have felt very strongly about supporting ever since I was a little girl and Make A Wish is one of them. Make A Wish has always made such an impression on me so when Miles's wish as Batkid blew up, I was overwhelmed with pride and joy for this foundation that does such good work everyday, all day and was back in the spotlight in a way it hadn't been in quite some time.
This documentary is a very detailed look at how one child's wish turned into an unforgettable worldwide phenomenon. From the wish of Miles being Batkid for a day being given the green light to the wish growing into the entire city of San Francisco being transformed into Gotham City being made public and going viral…. to the t-shirt campaign to an ever-growing chaos of coordinating all that is involved and the good that touched billions of people around the world because of it.
A personalized Bat Call from composer, Hans Zimmer (The Dark Knight Rises, The Dark Knight)? Amazing. From the actors and cars to the costumes and everything in between, it's all featured here. The "parade route" of Batkid's San Fran rescue day will bring such an emotional charge, you may not even realize there are tears in your eyes until after they've fallen. Get the kleenex ready because this imprint on your heart isn't going away. Every moment is just as fascinating, humbling, and inspiring as the last so if you have yet to watch Batkid Begins, what are you waiting for? Make this beautiful, moving story about love and the boundless generosity of others a part of your DVD collection today!
Unfortunately, there are no Bonus Features for this DVD.
Own Batkid Begins on DVD today.