Today, I am so thrilled to be a stop on the St. Martin's Griffin Blog Tour for All the Rage by Courtney Summers!
If you're new to the blog, I became a Summers fan after devouring This Is Not a Test. Zombies! Yes, please! The sequel, Please Remain Calm recently released which I absolutely loved. As soon as I put that book down, I was itching for more Summers. I'm actually not a huge contemporary reader but I was compelled to read anything and everything written by this woman so…
I then read Some Girls Are which absolutely slayed me. I then read Fall For Anything, at which point it was clear that anything I read by Summers will indeed be a punch in the gut.
I am highly anticipating reading her debut, Cracked Up To Be later this year as it's the only book written by Summers that I have yet to read! Recently though, I read her latest release which is just as beautiful and haunting as her past work so if you're a fan, you know what you're in for and if you're new to Summers, welcome to this psychological war zone. Beware of the mines ahead.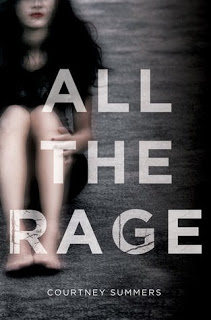 All the Rage by Courtney Summers
Release Date: April 14, 2015
Publisher: St. Martin's Griffin
Genre: YA Contemporary
ISBN: 9781250021915
Source: Received E-ARC from Publisher
Add it to Goodreads
The sheriff's son, Kellan Turner, is not the golden boy everyone thinks he is, and Romy Grey knows that for a fact. Because no one wants to believe a girl from the wrong side of town, the truth about him has cost her everything-friends, family, and her community. Branded a liar and bullied relentlessly by a group of kids she used to hang out with, Romy's only refuge is the diner where she works outside of town. No one knows her name or her past there; she can finally be anonymous. But when a girl with ties to both Romy and Kellan goes missing after a party, and news of him assaulting another girl in a town close by gets out, Romy must decide whether she wants to fight or carry the burden of knowing more girls could get hurt if she doesn't speak up. Nobody believed her the first time-and they certainly won't now-but the cost of her silence might be more than she can bear.
With a shocking conclusion and writing that will absolutely knock you out, All the Rage examines the shame and silence inflicted upon young women in a culture that refuses to protect them.
Like Courtney Summers's past work, All the Rage is a must read. It's honest and disturbing, and at times, unsettling. It's so honest, you guys. So open. Talk about no holds barred. Summers writes what needs to be written, what needs to be talked about, what needs to be faced and I am just so grateful that this book exists because it's such a reflection of so many people's stories and voices that need to be heard because these voices and these stories matter.
We follow Romy on a journey as she loses so much but in all of it, she doesn't allow others to take away her dignity and on top of that, she fights to make sure another girl keeps hers. She refuses to be pushed into the shadows and be silent. I love that in all of this, Romy in fact, has so much (a healthy family dynamic, a part time job, etc…) but the measures of man don't equal the measures of the heart and Romy is still lost in this world and dealing in so many ways. There's more ways than one to kill someone's spirit and I love that in All the Rage we get to see the battlefield Romy fights on to keep hers alive. We see who is fighting for her and against her too which is incredible because even Romy is quite taken aback when she realizes who was behind her, fighting for and with her the entire time.
I love that the quote above talks about Romy's independence, how if she were just a little bit more financially stable than the average teen, she could move on. But I love even more that with all Romy has and doesn't have enough of, or have period, she still moves forward and she's smart about the moments when she is still and quiet and the moments when she speaks up. She's fighting the fight and seeing her do this just brought on so many emotions on each and every page.
One of my favorite elements to a Courtney Summers novel? The characters. They are always such well crafted, three dimensional characters that sit in my head for so long after reading and these characters here are no different. I love how such little acts such as painting nails turn out to mean so much. The character depth is simply beyond. Every single action a character makes matters and means something and is such a vulnerable part of that character and it's beautiful.
All the Rage is a realistic, painful story about rape and rape culture, grief and growth, loss and gain, denial and truth, privilege and responsibility, and so many things and it's all so wonderfully executed. All the Rage embodies everything that makes this one of the most powerful, possibly the most powerful book I will read all year. This book is so important and I hope it finds its way into your hands soon because it's a piece of work that everyone needs to read. #TotheGirls, this one is for us.
All the Rage by Courtney Summers is available now on Amazon, B&N, Books-A-Million, IndieBound, Indigo, iTunes, Google Play, and Kobo.
Be sure to check out Courtney on Tumblr, Facebook, Twitter, and Instagram.