Over the years, I've come across many lists along the lines of "screenwriters you should follow on twitter" but there aren't many on those lists that represent me.
So I've set out to create a list of black screenwriters who are active on Twitter to see who's out there, to know who to support, and to see all that I can be inspired by.
As of right now, the list is mainly comprised of screenwriters who've written screenplays of films that have released in the past year or so, screenwriters who are writing for or have written for TV shows that are currently on the air, and screenwriters who have pilots green lit for the 2015-2016 TV season.
While this list is really for my own reference, I'm sure I'm not the only one looking for a list like this, so why not share it? Keep in mind, I've just begun compiling the list so it's not much right now. I'd like to make this list as comprehensive as possible, not so limited to what I've described above – that is just where I'm starting out, so feel free to kindly tweet me, comment, or email me with a name/screen credit/twitter handle that should be on the list as I will be updating the list continuously.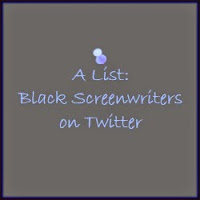 Film
Tina Gordon Chism (Peeples)
Ice Cube (Friday)
Mark Harris (Black Coffee)
Tyler Perry (The Single Moms Club)
Gina Prince-Bythewood (Beyond the Lights)
Rick Famuyiwa (Our Family Wedding)
Antwone Fisher (Antwone Fisher)
Arlene Gibbs (Jumping the Broom)
Malcolm D. Lee (The Best Man)
Spike Lee (Do the Right Thing)
Matty Rich (Straight Out of Brooklyn)
Chris Rock (Top Five)
Misan Sagay (Belle)
Justin Simien (Dear White People)
John Singleton (Baby Boy)
Chris Stokes (You Got Served)
David E. Talbert (Baggage Claim)
George Tillman Jr. (Soul Food)
Keenen Ivory Wayans (White Chicks)
Marlon Wayans (A Haunted House 2)
Shawn Wayans (Dance Flick)
TV
Courtney Kemp Agboh (Power)
Mara Brock Akil (Being Mary Jane)
Zakiyyah Alexander (Grey's Anatomy)
Joshua Allen (Empire) *WB Writers Workshop Alumni
Kenya Barris (Black-ish)
Camilla Blackett (New Girl)
Wendy Calhoun (Empire)
Jordan Carlos (The Nightly Show with Larry Wilmore)
Zoanne Clack (Grey's Anatomy)
Akela Cooper (The 100) *WB Writers Workshop Alumni
Lee Daniels (Empire)
Ava DuVernay (Queen Sugar)
Shernold Edwards (Haven)
Misha Green (Helix)
Devon Greggory (State of Affairs)
Erika Harrison (How to Get Away With Murder)
Eric Haywood (Empire)
Carl Jones (Black Dynamite)
Leslie Jones (Saturday Night Live)
Ali LeRoi (Saturday Night Live)
Attica Locke (Empire)
Zahir McGhee (Scandal)
Aaron McGruder (Black Jesus)
Keegan-Michael Key (Key and Peele)
Raamla Mohamed (Scandal)
LaToya Morgan (Shameless) *WB Writers Workshop Alumni
Aisha Muharrar (Parks and Recreation)
Eddie Murphy (Saturday Night Live)
Peter Nowalk (Grey's Anatomy, Scandal, How to Get Away With Murder)
Saladin Patterson (Psych)
Jordan Peele (Key and Peele)
Prentice Penny (Brooklyn Nine-Nine)
Issa Rae (Insecure)
Shonda Rhimes (Grey's Anatomy, Scandal, How to Get Away With Murder)
Angela Robinson (True Blood)
J.B. Smoove (Saturday Night Live)
Erika Green Swafford (How to Get Away With Murder)
Robin Thede (The Nightly Show with Larry Wilmore)
LaKendra Tookes (Saturday Night Live)
Lena Waithe (Bones, Twenties)
Michael Jai White (Black Dynamite)
Larry Wilmore (Black-ish)