Reviews for Winter TV Shows Which Aired
January 18 – 24, 2015
* New series in CAPS
* Reviews May Contain Spoilers
GALAVANT (ABC) – Episodes 1.05 and 1.06
"Completely Mad… Alena; Dungeons and Dragon Lady"
There isn't a whole lot to say here other than I loved the monks song as well as the "If I Could Share My Life With You" number and of course Ricky Gervais who plays Xanax, the magician. Ha! Solidly entertaining hour full of great songs. Can't wait for next week.
SCORPION (CBS) Episodes 1.14 "Forget Me Nots" and 1.15 "Charades"
This week, Scorpion aired a special episode after the football game and that episode was so incredibly entertaining as Walter was challenged with a mission in which he had to let a woman in his personal space. Not only that, Paige is beginning to have feelings for Walter or is beginning to realize that she's had feelings for him for awhile. Perspective. I think episode 1.14 was way more captivating than 1.15 because of the developments. Looking back, I don't even really remember 1.15 but that aside, I'm excited to see what else comes as there are only 22 episodes total for season one so there are only about a handful of episodes left. I'm very interested in seeing what else this show covers in the next seven episodes!
Photo Credit: Jessica Miglio/FOX
GOTHAM (Fox) Episode 1.12 "What the Little Bird Told Him"
This week was all about Fish Mooney and I absolutely loved how each moment led to the player being played. This was a solid episode. Thrilling. (The electrical deaths! Yikes!) This was riveting from the very first scene and held my attention for the entire hour which is usually the case but enough times not the case also so it's worth mentioning. Solid episode. More than that. This was a very strong episode and I absolutely cannot wait until next week to see what becomes of Fish Mooney!
Castle (ABC) – Episode 7.12 "Private Eye Caramba!"
I don't know what was more fun, watching Castle work a purse case relating to Kate's case or watching Javier's fanboy come out when he and Kate went on the set of a telenovela to investigate. I found this episode very entertaining and am enjoying the married life of Castle and Kate as Castle has dove deep into his new P.I. business, I just hope the writers can keep it up so the dynamic here doesn't grow stale. Only time will tell!
Switched at Birth (ABC Family)
Episode 4.03 "I Lock the Door Upon Myself"
This week was solid but I was personally underwhelmed as the most interesting storyline to me this week was Emmett in LA and the focus was moreso on Daphne in school and Bay truly understanding the scope of the sacrifice she made. So…good episode but I'm really interested in seeing what happens with Emmett while he waits for Bay to come out to LA.
Face Off (Syfy) – Episode 8.02 "Monkey Business"
Check out my review here.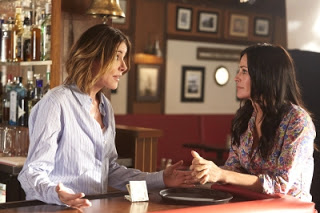 Photo Credit: TBS
Cougar Town (TBS) – Episode 6.03 "To Find a Friend"
We all knew what it would be like for Laurie and Travis during their first week taking care of their baby alone so what really made this episode for me was following Jules and Ellie as they took control over Grayson's bar. Ha! It got pretty Coyote Ugly there at the end! Ha ha! Overall, a solid episode!
Arrow (The CW) – Episode 3.10 "Left Behind"
It was interesting to see the dynamic of the team without Oliver, especially since Felicity was pretty content on there not being a team without him. I loved the dynamic between them and Malcolm in this episode as well. I must say though, since we know that Oliver will be fine, is that I was most intrigued by Laurel taking on the role of Black Canary. I can't wait to see what she does in the second half of the season. Highly anticipating this! I love the pacing of her storyline as well. It's perfect. Love it!
The 100 (The CW) – Episode 2.09 "Remember Me"
It was hard watching Clarke deal with the aftermath of killing Finn but I love this show because it embraces the difficult moments head on and that's what we see here. She's haunted by her decision but also strengthened by it and doesn't take the sacrifice lightly or for granted. Meanwhile, t was really exciting to see the group at Mt. Weather plan to communicate with the outside and get help. I don't know how many of them will be alive by the time Clarke and the gang gets to them but I love that genuine sense of the unknown here. You never know what's going to happen on this show and that just makes it all the more entertaining and gripping and real. Can't wait for the next episode.
The Vampire Diaries (The CW) – Episode 6.11 "Woke Up with a Monster"
Great episode! I loved, loved, loved that Jeremy and Alaric saved the day! Cut to Caroline and Damon's road trip as Caroline went in search for a second opinion for her mother suffering from cancer. You know, I love the friendship between Caroline and Damon and I'm not gonna lie… sometimes I ship them. Do you? And what do you think about the fate of Caroline's mother?!
Parenthood (NBC) – Episode 6.12 "We Made It Through the Night"
Sarah asking Hank to move up the wedding so Zeek can attend before he passes away broke my heart. Oh, man. Amber giving birth to Baby Zeek was the most precious moment of this show. My goodness. I'm speechless. Truly. Next week is the series finale and I am going to be a mess. We knew this day was coming and still, I am not ready. I fell in love with this show before it premiered and held on tight to every single episode. This is truly one of my favorite dramas ever and I am so not ready. I thought I would be okay but nope. I'm a mess. It's going to be so very hard to say goodbye.
Photo: Patrick Wymore/The CW
Hart of Dixie (The CW) – Episode 4.03 "The Very Good Bagel"
This is the episode I longed for and needed in a sense and am so happy that it finally came. What am I talking about exactly? Seeing Lemon, Annabeth, and Crickett reminiscence about their favorite moments of the past and bond over genuinely positive moments. That was long overdue and so beautiful to see. Especially since the episode ended with quite a moment that tugged at all of our hearts after Annabeth told Lavon that she still loves him not knowing what was happening between Lemon and George which led to Lavon's love for Lemon being made known to her. My oh my. I can't wait to see how this plays out. No matter how it plays out, the buildup to that final moment in this episode was perfection.
I love how the writers are wrapping things up should this be the final season of the show. Not only will Zoe and Wade be okay but they've officially closed the door between Lemon and George so we know that they are now friends and only friends…which only leaves the Lavon love triangle. There are only ten episodes this season (I believe this decision was made to accommodate Rachel Bilson's real life pregnancy) so even though the season is just beginning, it could indeed be the beginning of the end if The CW chooses to cancel which I hope they don't but if they are, the conclusion so far is wonderful.
Glee (Fox) – Episode 6.04 "The Hurt Locker: Part 1"
Sue's "Hurt Locker" was hilarious! Loved the Game of Thrones and The Hunger Games references! I'm still cracking up at the butt chin line by the way. But really, it's so much fun seeing not just everyone but Sue in particular rooting for Blaine and Kurt to get back together. They're totally soul mates, don't you think?
On the other hand, it was really cruel of Sue to make Sam kiss Rachel under hypnotism, making Rachel think there was something going on. But while we're talking about Rachel and Sam… I admit, I wasn't taken easily by their rendition of Vanessa Carlton's "A Thousand Miles" but after giving it a few more seconds, I soon fell in love with this because the arrangement was absolutely beautiful. Dynamite! Whoever arranged that number should be very, very proud! What was your favorite song of the night?