Reviews for Winter TV Shows Which Aired
January 4 – 10, 2015
* New series in CAPS
* Reviews May Contain Spoilers
Note: I will not be reviewing OFF THE MAP WITH SHANNEN AND HOLLY, MARVEL'S AGENT CARTER, or Archer due to time constraints. Also, RIP Covert Affairs. What a great show. I'm so happy we got 5 seasons.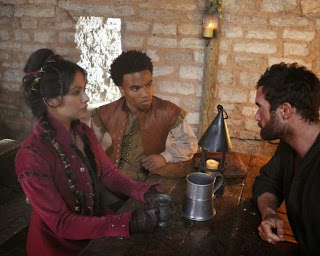 Photo Credit: ABC
GALAVANT (ABC) – Pilot: Joust Friends
Any work with Alan Menken behind it is great so this is just another piece of work of his that was a joy to watch. Unforgettable for all of the right reasons. Galavant is sexy, hilarious, romantic, so well written (the story, the songs, the characters, everything!!!), and probably one of the most exciting TV moments of 2015. A fairytale romcom for adults on ABC. It doesn't get better than that.
And what a premiere this was. I don't want to spoil anything for you, just watch. Go into it blind like most of us did. It makes the viewing experience all the more exciting. I am sad this only lasts for four weeks but can't wait to see the next three.
Resurrection (ABC) – Episode 2.10 "Prophecy"
The only really interesting parts about this week's episode were Margaret "leaving," whatever that means because I'm sure that won't last for long and Bellamy taking in his little sister. Though honestly, I wasn't really paying attention as I just wasn't gripped in the first few moments. What did you think?
GOTHAM (Fox) – Episode 1.11 "Rogue's Gallery"
What a return for Gotham! This was easily one of the most exciting, thrilling episodes of the season. I typically don't like episodes that are set in mainly one setting for an entire episode but 1) we're finally inside Arkham Asylum and 2) this show did it so well, I'm not even mad. Talk about an incredibly exciting, twisted murder mystery. And then throw in Morena Baccarin!!! Yes!!! This episode was great. Maybe even one of my favorites of the season. Never mind Barbara and her uselessness on the show. Seeing more of Ivy this week was fun but really, this week was all about Gordon inside the Asylum. And it was great.
SCORPION (CBS) – Episode 1.13 "Kill Screen"
This episode was amazing from the very first second. Whoever directed this episode is my favorite director this season. And whoever came up with the idea for this episode, thank you, you magnificent writer, you! And thank you to the entire writers room for delivering that idea. It turned out to be one fantastic hour and easily my favorite episode yet. Gaming. Hacking. Ralph getting in trouble with the CIA. This episode was so good.
Where the christmas episode, "Dominoes" provided the best emotional punch, the most compelling episode this season… this week provided the most thrilling episode this season so far and I really don't know how the writers are going to top this moving forward but I can't wait to find out because this right here was amazing.
Also, I laughed so hard when the guy they questioned said that he was surprised a ten year old kid got through the encryptions and Walter said, "Please keep your remaining thoughts to yourself." Absolutely hysterical. Talk about comedic timing. Nailed it! And slowing the stab wound blood with a tampon! Ha! And a young Sylvester?! This show pulled out all of the winners tonight. Man, this was great.
New Girl (Fox) – Episode 4.12 "Shark"
I reviewed the return of New Girl earlier this week here!
The Mindy Project (Fox) – Episode 3.12 "Stanford"
I reviewed the return of Mindy earlier this week! Check it out here!
Photo Credit: ABC Family
Switched at Birth (ABC Family)
Episode 4.01 "And It Cannot Be Changed"
What a great premiere! I loved that Toby told Daphne off. She needed to be told off. Not that she doesn't know the sacrifice that Bay made for her but it pays to hit Daphne over the head with the hard truth. She needs to do the right thing and come forward to the police.
As for Bay and Emmett? Who else thought Emmett was going to propose with that absolutely beautiful timeline of their relationship wall mural? That was lovely. I hate that it was spoiled by the motorcycle trouble and then…and then!! Oh, Bay. She made my eyes well up with tears in that final scene. Man, oh man. I hope everything works out for Bay. I hate seeing her continuously do the right thing and do selfless things and not have good vibes sent back her way. It sucks. It's realistic which I love. But it still sucks. Great episode. Great start to what is going to be another rocky season. I can't wait to see what the writers have been/are planning to deliver this season! Plenty of intensity, that's for sure. More tears, I'm sure too. Who else loved the premiere?!
Cougar Town (TBS) – Episode 6.01 "American Dream Plan B"
Season six! Season six! The final season!!!! Loved the opening title "Season 6, is it too late to change the title?" Ha!
So we forward to the eight month of Laurie's pregnancy in the premiere which I'm actually totally fine with. There was a point when every show fast forwarded in their timelines and it became overkill but since we're a bit a ways away from that and this is the final season with a pregnant Laurie, I can't wait for the baby to be born and us to see the cul de seac crew interact with the baby and all of that.
Speaking of…in the premiere, Travis tries to prepare for handling a baby while Jules gets the crew to agree to stop drinking wine in solidarity to Laurie. If you think that's impossible for the crew, you'd be right. Watching this play out was just as comical as you'd think.
So, bullet points. Loved The Matrix scenes. Loved that there was way more action than expected in this episode and can't wait to see what else the writers do in the final season, knowing they can pretty much get away with anything at this point. I loved the reference to the long forgotten kid of Grayson's and very much missed Barb! I can't wait to see what other throwbacks we'll get. This was easily one of my favorite season premieres! I am so excited to see what the rest of the final season will bring.
The Middle (ABC) – Episode 6.10 "Pam Freakin' Staggs"
This week, Frankie's old high school "friend" Pam (guest star, Kirstie Alley) comes back to town, after winning $1 million on a TV show. Frankie wants to make a great impression and her attempt will definitely bring the laughs.
Meanwhile, Axl tries to keep up with his girlfriend…they're dating right? They need to be at this point if they're not. Anyway, this was adorable regardless. And I can't go without mentioning that I loved the Matthew McConaughey's reference! Ha!
Great episode, solid return for the second half of the season.
Modern Family (ABC) – Episode 6.11 "The Day We Almost Died"
"Is Phil sexy?" – Cameron
After, Phil, Claire, and the kids nearly miss getting into a car accident, all of them have epiphanies and the funny that comes afterwards is unreal. All I have to say is…the camel?! WHAT. But no, that's not all. Phil and Cameron! HA! Okay, I'll leave it at that.
Watch this episode! You will not stop laughing. Go on, watch! And re-watch away because it's just that good.
BLACK-ISH (ABC) – Episode 1.11 "Law of Attraction"
Dre doesn't exactly come out the hero as this week's episode begins. Dre punks out at a moment when he should have stood up for Rainbow's honor, traditionally speaking, and since Pops did it, Dre's parents get together with the flame rekindled. Though this doesn't sit well with Dre and he goes back and forth between worrying about his parents and doing what he can to make up for punking out.
I loved what Drew settled on to impress Rainbow, I loved that he stood up to Pops, and I absolutely loved the Scandal reference. Yes! Another highly entertaining, laugh out loud episode in the books.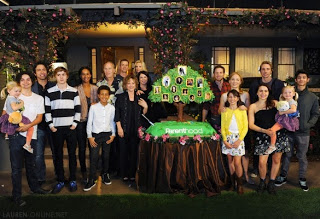 Photo Credit: NBC
Parenthood (NBC) – Episode 6.10 "How Did We Get Here?"
The 100th episode. Nothing I say will be sufficient so I just want to mention a few things that I loved. The cold open was perfection. With no dialogue and just music. Ah. Music to my ears. The directing was dynamite. The whole cast and crew gave their all and then some and it was beautiful.
I am so happy to see Julia warming up to Joel. Yes, please! I may not consider myself a fan of Hank but boy did I love him when he told Sarah that he's all in. I can't believe I'm saying his but yes! Watching Hank try to insert himself into her world and be there, it really opened up a part of me that was closed to Hank so thank you writers for allowing that to finally happen for me. Amber's baby shower was just the most precious thing ever. The book being passed down. Cue the tears.
This episode was such a love letter to the fans, the characters, the world that these characters live in, and just everything. I can't even begin to convey how much I enjoyed this episode. Definitely one of my all time favorites. And we're down to the wire. Three more episodes. Time to buy some more Kleenex.
Glee (Fox) – Episode 6.01 "Loser Like Me"
I reviewed the series premiere of the final season of Glee yesterday here!