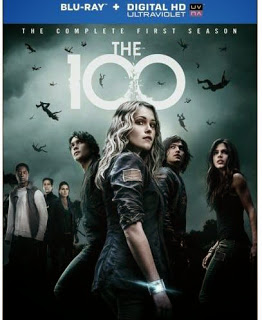 Release Date: September 23, 2014
Rating: Not Rated
Running Time: 544 minutes
Ninety-seven years after nuclear Armageddon destroyed our planet, humanity's sole survivors live on the Ark, an aging space station experiencing overpopulation and inadequate resources. When faced with difficult choices, the Ark leaders—chief medical officer Abby, Chancellor Jaha and the mysterious Kane—decide to send 100 juvenile prisoners back to Earth to test its living conditions. Among them are Clarke, Abby's bright daughter; Wells, Jaha's son; the daredevil Finn; and siblings Bellamy and Octavia. With the survival of all in their inexperienced hands, The 100 young people must learn to rise above their differences and forge a new path on a wild and dangerous landscape that teems with radioactive waste, turbulent weather and unimaginable predators…or face the ultimate extinction of the human race!
You may remember my review of The 100 Pilot (as well as the book which the series is based on) here and I'm happy to say that the show only got better from there. I mentioned before that I love the changes the TV adaptation made from the book and that still holds just as much weight now having seen the entire first season. This show is really its own now and I love that.
But what about my concerns regarding the chemistry and cheesiness? The latter completely disappears a few episodes in and the tone darkens to the point where your heart is racing in most episodes. The stakes are constantly raised and that makes for nonstop danger and tension and I enjoyed every single moment. The chemistry between the actors, as expected, has gotten to the point where it needed to be to make everything that much more believable. Which is great! Phew! That didn't take long either.
Everything really fell into place and I am so glad that it turned out that way. The pacing of the character growth, arcs and twists is steady, natural, and plainly put, wonderful. The execution of the world building is pretty spot on and thankfully, goes even far beyond. The mystery surrounding the other people that the hundred encounter and the trust and distrust that takes place…loved it! Best of all, what's been set up for season two is what I'm especially thrilled about. After all, these kids are criminals and have their own strengths and weaknesses that will both help and harm them depending on the routes they choose as moral dilemmas approach. Simply put? Solid season one. The 100 delivers. If you liked the book, you'll love the first season of this adaptation. So go get your copy of the Blu-ray/DVD today!
Bonus Features:
2013 Comic-Con Panel
(14 minutes) – This feature contains fifteen minutes of
The 100
panel at 2013 San Diego Comic Con. I love that the panel was condensed and am surprised at how much the executive producers told about what was coming up in the show (this was July and the show premiered in the fall). I did get more out of the executive producers than the cast though, so aside from that, this panel was actually kind of dare I say, boring. But if this show makes it for a few seasons, I'm sure we'll see the cast loosen up and have more fun with future panels. Only time will tell.
Appearing in this Feature:
Moderator, Eric Goldman
Cast Members, Eliza Taylor, Thomas McDonell, Marie Avgeropoulos, Isaiah Washington, Henry Ian Cusick
Executive Producer, Jason Rothenberg, Matthew Miller
Creating the World of The 100 Featurettes (28 minutes) – This is a compilation of four featurettes… the first being, In the Beginning (7 minutes) which delves into the groundwork for the show, the second being The Ark (7 minutes) which details how the ark generally works in this world as well as what it took behind the scenes to actually create the ark. Then there's A New Earth (6 minutes) which is very interesting as the cast and crew discuss creating the mutated animals among other things which grounded new earth in what it is now. Of the four featurettes, this was definitely the most engrossing. And finally, there's Grounders, Reapers, and Mountain Men (8 minutes) focuses on the physical aspects including wardrobe and all of that good stuff. This was quite interesting as well. So if you're short on time, I'd say watch the last two featurettes.
Appearing in these featurettes:
Show Creator/Executive Producer, Jason Rothenberg
Executive Producer, Gina Girolamo
VFX Supervisor, Michael Cliett
Special Effects Coordinator, Wayne Szybunka
Production Designer, Matthew Budgeon
Costume Designer, Katia Stano
Key Makeup Artist, Tanya Howard
Makeup Artist, Amber Trudeau
Cast Members, Bob Morley, Henry Ian Cusick, Eliza Taylor, Paige Turco, Christopher Larkin, Isaiah Washington, Eli Goree, Marie Avgeropoulos, Devon Bostick
Unaired Scenes (3 minutes) – There are two deleted scenes from the episode, "We Are Grounders – Part 2," neither of which are must see scenes.
Commentary (minutes) – The commentary for the season one finale episode, "We Are Grounded – Part 2" is conducted by Creator/Executive Producer, Jason Rothenberg and Director, Dean White. I'm pretty bummed that not one cast member is on this commentary. Also pretty bummed that both of the people participating have somewhat monotone voices so if there's a distraction (like my phone), it's easy to stay distracted rather than be completely engrossed in the commentary. Which is a shame because the commentary is a good one. These guys are clearly very passionate about what they do, that love for their work really shows. Still, it is a bit dry but I'd suggest watching anyway if you find yourself with time to spare. I'm biased, I love commentaries. But seriously, if you have the time, watch.
Own The 100 The Complete First Season on Blu-ray, DVD, & Digital HD today.
Watch the season 2 premiere of The 100 Wednesday, October 22, 2014 at 9/8c on The CW.