Welcome to the final stop in the Mundie Girls Blog Tour!
Below are the previous stops:
Mundie Moms
Chapter by Chapter
Never Ending Stories
Musings of a Blodger
Fangirlish
Dead Set by Richard Kadrey
Release Date: October 29, 2013
Publisher: Harper Voyager
Genre: Young Adult Dark Fantasy
ISBN: 978-0062283016
Source: Hardcover from Publisher
Add it to Goodreads
After her father's funeral, Zoe and her mother moved to the Big City to start over. But life's not so easy, the money is tight, and a new school brings trials. Fortunately, she has an escape: her dreams. A world of freedom and solace removed from the loneliness and anxieties of real life, Zoe's dreamscape offers another, more precious, gift: It is the only place where she can spend time with her closest companion — her lost brother Valentine.
Yet something is very wrong. An unfamliar — and univited — presence has entered her private realm to threaten Zoe and Valentine, a disturbing turn of events that is compounded by an impossible discovery. A chance encounter at a used record store where the grooves of the vinyl discs hold not music, but lost souls, has opened up a portal to the world of the restless dead. Now, the shop's strange proprietor is offering Zoe the chance to commune with the father whose passing took a piece of her heart. The price? A lock of hair. Then a tooth. Then…
How far into this eerie world will Zoe go to discover what she truly needs? And once she does, will there be enough left of her to come back?
Dead Set was the perfect read for this time of year and just as incredible as I expected it to be. After seeing Richard Kadrey on a panel at San Diego Comic Con last year, Kadrey left an impression on me so I jumped at the chance to read his latest book and was blown away. Typically, I would have been turned off by dreams but that's just the starting point. I was hooked when Zoe first walked into the record store…with no one else but the owner in sight. What's crazy is that the atmosphere isn't creepy right away. The reader knows they're walking into creepy territory but the pacing is better than the norm. Kadrey's timing with tone is impeccable.
Then without spoiling anything for you, the record store owner leads her to death at a bus stop. When I put those two together, I think of The Great Divorce by C.S. Lewis. But this here is disturbing. Zoe questions the existence of magic, knowing what she is walking into and continues to walk it for the love of her father. What would you do if you had the chance to talk to a loved one who's passed away? Zoe jumps when the record owner says to jump without thinking, frankly. She thinks she knows the cost but clearly, she doesn't. Nothing is as it seems. There's so much more to what she sees. Zoe first finds herself on a mission to get a piece of her father back and ends up in a place that turns her world upside down and still, she doesn't back down. She doesn't run away. And she learns the importance of running forward.
I was amazed with Zoe's journey which is incredibly thrilling, but also how beautifully Kadrey moved the story along and intertwined dreams and death and ghosts and fantasy and so much more in Dead Set. The revelations along the way were spectacular and made this book quite the page turner. Not just because of the story but the revelations about the world Kadrey has created are just as fascinating. His attention to detail is much appreciated. Simply put, if you like Holly Black, you'll like this. I don't read a lot of fantasy but this pulled me in and kept my attention until the very last page. The best part? It's a stand a lone. So pick this up the next time you're at a book store and enjoy.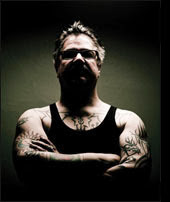 Richard Kadrey is a freelance writer living in San Francisco. He is the author of dozens of stories, plus ten novels, including Sandman Slim, Kill the Dead, Aloha from Hell, Devil Said Bang, Kill City Blues, Metrophage and Butcher Bird. His Wired magazine cover story, Carbon Copy, was made into one of the worst movies of 2001. It starred Bridget Fonda. Sorry, Bridget.
He has been immortalized as an action figure. "Kadray: The Invincible Wizard" was a villain in an episode of the Blackstar animated TV series. Kadrey created and wrote the Vertigo comics mini-series ACCELERATE, which was illustrated by the Pander Brothers. He plans to do more comic work in the near future.
He has written and spoken about art, culture and technology for Wired, The San Francisco Chronicle, Discovery Online, The Site, SXSW and Wired For Sex on the G4 cable network.
Richard has no qualifications for anything he does.
Be sure to find Richard Kadrey on Twitter, Facebook, and Tumblr.
Dead Set by Richard Kadrey is available on Amazon and at B&N.