Each weekend, I recommend a movie, documentary, and TV series that I found through Netflix or started watching because it was conveniently on Netflix and I had been meaning to get to that movie/documentary/TV show for some time. If you have any recommendations, feel free to leave a comment!
Movie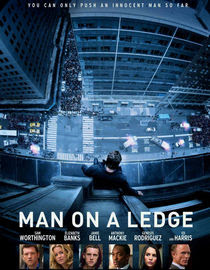 When fugitive ex-cop Nick Cassidy steps onto a window ledge high above a busy Manhattan street, police psychologist Lydia Anderson tries to talk him down. But soon Anderson suspects that there's more to Cassidy's stunt than meets the eye.
While this movie could have been better (the balance of drama and comedy was off…assuming the dynamic between Joey & his girlfriend was intended to be comedic rather than so bad it was funny) and even though it ended on a cheesy note, I'd still watch it again so clearly, I enjoyed it enough! If you've seen it, what did you think?
Documentary
Page One: Inside the New York Times
PAGE ONE: INSIDE THE NEW YORK TIMES deftly gains unprecedented access to The New York Times newsroom and the inner workings of the Media Desk. With the Internet surpassing print as the main news source and newspapers all over the country going bankrupt, PAGE ONE chronicles the transformation of the media industry at its time of greatest turmoil. It gives us an up-close look at the vibrant cross-cubicle debates and collaborations, tenacious jockeying for on-the-record quotes, and skillful page-one pitching that produce the "daily miracle" of a great news organization. What emerges is a nuanced portrait of journalists continuing to produce extraordinary work under increasingly difficult circumstances.
At the heart of the film is the burning question on the minds of everyone who cares about a rigorous American press, Times lover or not: what will happen if the fast-moving future of media leaves behind the fact-based, original reporting that helps to define our society?
TV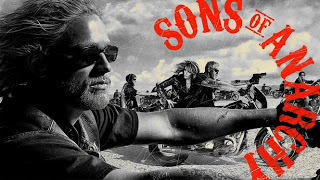 After seizing control of its town, gun-running motorcycle club the Sons of Anarchy soon butts heads with rival biker gangs, racist groups and the law. Meanwhile, young Jax Teller finds himself torn between protecting his son and loyalty to his gang.
So many people told me to watch this show when it first began but I had a feeling it would be too violent so I simply was not interested. Then an uncle of mine told me to think of it like a modern day Shakespearean play and I let that sit with me for awhile. To be honest, I was immediately sold, I still just had to get mentally prepared for the violence. After viewing the first season, the violence makes me cringe just as I knew it would but it's not as much as I thought and what violence there is really serves the stories that are being told. That season one finale blew my mind. Whoa! Oh my God. Gritty doesn't even begin to cover this show. That said, the stories really aren't the focus as in my opinion this show is really all about the characters. This show has always had a very specific vision, take it or leave it. As of right now, I'm on season 3 and will DVR the upcoming season on FX as I plan to be all caught up this year.
"What to Watch This Weekend: Netflix Edition" 2013 Posts
November 1, 2013
October 25, 2013
September 27, 2013
September 20, 2013
September 13, 2013
September 6, 2013
May 31, 2013
May 24, 2013
May 17, 2013
May 10, 2013
May 3, 2013
January 12, 2013
January 5, 2013