Warner Bros. has announced the release date for Argo Extended Edition on Blu-ray, featuring an additional nine minutes of footage! Now you know how I feel about special editions of Ben Affleck-directed movies. I love them! Set your calendars for December 3rd! Just in time for the holiday season!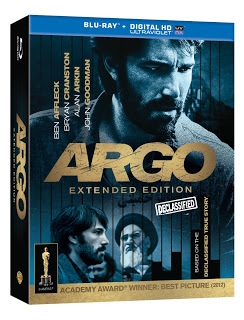 Release Date: December 3, 2013
Rating: R
Theatrical Version Run Time: 120 minutes
Extended Edition Run Time: 130 minutes
Price: $49.99
On November 4, 1979, as the Iranian revolution reaches its boiling point, militants storm the U.S. Embassy in Tehran, taking 52 Americans hostage. In the midst of the chaos, six Americans manage to slip away and find refuge in the home of Canadian Ambassador Ken Taylor. Knowing it is only a matter of time before the six are found out and likely killed, the Canadian and American governments ask the CIA to intervene. The CIA turns to their top "exfiltration" specialist, Tony Mendez, to come up with a plan to get the six Americans safely out of the country. A plan so incredible, it could only happen in the movies.
BRAND-NEW SPECIAL FEATURES:
· Argo Declassified – Tony Mendez's daring operation gets honored as part of the CIA's 50th anniversary
· Ben Affleck's Balancing Act – Balancing humor, politics, Hollywood and international intrigue as only Affleck and his team could do
· Argo F*ck Yourself – Ben Affleck leads an all-star review of Argo's classic line
ADDITIONAL SPECIAL FEATURES:
· Picture in Picture: Eyewitness Account: Relive the takeover of the US Embassy in November of 1979 and the daring rescue mission in January of 1980 through the eyes of those that lived it.
· Feature length audio commentary with director Ben Affleck and writer Chris Terrio
· Rescued from Tehran: We Were There – President Jimmy Carter, Tony Mendez and the actual houseguests recount the real-life harrowing experience they endured.
· Argo: Absolute Authenticity – From characters to heart-stopping action, Ben Affleck's eye and ear for hard-hitting realism and attention to exacting detail has become his signature as an A-list filmmaker.
· Argo: The CIA & Hollywood Connection – Director Ben Affleck and former CIA agent Tony Mendez give a firsthand view of the actual documents and cover story used to create the phony movie Argo that had all of Hollywood believing in.
· Escape from Iran: The Hollywood Option – Escape from Iran commemorates the 25th anniversary of the "Canadian Caper," taking us back to this startling affair through the direct testimony of the Americans who found sanctuary at the Canadian embassy in Tehran, and the Canadians who risked their own safety to shelter their closest neighbors.
· Argo Files:
– A Discussion with the Cast of Argo: Ben Affleck joins Bryan Cranston, John Goodman, Alan Arkin, Clea Duvall and Rory Cochran for a live conversation about their experiences while making Argo
– Tony Mendez on Tony Mendez: Former CIA agent Tony Mendez shares additional details and stories from the mission
– The Istanbul Journey: Ben Affleck shows us why Istanbul was the ideal place to shoot Argo
ALL-NEW COLLECTIBLE MEMORABILIA:
· Argo one-sheet Poster
· Map of Tehran
· Reproduction of Tony Mendez's CIA ID card
· 40-page book premium featuring behind the scenes photos, production notes, bios and more
Who else is excited?!
Argo Extended Edition releases on Blu-ray December 3, 2013.