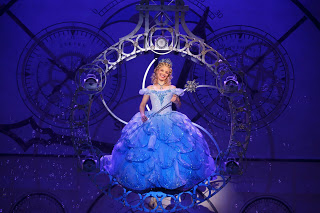 Photo Credit: Joan Marcus
With music and lyrics by Stephen Schwartz (Godspell, Pippin, Academy Award®-winner for Pocahontas and The Prince of Egypt) and book by Winnie Holzman ("My So Called Life," "Once And Again" and "thirtysomething"), WICKED, the untold story of the witches of Oz, is directed by two-time Tony® Award winner Joe Mantello (Take Me Out, Love! Valour! Compassion!, The Vagina Monologues) and features musical staging by Tony® Award winner Wayne Cilento (Aida, The Who's Tommy, How To Succeed…).
Based on the best-selling 1995 novel by Gregory Maguire, WICKED, winner of 35 major awards, including a Grammy® and three Tony® Awards, is the untold story of the witches of Oz. It is produced by Marc Platt, Universal Pictures, The Araca Group, Jon B. Platt and David Stone.
Having missed Wicked the last time the touring company came to the Academy of Music, I was thrilled to have the opportunity to go this past Thursday. The cast and crew did not disappoint. What a magnificent performance this was. If the company is coming to a city near you, you are doing yourself a disservice if you don't go!
Jenn Gambatese who played Galinda/Glinda reminded me of Elle Woods from Legally Blonde the Musical the entire time. Literally up until a few numbers into the second act was I not distracted by how much she reminds me of Elle. I know Gambatese was in Hairspray on Broadway but none of that came through. Gambatese's mannerisms, tone, everything about her on stage embodied Elle. Sure, Elle and Galinda are similar but I didn't get that vibe at all when I saw Annaleigh Ashford in the role as Galinda on Broadway a few years back. So that was interesting. I loved it but it was still a bit difficult at first to envision Galinda in front of me. Girl's got some lungs on her. She blew the house down. What a voice! She didn't steer away from Kristin Chenoweth's performance which was great to see since Cheno sets the bar wildly high) and not everyone can meet that bar.
Harris on the other hand, played around a little bit with her runs which was so much fun to see. She brought something fresh to the stage which is always greatly appreciated. The role of Elphaba was played by understudy, Laurel Harris. While she had a lot of power in her voice, is wasn't as long lasting as probably the actor who is originally slated as the lead. Although she did blow me away in the second act so perhaps she was just warming up! Still, she put the right emotion in every single word she sang and made my eyes water more than a few times. I was surprised with Curt Hansen who played Fiyero. He doesn't have a Broadway voice, which is probably why he's in the touring company but he is talented and he did bring a lot of swagger to the role which was fun to see. The entire cast was incredibly talented, entertaining and a joy to watch on stage.
My favorite components of Wicked are the music and the story so seeing it come to life is really just a bonus. I was reminded once again of the story that I love so much and brought to tears with the paths each character took. I was blown away by each number, some of which gave me chills. Wicked is such a powerful story with so many broken characters looking for so many different things to fix their hearts for good and I came out of the theatre feeling inspired and renewed. I can't recommend this musical enough whether you've never seen it, seen it once, or ten times, go see it when it comes to a city near you.
Fun Facts:
The "life casts" for the animal masks take 2-3 hours, and the person loses most of their senses (smell, sight, hearing, speech) during that tine.
The show has 90 wigs, using 70 during any given show. All are made of human hair, and made individually for each actor, using their own hairline in the front.
Wicked runs at the Academy of Music June 26 – August 4, 2013. Tickets start at $40 and can be purchased by telephone (215-731-3333), the Kimmel Center or Academy of Music Box Office, or online. No performances are scheduled for Thursday, July 4th.