As expected, BEA was a blast! You may remember my BEA picks that I posted in mid-May and I am happy to say that I ended up getting 25 of my 43 picks. Woo hoo! I also ended up picking up 14 other books, from signings that I had on my backup list – which I didn't share (sneaky me!), from booths after networking, and from booths that had books I did not expect to be there but was thrilled were there! In the end, I left with 39 books, 6 of which I'll be donating to my local library right away and 2 of which I gave to family members. So 31 books (28 of them signed) have been added to my bookshelf! 2 of these I've already read, I just didn't have my own physical copies so I can add those to my shelf already knowing that they have a permanent space there! I cannot wait to read the rest of the books over the summer and I'm excited to see how many of these will meet or exceed my expectations!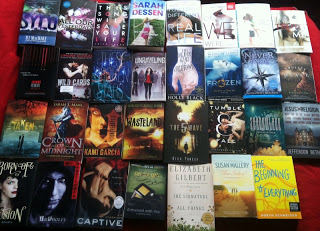 I've already started reading
Unbreakable
by Kami Garcia and
The Coldest Girl in Coldtown
by Holly Black. The latter was my
must have
book of BEA so I'm
so
glad that I made this signing. I remember when I first started reading Holly Black's work 7 or 8 years ago after seeing her at San Diego Comic Con and silly me took a photo OF her at the signing after her panel but not WITH her – of course not knowing then that she'd become one of my favorite authors. So this time I went to BEA on a mission and…mission accomplished! Look! My eyes are bulging out of my head I was so excited ha ha ha. I don't even care, I'm just so happy.
I also had the pleasure of meeting debut author,
Kelsey Sutton
(
Some Quiet Place
) who I believe is the youngest author I met at BEA. While on the exhibit floor and hanging around the autograph area, it was also fun to run into authors,
Neal Shusterman
(
UnWholly
),
Victoria Schwab
(
The Archived
),
Gretchen McNeil
(
TEN
), and all of the authors of the
YA Authors Give Back Tour
. It was also nice to run into bloggers,
Stephanie
,
Jeremy
,
Jamie
,
Anna
,
Lauren
, and
Seirra
.
Now if you haven't heard,
Rick Yancey
is kind of a big deal.
The 5th Wave
released last month and I haven't heard a single bad thing about this book leading up to and after its release. And I've heard a lot about this book. So I can't wait to finally get to it!
Finally, I wouldn't have believed it if I hadn't seen it myself but the line for Grumpy Cat was bananas! It wrapped around the booths in its row and went down over eight rows! I went to other signings and then doubled back towards the end of the photo op though I still cannot believe I actually got in line period to take a picture with a cat! But I love cats and I love Tardar Sauce, so why? Too bad she was sleeping! I guess that's what happens when you get to the photo op at the end of the hour! But let me not go on and on about cats. Here's the photo!
My body aches after BEA but it was
so
worth it! I thought last year was great but this year was even better! Is it crazy that I'm already excited for next year to come?! You know what, I will answer that…yes! Don't think about it, Melody, don't do it! Okay. Okay. So unlike last year which was slightly overwhelming since I hadn't been to BEA in
years
…I will get to reading and reviewing these books right away! That's what I need to think about. I also plan to make an even bigger dent in my TBR pile as well before next year's BEA so, yeah, I'm just going to focus on that! Stay tuned and thanks to everyone who made BEA such an incredible experience!