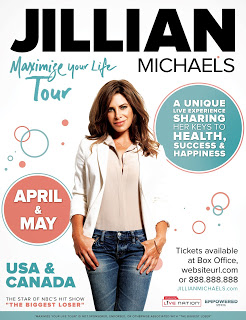 For those who don't know,
Jillian Michaels
is my favorite trainer from
The Biggest Loser
. I've tweeted about this many times, even while doing some of her workout DVDs. I LOVE her
podcast
and everything she stands for when it comes to health and wellness and if Jillian had groupies, I'd be one of them. Long story short, I was thrilled to find out that Jillian would be going on (a 33 city) tour in the US & Canada this April and May. Her Philadelphia stop is just around the corner, is a stop near you coming up as well? Check out the tour dates
here
.
Says Jillian, "It's time to ask why not you? When are you going to say 'Enough is enough,' and step into the limitless possibility for joy and abundance that your life does hold? If you are a person who feels your health could improve or there is any facet of your life where you feel dissatisfied and unfulfilled, the question is how can you not come to the show?
To find out more information or purchase tickets for the Jillian Michaels Maximize Your Life Tour, click here.