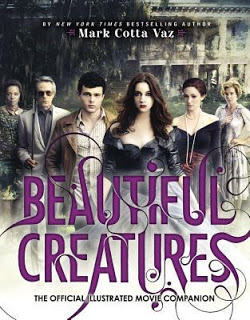 Beautiful Creatures: The Official Illustrated Movie Companion
By Mark Cotta Vaz
Release Date: January 1, 2013
Publisher: Little, Brown Books for Young Readers
Genre: Movie Companion
ISBN: 978-0316245197
Source: Received from Publisher
Explore the making of the film Beautiful Creatures in this ultimate visual companion, lavishly illustrated with full-color photos of the cast, locations, and sets. This beautiful paperback edition celebrates the on-screen creation of Kami Garcia and Margaret Stohl's fascinating world, brought to life by screenwriter and director Richard LaGravenese.
With never-before-seen images, exclusive interviews and personal stories, Mark Cotta Vaz takes you behind the scenes with cast and crew, uncovering intimate details of the filmmaking process.
Beautiful Creatures: The Official Illustrated Movie Companion is definitely a must have for any Beautiful Creatures fan. This companion takes readers behind the scenes on location and on set of filming with cast and crew interviews intertwined. There are seven chapters that focus on location scouting and production design, casting and costume design, stunts and the infamous family dinner scene, the Caster Ball, the civil war reenactment, and post production.
I had a blast reading about the process and watching the crew in particular fall more in love with this project, despite the many challenges that were in the way momentarily of making this the best adaptation it could be. Finding out why certain changes were made from book to film were also very much appreciated and good to know before catching the film, so I wasn't caught off guard.
I was also quite fascinated with the amount of things that were not done with CG as so many films have too much of that. How refreshing to have so little and things still be so extraordinary and magical and fitting. While some things in the companion many readers will already know (if they have followed along with cast and crew interviews), it is nice to have these answers, these moments all in one place to hold onto and look back on when all is said and done. I love movie companions and this one did not disappoint.
Vaz did a wonderful job especially with the interviews, giving us a glimpse inside the minds of not just the cast but the writers and directors and the crew. These people don't get enough recognition, so to see it on such display here was very satisfying. All in all, this is a wonderful companion that any Beautiful Creatures fan would be thrilled to have in their collection, so be sure to pick up a copy for a Caster you know, Light or Dark, they all could use this.
Own Beautiful Creatures: The Official Illustrated Movie Companion by Mark Cotta Vaz today.