The Perks of Being A Wallflower by Stephen Chbosky
Release Date: February 1, 1999 Reissue August 14, 2012
Publisher: MTV Books
Genre: YA Contemporary
ISBN: 978-1451696196
Source: Bought
Charlie is a freshman.
And while he's not the biggest geek in the school, he is by no means popular. Shy, introspective, intelligent beyond his years yet socially awkward, he is a wallflower, caught between trying to live his life and trying to run from it.
Charlie is attempting to navigate his way through uncharted territory: the world of first dates and mix tapes, family dramas and new friends; the world of sex, drugs, and The Rocky Horror Picture Show, when all one requires is that perfect song on that perfect drive to feel infinite. But he can't stay on the sideline forever. Standing on the fringes of life offers a unique perspective. But there comes a time to see what it looks like from the dance floor.
The Perks of Being a Wallflower is a deeply affecting coming-of-age story that will spirit you back to those wild and poignant roller-coaster days known as growing up.
Like so many books, I'd heard of The Perks of Being A Wallflower but it remained on my never ending "To Be Read" list for far too long. I am so mad that I didn't read this when I found out about it. While I consider this book to be a gem, it would have definitely gone down as one of my favorite books had I read it at a certain earlier point in my life. Finally though, I moved it up my list once the movie adaptation came together and boy am I glad that I finally got to it. It's been awhile since I've read both a coming of age story and a story based in the recent past so this was a very refreshing read. Much needed. While it's only February, I have a feeling this is going to be one of my favorite reads of the year.
All of the characters were so well developed. I loved them all. Oh wait, no. I couldn't stand Charlie's sister and his father sometimes got on my nerves but I still loved that because I crave characters with depth, with faults and Chbosky delivers. Readers will also really enjoy taking a break from modern day and futuristic stories as Perks takes place between 1991 and 1992. What a difference 22 years make. The changes aren't in your face, but the simplicity of the past is something that I'm so glad is here because oftentimes people take simplicity for granted.
As for the story… I had an idea of what I was expecting going into this book but it was nothing like I expected. It was so much more and made for such an amazing reading experience. This is a page turner. Charlie, his family, and friends are dealing with so much. Chbosky brings to the table death, drugs, sex, and more to a character who is so far ahead of the students around him and yet he's still so incredibly naive. This alone makes this book completely relatable and a win for me. That struggle is something else. I was on board from page one. That said, at times Charlie did sound to be much younger than he really was, which is my only fault with this book. Other than that, I absolutely loved how this story was delivered and would encourage anyone of any age to read this novel. It's timeless. It's beautiful. It's the perfect book to pick up the next time you're in a book store.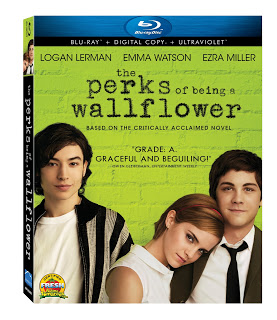 Release Date: February 12, 2013
Rating: PG-13
Running Time: 103 minutes
Acclaimed author Stephen Chbosky makes his screenwriting and directing debut with The Perks of Being a Wallflower, the adaption of his acclaimed best-selling coming-of-age novel. Featuring stellar performances from a young ensemble cast, The Perks of Being a Wallflower centers around a freshman named Charlie (Logan Lerman, Percy Jackson & the Olympians: The Lightning Thief) who is always watching from the sidelines until a pair of charismatic seniors takes him under their wing. Beautiful, free-spirited Sam (Emma Watson, the Harry Potter franchise) and her fearless stepbrother Patrick (Ezra Miller, We Need to Talk About Kevin) shepherd Charlie through new friendships, first love, burgeoning sexuality, wild parties, midnight screenings of The Rocky Horror Picture Show and the quest for the perfect song. The film also stars Mae Whitman (TV's "Parenthood"), Nina Dobrev (TV's "The Vampire Diaries"), Dylan McDermott (TV's "American Horror Story"), Kate Walsh (TV's "Private Practice"), Joan Cusack (Showtime's "Shameless") and Paul Rudd (upcoming This is 40).
The Perks of Being A Wallflower film adaptation couldn't have been any more perfect. That's probably because the author of Perks wrote and directed the movie. This movie gives me all the feels. It's heartbreaking. It's inspiring. It truly is one of the most magnificent adaptations I have ever seen. Everyone has a vision but not everyone has a great eye and Chbosky has both. This along with his past experience as a writer and executive producer for one of my favorite television series, Jericho has given him the ability to be able to adapt his own book. Chbosky knows what he's doing. He knows what's write for a novel and what's right for a screenplay. The tone of the movie was so rich. Everything came together flawlessly. I absolutely loved the film and guarantee that you will too if you enjoyed the book.
All of the little details (physical aspects, material things, etc…) are here! Can we just bask in the miracle of that? That never happens. While the emotion is felt in the film, more is obviously felt in the book… but all of the little things, they're on screen. Good work there. I also loved the slight tweaks that were made, mainly for transitional purposes but also due to the addition of a few little things to bring something fresh for the readers. The infatuation Charlie has with Sam was toned down which I did not mind and there was not as much of Charlie's sister or dad which I was also fine with. No matter what your high school experience was or is like, there is something for everyone to identify with here, something and/or someone to root for. This cast, this story, the writing, the directing is outstanding. If you take some time to find your inner wallflower with Perks just go ahead and buy the Blu-ray or DVD because you will want to have it in your collection.
Special Features:
Commentary – There are two commentaries, one conducted by Screenwriter/Director Stephen Chobsky and the other conducted by Chbosky and cast members, Logan Lerman, Ezra Miller, Johnny Simmons, Emma Watson, Mae Whitman, and Erin Wilhelmi. The former is more technical while the latter is more entertaining but you'll get a lot of information worth finding out from in both and be equally fulfilled so I'd definitely encourage watching both commentaries. I want Mae Whitman and Ezra Miller to commentate every movie ever made. Both commentaries are definitely worth your time so be sure to put some aside.
Best Summer Ever (6 minutes) – In this featurette, Screenwriter/Director Stephen Chobsky discusses casting Perks and the main cast members reminisce about their time filming with their peers who are not just some of the most talented young actors today but also really incredible people. You can see the amazing chemistry on film so this feature is just the icing on the cake.
Deleted Scenes (23 minutes) – There are 12 deleted scenes with optional audio commentary conducted by Stephen Chbosky. I loved watching the deleted scenes! Some were variations of scenes that made the cut. Others were scenes that went a bit off script from the book and the undertone was there for the readers, but the scenes alone were still missing enough back story for newcomers to Perks. Others were completely new scenes. There were two moments in particular that weren't in the film that I was anticipating (Charlie in the snow before he's sent to the hospital and Charlie helping out his sister), so I'm happy to see them make it in the special features. It was so much fun watching the deleted scenes. I encourage all fans to view them all, both with the commentary off and on.
Dailies (8 minutes) – There are three dailies with optional commentary by Screenwriter/Director Stephen Chobsky. The dailies are Scene 43: Sam Flies Through the Tunnel which is essentially an extended scene as well as Scene 52: Hammer Time and Scene 54: Five Friends in the Cafeteria which didn't make the cut but will still bring a smile to your face. I would recommend just watching the dailies with the commentary on the first time around to have Chbosky's voice in your ear. It's just natural at this point. More Perks goodness.
The Perks of Being A Wallflower by Stephen Chbosky is available now. Own The Perks of Being A Wallflower on Blu-ray and DVD today.