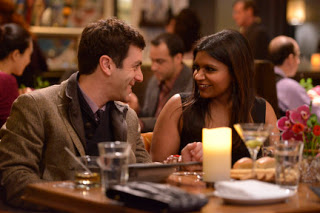 Photo Credit: Beth Dubber/FOX
Mindy tries to solve Jaime's (guest star BJ Novak) best friend problem by pairing up Lucy (guest star Amurri Martino) with Danny on a Valentine's Day double date. However, Danny and Lucy hit it off immediately and sparks fly, ruining Mindy and Jaime's date. Meanwhile, on his way to his hot Valentine's hook-up, Jeremy helps Morgan with his pickup skills.
The Mindy Project has proven that it can deliver equally heartfelt and entertaining holiday themed episodes and the show is only in its first season. Tonight's Valentine's Day episode has more heart than it does laughs but it still delivers. Plus, guest star, B.J. Novak more than makes up for what might be missing, although I'm a fan of The Office so I might be biased. Common also (briefly) guest stars tonight. Yes, please! Now while the Thanksgiving and Christmas episodes are two of my favorite of the season, "Harry & Mindy" is easily a notable mention.
Instead of spending the evening in the office, Mindy finds herself on a double date with Jaime (B.J. Novak) while Jaime's best friend, Lucy (guest star, Eva Amurri Martino) has Danny as her date. Jaime and Lucy hit it off and of course, Mindy doesn't like how Jaime reacts to that. While the viewer will definitely feel empathy towards Mindy, it was still awfully difficult to take the situation seriously knowing that Danny and Lucy will never really become an item. If you can get past this and only see the double date as a tool for the moment Mindy realizes it will never work, you'll be satisfied. Like I said, the laughs come here and there and one of the most hysterical moments of this episode had to be the "I'm a man in love" moment. You'll see. I'm a sucker for physical comedy though and it beats the "Please let me Heimlich you!" moment easily. But I'll let you be the judge.
Back at the office, Jeremy has unwillingly been reeled into helping Morgan plan his Valentine's day. I've got to say, while I enjoyed this story line, I really missed the girls in the office and seeing what they were up to. Some might like that they focused on the guys since focusing on the girls would be expected. And they probably didn't want to overdo predictable for one of the most cliche holidays of all. Other viewers might have wanted to see what all of the minor characters were up to. Keep in mind though, it's really hard to accommodate all of those characters in such a limited amount of time, so I can understand rotating the minor characters for specific episodes.
"Harry & Mindy" succeeded in doing what it set out to do so it's a good episode, just not the most entertaining we've seen from The Mindy Project. I love for all of my shows to have a plot and have heart but I also don't want it straying too far away from the comedy that made me fall in love with this show in the first place. So enjoy tonight's episode and let me know what you think after you watch!
The Mindy Project airs Tuesdays at 9:30 ET on FOX.