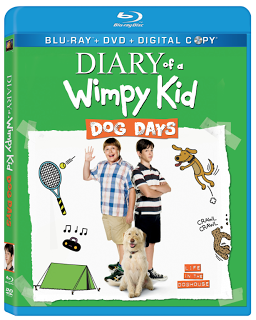 Release Date: December 18, 2012
Rating: PG
Running Time: 94 minutes
Everybody's favorite wimp, Greg Heffley (Zachary Gordon), is back for three times the fun in the latest film based on the super-popular book series! When Greg's dad (Steve Zahn) threatens to send him to military school if he doesn't stay out of trouble, Greg finds all-new ways to land himself in the doghouse! For starters, Greg's in over his head when he pretends to work at the swanky country club where Rowley's family has a membership. Things don't go much better on a father-son camping trip with the Wilderness Explorers, and then there's the Heffley's new dog, Sweetie, who fetches even more trouble for Greg in this hilarious family film!
Diary of a Wimpy Kid: Dog Days is a great film to put in for the kids as the summer nears! While not as gripping as the first two films, at least for older audiences, it does seem to still be a winner for younger audiences and may teach them a thing or two about honesty, responsibility, and the different ways there are to have fun in a nation so consumed by technology.
It was a treat to meet some new characters, major and minor and get to see Greg bond with his father more than he did in the previous two films. Now being so used to the school setting and Greg's home, I was not expecting the entire film to be all about summer. The change of scenery was the first thing that I noticed and at first it was a bit offsetting. But after a bit of time, it became refreshing as I began to see all of the stories being explored.
One of those stories is Greg's relationship with lies. He is lying to impress peers during the summer and lying to his parents to have the best summer he thinks he can have. We've all been there. We've all tried to manipulate as much as we can trying to hold onto whatever power we can at such a young age and time in our lives when we often feel most powerless. Greg is wimpy but he's trying to move past it. In the best way? No, but that's a lesson learned. It's actually pretty hysterical seeing all of this take place, seeing kids stress about the things that they do, knowing what we know now as adults.
Still, the messages in the film are great reminders to everyone of all ages and the way that it is presented, there's clearly a formula to it but it's not dumbed down in any way. I enjoyed the time that I spent watching the film and am glad that it is in my film collection, but I think that I am going to pass it on to someone who will be able to appreciate this more. So if you buy it, just make sure you are a big Wimpy Kid fan or have someone in the middle school age range to hand it off to.
Special Features:
Commentary – The commentary is conducted by Director, David Bowers. Usually, I'm not a fan of commentary conducted by one person but Bowers held my attention throughout the entire movie because he had interesting things to say and was not monotone. He made a lot of points about elements of the film that I knew I enjoyed but didn't realize just how much I appreciated it until he pointed it out. If you have the extra time, this is a great commentary.
Deleted Scenes (9:43 minutes) – I love when deleted scenes come with (optional) commentary! I hate guessing why a certain scene was cut, I need to know why straight from the director's mouth. The optional commentary for the nine deleted scenes and alternate ending was conducted by Director, David Bowers. For the most part, these scenes were funny and entertaining but didn't do anything to advance the story or make the story greater as Bower points out. After viewing the scenes, I agree. So if you enjoyed the film, be sure to watch the deleted scenes for some fun extra scenes.
Class Clown (2:57 minutes) – This featurette is actually an animated short that fans of the books will especially appreciate!
FX Movie Channel Presents: Wimpy Empire (9:55 minutes) – Diary of a Wimpy Kid author, Jeff Kinney and his wife give a retrospective interview on the book to movie adaptation in this feature which is a must see for fans who want to hear what Kinney thinks looking at his empire and what's next for it.
* Gag Reel (5 minutes)
Own Diary of a Wimpy Kid: Dog Days on Blu-ray and DVD today.