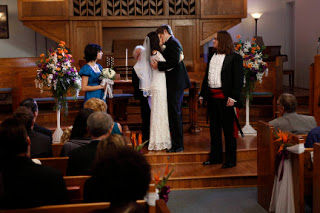 Photo Credit: Greg Gayne/FOX
The wedding day is finally here and Sabrina's mom has hired the camera crew from "Modern Family" to capture the whole blessed event. But a series of catastrophes threatens to ruin the day, including a battle between Maw Maw and Reverend Bob (guest star Jordan). So Burt and Virginia scramble to save the ceremony and keep Jimmy and Sabrina in ignorant, matrimonial bliss.
It's a big risk taking on a show on a different network for an entire episode but Raising Hope doesn't hold back using Modern Family as the groundwork to document Sabrina and Jimmy's wedding, even down to the opening credits. Brilliant. The camera work, the interviews, everything has been replicated…well, everything except for Sofia Vergara's accent which I was dying to hear be spoofed.
"Jimmy's a big fan of doing things out of order. Just ask Hope." – Burt
Bringing the Modern Family feel to Raising Hope was truly a match made in heaven. Aside from being in my top 3 comedies currently on the air, these shows have so much in common and yet they are so completely different. You might think the similarities stop after the film crew is brought in but that sets the tone. Without even trying, Burt falls into the Phil role. He really didn't have to do much. I always thought these two characters were one in the same on some level so to see two worlds collide in this way, it was seamless and genius all at the same time. It was so natural for this to happen. And let's not even get to the gags. All I'll say is, the shoe! The shoe had me in stitches.
It's what brings us to the lone shoe moment that really makes this episode. No, it's not the actual wedding ceremony that makes the episode, which is ironic and maybe unexpected but that's what makes this episode even more special. You're not expecting the majority of the episode to take place outside of the usual settings that we see and you're not expecting a twist on this half hour comedy but boy will they get you in this episode! A few special guests show up in "Modern Wedding," one of which is part of a huge revelation that will have you in shock long after the episode is over. Get ready.
Perhaps the most satisfying message though was seeing just how far Jimmy's loved ones, his parents were willing to go in order to make his wedding day as smooth as possible. As I've mentioned before, Raising Hope knows how to deliver heart, the laughs, and so much more all at the same time and do it so well. The writers are brilliant. The cast is fantastic. The gags are fresh and the physical comedy refreshing. Raising Hope delivers on every level and the wedding (moreso all that leads up to the wedding) is even more heartwarming and hysterical, so be sure to watch. You don't want to miss it.
Don't miss Jimmy & Sabrina's wedding when Raising Hope airs Tuesday, January 29, 2013 at 8/7c on Fox.