As of tomorrow, we are one week away from the release of the grand finale in The Archers of Avalon series, Avow by Chelsea Fine! To celebrate, Chelsea has posted Chapter One of Avow which you can read here. Ahh! How exciting! If you missed my review of Anew (#1), click here before checking out my review of Awry (#2) below! Stay tuned for my review of Avow next Wednesday!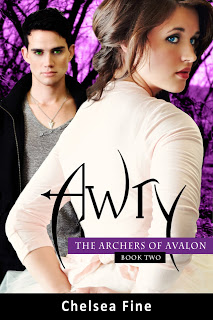 Awry by Chelsea Fine
Release Date: June 29, 2012
Publisher: Firefall Publishing
Genre: Young Adult Paranormal Romance
ISBN: 978-0615661155
Source: Bought
Three curses. Two brothers. One love triangle.
Sometimes love is meant to be. But sometimes love…is the death of you.
Seventeen-year-old Scarlet has just died. Only, dying isn't unusual for a girl under a centuries old curse that left her semi-immortal. This time, though, she comes back to her current life instead of awaking in a new one, and she realizes the curse is changing. With the help of the immortal Archer brothers, Scarlet must piece together her life and try to break the curse before her impending death comes again.
Awry starts off right where Anew left off which is just how I like the second book in a series to be! Keeping readers familiar, Fine sticks with third person through Tristan, Gabriel, and Scarlet's points of view but we are introduced to a handful of new characters and get so much more out of the minor characters (all of which were intriguing in their own right) as well as… flashbacks. In books, flashbacks are a hit or miss for me so I was very nervous going into Awry because I enjoyed Anew so much. But Fine does it right! Back story and so many answers are revealed in these chapters, which is essentially every other chapter in a way that is so gripping, I almost wanted the whole book to be set in the time of Scarlet's past lives. Seriously. I thought Anew was good but Awry is better!
"Why are you so chipper?" Because I died, and now I'm alive.
That said, there is a ton of recapping Anew (book one) in the first few chapters so just fair warning. Once you get past that the answers start flowing, more questions arise and you will continue to have a blast trying to guess how every person and relationship through the times and every action connects. Your head will hurt trying to figure things out. It is so twisty! I love it! Even the outcomes I predicted, I could have never guessed how Fine would lead us to that outcome. The stakes are raised much higher in Awry which brings for another page turner as the pieces to the puzzle continue to be put in place. The level of tension… if you thought it was something in Anew, you haven't seen anything yet!
"Loving me is reckless."
One thing that I noticed between Anew and Awry is the transitions between scenes. It was rare but there were still occasions when the transitions felt abrupt in Anew whereas in Awry I never felt that for a second. Remember though, I finished Anew in almost one sitting so this point isn't anything drastic but seeing the little things progress in a series is just as important as seeing the big things like character development (which Fine does masterfully) progress and keeping the catch 22 of a curse in line. Another thing I noticed was the change in seasons. Awry is set in the winter while Anew began in the summer. It was so refreshing to come back to a familiar fun world but with a different visual tone. If you're looking to go on an adventure before the year is up, you will be addicted to The Archers of Avalon series before you know it and it is so worth it! Awry is an exceptional sequel to Anew and leads in wonderfully to the final book in the series, Avow out next week! Go get your copies!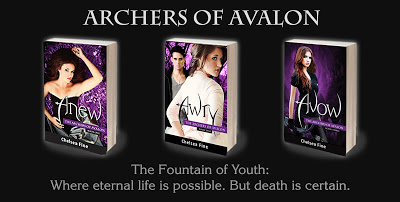 Anew and Awry by Chelsea Fine are available now. Avow releases December 11, 2012.