ME @THE ZOO is an intimate look at a controversial young video blogger regarded by millions as an Internet folk hero. Chris Crocker was bullied out of school in the 8th grade and was, by his account, raised on the Internet. Crocker's online videos have been viewed over 270 million times to date and is part of the first wave of young people coming into adulthood under constant self-surveillance.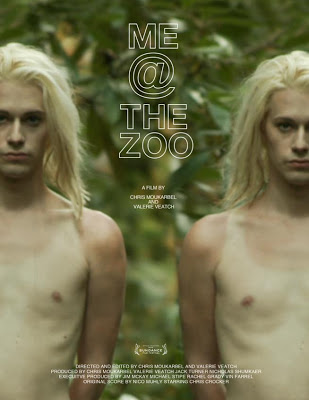 In 2007 Crocker made the infamous YouTube video declaration "Leave Britney Alone!". At that time, all media outlets had photographers glued to Britney Spear's every move. Chris Crocker's fate intersected with his icon when he offered an emotionally raw video defense of his pop idol and became a whipping boy in mainstream media. To this day his name calls to question the authenticity of that video.
Chris Crocker is now one of thousands selected into the YouTube partnership program. Youtube Partnership allows individuals to make an income through Adsense and Revenue Sharing programs. Everyday more users are signing on to monetize the content of their digital lives.
Over 48 hours of video are uploaded to YouTube every minute. Our film takes its title from the first ever Youtube video uploaded by the young founders of the site. ME @THE ZOO explores how video sharing and social platforms have shaped the way we tell our stories and mediate our lives. When we "Like" and '"Share" a video we are creating a market for that specific type of content.
This unconventional documentary excavates a personal story that is written on the Internet. It follows a line through Chris Crocker's public videos, response videos and the echo chamber of haters, friends and fans.
If you're going into this documentary thinking that this is an hour and a half of following a Britney Spears fan around, you're warm but not hot. There's more to Chris Crocker than his love for Britney Spears and discovering what that is will break your heart before you see how whole he is today. There's always more underneath the surface anyway, so is that really a surprise? Ever ask, "What in the world could have happened to that kid for him to turn out the way that he has?" Well, here's your answer. Now I'm a big believer in not letting your past determine your present and future.
But it's easier said than done for some, some who grow up all of their lives only seeing a certain way only to realize when they are all grown up that there are actually so many ways to go. Chris Crocker is genuinely at that point now where he knows this, but at the time that he made the "Leave Britney Alone" video, clearly, he was not there. His growth from his first video to his latest video today is evidence. The words that come out of his mouth couldn't be more true by the end when he talks about making that Britney video from a child's perspective. What a revelation this must have been for him. As a Britney Spears fan myself (formerly just as devoted as Crocker once was), I too wonder why no one else made such a video like his own before him. And yet, it would not have mattered anyway to Britney. But let's not get into a psycho-analysis of Britney here.
"I examine her and I become her and I don't think that people understand that." – Chris Crocker
So we're following along, as the documentary describes, a transgender kid who lives with his Pentecostal Grandparents since his father is out of the picture and his mother has her own personal demons. Chris's mom came from a very rough childhood with no positive influences around her and at just fourteen years old, she found herself pregnant with Chris. Instead of breaking the cycle (you'll find out just what that cycle is when you watch), Chris's mom was stuck in the cycle that went far back in her family and has yet to recover. It's really disturbing, heartbreaking to see how broken Chris's mother is and Chris is.
They say if you sit in a circle and throw your junk in the center along with everyone else around you, you'll pick up your junk any day. My heart goes out to Chris and his family even more now after seeing this documentary. Chris lays it all out in his videos… and along the way, he got caught up in the celebrity aspect of his the success it brought. So much so that he wrecked his chance of getting his TV show made after he was offered one of his own. But everything works out for the best so perhaps the cutting off of that deal was a blessing in disguise. Anyway, what's great about this documentary is how well it interconnects Chris's story with the birth and progression of both the internet and YouTube. This is a wonderful magnifying glass into the world of the internet and the birth of internet celebrity.
What's not so great about both the web and YouTube is that there is no filter and sometimes that flows into real life. So we get to see the good, the fan videos, and the bad, including hate messages (one even from Jeffree Star who really has some nerve to be talking, what a bully!) and death threats made to Chris over his house phone. What was especially disheartening was seeing the church come down hard on Chris's grandparents with talk and pamphlets about how "queers" diminishing the nation among other things. Even if gays are, what ever happened to unconditional love? This is the kind of thing that makes me embarrassed to be a Christian. People who call themselves Christians but they don't practice love and instead play God, but only the judging everyone part. Why call yourself a Christian if you're going to practice hate? A "sin" is a sin is a sin and love is still love. Let me not even get into that, I could go on forever.
So I found the music video discussion near the end of the documentary Chris had with his grandmother especially entertaining. There are great moments of laughter with Chris and the people on the internet and there are plenty of moments you'll find yourself angry with Chris and the internet. There's definitely a fair balance. This is not a biased documentary in the least bit.
Whether or not you are a Britney fan or Chris Crocker fan, Me @ the Zoo is one documentary you can't miss. You'll laugh, you'll cry, you'll be encouraged to reach out to the broken for positive change. After all, we're all broken, giving is receiving, it all comes down to love, and either way life is a zoo, so what are you going to do about it? Check out Me @ the Zoo, an official selection of the 2012 Sundance Film Festival, U.S. Documentary Competition.
ME @ THE ZOO premieres on Monday, June 25, 2012 at 9/8c on HBO.